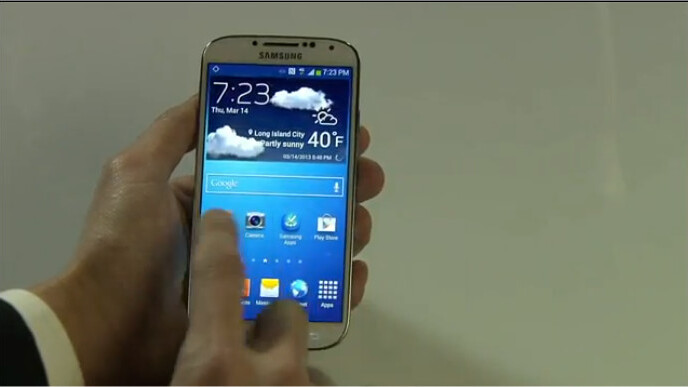 Story by
Harrison Weber is TNW's Features Editor in NYC. Part writer, part designer. Stay in touch: Twitter @harrisonweber, Google+ and Email. Harrison Weber is TNW's Features Editor in NYC. Part writer, part designer. Stay in touch: Twitter @harrisonweber, Google+ and Email.
Today at its Galaxy S event in New York, Samsung has officially announced the much-teased Galaxy S 4, featuring 4G LTE support, a 5″ 441ppi screen, a 7.9mm-thick body, a 13mp camera and dual-camera recording. The device weighs in at 130 grams and also packs new sensors, including infrared gesture, temperature and humidity. No price was shared.
According to Samsung's JK Shin, speaking on stage at the company's over-the-top press event in Times Square, the device will feature the rumored Samsung Smart Scroll, Samsung Knox, and a translation feature dubbed the "S Translator." Samsung is boldly calling the device a "life companion."
Samsung went on to detail unique camera features for the handset. A dual-camera mode for photo and video allows both the front and rear cameras to be used at the same time. A "sound in shot" mode allows you to record an audio clip which will be "attached" to a photo. Additional features include an eraser and touchless "air view" where you point to preview photos.
Shin says:
With the GALAXY S 4, Samsung is again going to enhance the way we live. All the innovative features of GALAXY S 4 were developed based on the insights and needs we found from our consumers all around the world. Following the successful GALAXY S series, this phone is yet another great proof point of people-inspired innovation. At Samsung we'll never stop pursuing innovation conceived by people, so we can inspire them in return.
More specs:
Cat 3 100/50Mbps (downloads at 100 Mbps, uploads at 50Mbps)
Wi-Fi a/b/g/n/a/c (HT80)
Bluteooth 4.0, IR LED (Remote Control), MHL 2.0
13mp camera, 2mp front
2gb of LP DDR3 RAM
16GB HD with 32, 64 and microSD
Battery: removable 2,600 mAh
Two models: black mist and white frost
Corning's Gorilla Glass 3
The company also highlighted a new S Translator function that allows live text-to-speech and speech-to-text translation of 9 languages. The feature comes with 3,000 embedded "useful sentences" for offline use and is integrated with Chaton, the S4's email and messaging app.
Samsung went on to tout a number of other features, including Group Play, which lets users play music through up to 8 galaxy s4 devices — without an Internet connection.
The company's lavish event featured a live orchestra and a long series of rather annoying skits:
This news comes less than a month after the South Korean manufacturer debuted its Galaxy Note 8 at Mobile World Congress in Barcelona. Today's launch also follows the reveal of the HTC One.
The Samsung Galaxy S 4 will be sold in the US through AT&T, Sprint, T-Mobile, Verizon Wireless, along with US Cellular and Cricket. A spokesperson for the mobile carrier says, "T-Mobile is excited to partner with Samsung to bring the Samsung Galaxy S4 to our customers. We look forward to sharing more information soon." The carrier says that it is now accepting pre-registration for the device.
Outside the US, the mobile device will be sold through global operators such as Deutsche Telecom, EE, H3G, Orange, Telenor, Telia Sonera, Telefonica, and Vodafone.
Back in January, the company announced that Galaxy S shipments had topped 100 million, with the Galaxy S3 alone contributing 41 million units.
Josh Ong contributed to this post.
Also tagged with