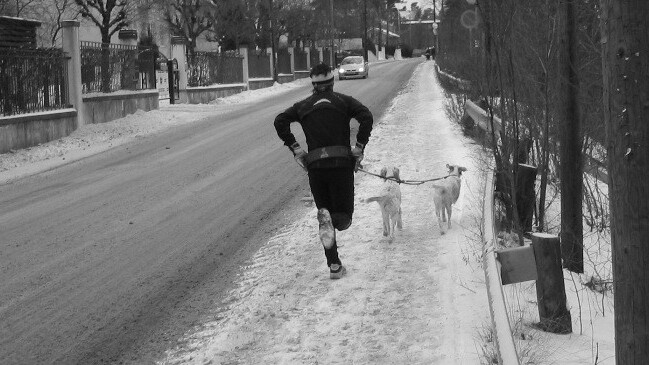 Story by
Paul Sawers was a reporter with The Next Web in various roles from May 2011 to November 2014. Follow Paul on Twitter: @psawers or check h Paul Sawers was a reporter with The Next Web in various roles from May 2011 to November 2014. Follow Paul on Twitter: @psawers or check him out on Google+.
We're big fans of all things fitness & health here at The Next Web, and RunKeeper is one app that's never too far away from our thoughts.
Available for iOS, Android, Windows Phone 7 and Symbian, RunKeeper is a mobile fitness platform for tracking and monitoring your every move, from running and hiking, to walking and cycling.
Today, the company has announced a partnership with GymPact, which should go some way towards helping users achieve their fitness goals by putting real money on the line.
Say wha'?
GymPact launched earlier this year, with one key mission in mind – to help you keep your fitness promises. In a nutshell, you earn real money for completing your workouts as planned – which is paid for by those who missed their targets. You'll note from this symbiotic set-up that if you're one of those who's prone to missing their goals then, well, you could be out of pocket.
By integrating with GymPact, RunKeeper users essentially have an extra incentive to adhere to their targets.
There's also a carrot-on-a-stick incentive to lure newbies on board – GymPact is giving away $5 to the first 1,000 users who connect to RunKeeper.
RunKeeper has been working hard this year to enhance the goals/targets aspect of its fitness offering. Back in March, we reported that it had launched a new feature that lets you set specific fitness goals. This feature was initially reserved for the browser-based version of RunKeeper, before landing on its native mobile apps in July.
The 'Goals' feature lets you set specific fitness goals on your RunKeeper profile page, and track how you are doing against those goals over time.
With this GymPact integration, RunKeeper activities that count towards your goals include:
All runs, walks or bike rides tracked by RunKeeper's GPS
Minimum 1/2 mi (0.8 km) distance
Minimum of 30 mins activity, with a pace exceeding 2 mi (3.2 km) per hour
"We know that real money is something very motivating to many people, so we're interested to see what happens when there is real money on the line around sticking to your fitness goals," says RunKeeper.
Pact, the company behind GymPact, was one of Boston TechStars 2012 graduates, however it recently flew the nest and landed in San Francisco, before raising a $850,000 investment round. Users make a 'Pact' of how many days they'll work out, and then set a dollar amount for how much they'll pay if they don't meet their goal.
To integrate your RunKeeper account with GymPact, you must download the GymPact app (iOS only for now, Android coming) first, and then click to integrate your accounts.
Get the TNW newsletter
Get the most important tech news in your inbox each week.