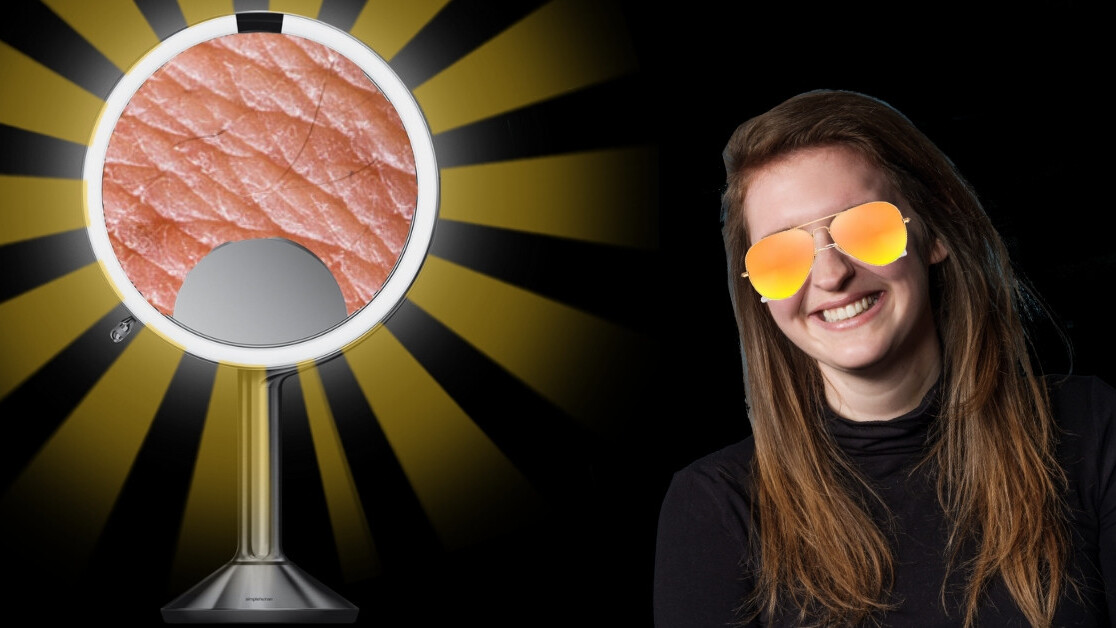 Story by
Former TNW editor and creative
Georgina created Big Spam, and wants to see more inclusion in tech. Georgina created Big Spam, and wants to see more inclusion in tech.
I'm not a particularly vain person. Despite my interest in the beauty industry, I find eye shadow a bit terrifying. I'm convinced contouring is black magic, but that's a story for another time.
That being said, I do love a good mirror, but I never had owned a smart mirror before. Honestly, I had never thought mirrors needed tech, but simplehuman did.
I was recently sent a model of the Sensor Mirror Trio, made by simplehuman, the company who claims to "design everyday tools to help people become more efficient at home." They make functional things like soap pumps and trash bins even more functional, and also very sleek and minimal and, well, sexy.
How sleek and minimal and sexy is this mirror then?
Here ya go:
Shiny right? It REFLECTS back at YOU. Wow.
Sounds like a mirror… what makes this one special?
Besides for, you know, being reflective, there are a few things that make the Sensor Mirror Trio unique.
First off, like the name suggests, the dual-sided mirror actually has three different mirrors built into it — with 1x, 5x, and 10x magnification.
I've never desired a super magnifying mirror before — when I was little, I used to stare into my mother's until my eyes crossed, and ever since they've kind of left me with a barfy feeling.
Because they all exist on the same surface, this mirror made it easy to switch between magnifications. I could stare at my face for hours in this thing, discovering whole new veins and freckles and landscapes, and I did not want to puke.
Second, simplehuman's proprietary "tru-lux" lighting system consists of a super bright LED in a ring around the mirror's edge.
According to simplehuman, the mirror achieves a 95 out of 100 on the color rending index (CRI) — which basically means it's supposed to be pretty damn close to natural sunlight, which I'd agree with.
This lighting can also be switched between a warm light and a cooler one, depending on your preference. One makes me feel like I'm on a tropical beach, while the other I feel like I'm in a DMV, fitting both sides of my personality nicely.
The mirror's sensor reflects when you move your face close to it, and automatically lightens, which is a very nice, hands-free touch.
How does it make you feel?
Like I'm in a Dido music video.
Any drawbacks?
To be honest, there aren't many.
First, the charging cord that comes with the mirror isn't long enough. You'll most likely have this mirror on a desk, table, or counter. I have mine on my desk, and in order to charge it I need to move the whole thing onto the ground to get it plugged into a power strip.
If you plan on keeping it in a place where a high-up outlet is, then this shouldn't be an issue, but I think this is an easy fix simplehuman can make.
Second, the power button is on the bottom of the base, which is not really a convenient location. I usually keep the mirror on so it's not a huge issue, but sometimes I don't want it automatically lighting up every time I walk by it like a defective Furby.
To turn it off, I need to pick the whole thing up and hold down the button.
Finally, the mirror is solid, so not really portable. If you're looking for a travel mirror, this probably isn't the one for you. This isn't a gripe, but more of a recommendation.
All in all, I really like the damn mirror.
Great! I'll take 10
Hold your horses pal, this mirror doesn't come cheap — it'll set you back $300. Mirrors tend to be pricey, mainly because they last a really long time. While I haven't had this one long enough to judge its longevity, it seems all in all pretty sturdy.
If you've got cash to burn, want a reliable mirror to put makeup on in, or really really REALLY like shiny objects, I'd say it's worth the price.
Now if you'll excuse me, I need to go back to staring at my reflection.
Get the TNW newsletter
Get the most important tech news in your inbox each week.
Also tagged with