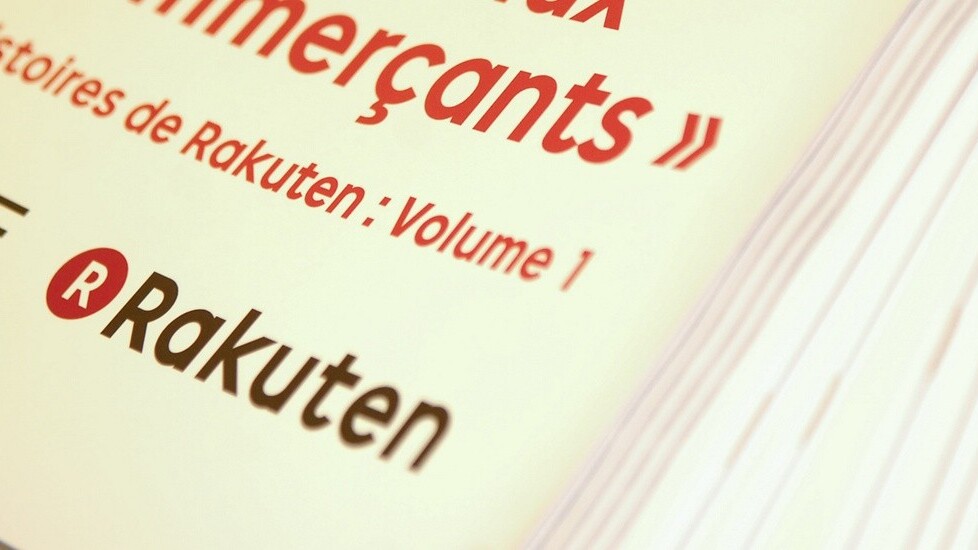 Story by
Jon Russell was Asia Editor for The Next Web from 2011 to 2014. Originally from the UK, he lives in Bangkok, Thailand. You can find him on T Jon Russell was Asia Editor for The Next Web from 2011 to 2014. Originally from the UK, he lives in Bangkok, Thailand. You can find him on Twitter, Angel List, LinkedIn.
Global ecommerce giant Rakuten has taken the significant step of launching its own mobile payments system — Smartpay — in its native Japan, where PayPal is among the companies already active.
Rakuten has confirmed that there's no official press release launching the service but, according to a Techwave article (spotted by Tech In Asia), Smartpay looks and acts much like Square, iZettle, Payleven and others in that it uses a piece of hardware attached to a device to read cards. The reader plugs into the headphones socket and there are apps for iOS and Android.
After a merchant has swiped the card, the customer then 'signs' for the transaction on the device, after which purchase and payment is completed, as the diagram below shows:
Tech In Asia reports that the apps and hardware are free but merchants must pay 2,890 yen ($35) to sign up and get started. From there, Rakuten will take a 4.9 percent fee from each transaction its system processes.
PayPal launched a joint venture with SoftBank back in May which saw its PayPal Here reader come to the country, where mobile payments and NFC are further along the line than anywhere else in the world.
Rakuten has a number of services that run in Japan only — such as its 'Super WiFi' data-only mobile service — and, for now, it seems that Smartpay will be a Japan-only affair. That makes a lot of sense since its presence is huge in Japan; Rakuten runs one of the country's largest online banks and its loyalty points system — which rewards repeat customers in its online malls — is hugely popular. These two elements, and its huge brand and reputation, are likely to be a central part to the appeal of Smartpay for merchants and customers and could trouble PayPal.
I was fortunate to meet and speak to Hiroshi Mikitani, Rakuten CEO and founder, in Bangkok last month and, from our discussion, it is clear that he would like to grow Rakuten's role in the payment and transaction side of the industry. While the company's international presence is not on the same level as it is in Japan, I'd certainly not rule it out of launching mobile payments outside of Japan in the future, such is its international mindset.
Rakuten passed $3.8 billion in revenue for the first three quarters of 2012 and the company estimates it is on course for a record year of earnings.
The company owns a range of international services, including Buy.com, Play.com and France's PriceMinister. Its most recent acquisition, also from France, was logistics company ADS.
Headline image via priceminister / Flickr
Get the TNW newsletter
Get the most important tech news in your inbox each week.
Also tagged with