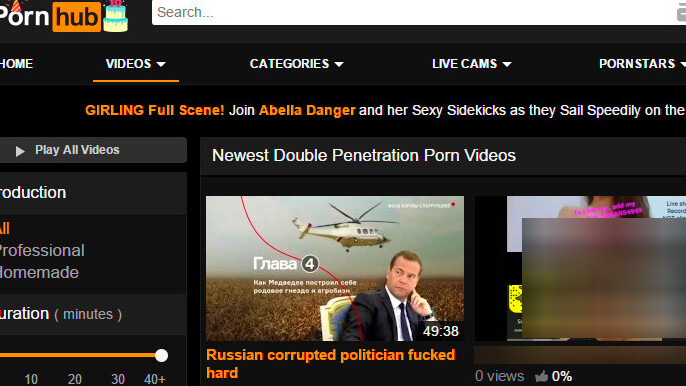 Story by
Former Managing Editor, TNW
Bryan is a freelance journalist. Bryan is a freelance journalist.
After courts ordered a filmmaker to delete a documentary detailing corruption in the Russian government, he did what anyone would do: uploaded it to PornHub instead.
The documentary film, "He Is Not Dimon to You," sparked controversy in Russian after alleging its subject, Prime Minister Dmitry Medvedev, embezzled an estimated $1.2 billion. State-owned media has mostly ignored the controversial nature of the film, as has Medvedev.
Russian courts, however, took notice and attempted to force Alexei Navalny to delete the film.
His response was essentially a middle finger to the establishment. He uploaded it to PornHub under the categories: hardcore, rough sex, double penetration, and Russian. The film racked up thousands of views and a 95/100 rating before it was made private, and ultimately flagged by the community for review.
It's not the first time PornHub has been used to host non-pornographic content, and it probably won't be the last.
h/t Ksenia Ermoshina