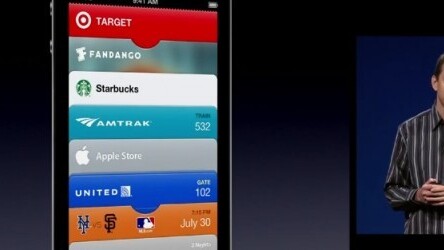 Story by
Ryan Nystrom is lead iOS developer at Dynamit, a Webby Award-winning data, design and technology company. Ryan Nystrom is lead iOS developer at Dynamit, a Webby Award-winning data, design and technology company.
Remember when Apple's Passbook app was going to light the mobile world on fire? So, about that.
The promised flame of Passbook has been more of a flicker with few users driving its adoption and fewer providers embracing its potential. I see these patterns and, as an iOS developer, can't help but think: Is Passbook destined for irrelevance much like other native Apple apps like Maps, Calendar, and Notes?
Unfortunately, Apple's Worldwide Developers Conference (WWDC) 2013 left that question unanswered. Passbook was neither featured nor absent. The Passbook app icon was included in several of the iOS7 demonstrations. And Apple used Passbook to manage attendance to the event itself. But no new innovation was promoted. What gives?
Passbook made its debut as part of iOS6. I hoped Apple would enhance and emphasize it as part of iOS7 because the app is incredibly useful and yet is perceived by many as useless. Why doesn't Apple shine the spotlight more on this app? Without more muscle put behind adoption, I fear Passbook will wither into the ether.
And if it does, do we care?
We should care because mobile pass and payment options remain in desperate need of standards and leadership. Passbook is a platform that promises both. If we ignore Passbook, we—developers and non-developers alike—can only blame ourselves for the fragmented conditions in the mobile space that drive us mad.
Thankfully, there are some willing to push the envelope with Passbook to demonstrate its power. I was witness to one such incredible experience recently while attending an intimate tech conference, NSNorth.
NSNorth is an independent iOS and Mac developer and designer conference in Ottawa, Canada. The conference was hosted by Dan Byers and Philippe Casgrain, and limited to 100 attendees. I was thrilled to get in and had high expectations for the event. But I had no idea about what was going to happen next.
An email from the conference organizers arrived out of the blue a week before the event. I was shocked to discover that the email contained a download link to a personalized NSNorth conference Passbook Pass. I loaded the Pass into Passbook and was immediately greeted with a helpful splash screen.
With Passbook prickling my mind, I quickly checked into Passbook capabilities for my airline flights (United Airlines) and hotel (Westin). Loading my flights was easy. My hotel? Not so much. Westin itself doesn't have an iOS app and didn't include anything about Passbook in the confirmation email. However, having an American Express credit card gained me access to the Starwood Preferred Guest (SPG) program, which is a points program for hotels. Fortunately, SPG has an iOS app that I was able to use to access my Pass.
Of course, getting your Passes configured isn't the true test. How you're able to use them is what matters. That adventure was about to begin, and it began as a technology lover's dream.
I flew to another country, checked into a hotel, and registered for an event without any paper whatsoever. Even better, the NSNorth organizers decided to push far beyond using Passbook merely as a check-in utility; to everyone's delight, they used it to broadcast event news, schedule updates, and more all by push notification. And when I flipped over their Pass (using the info button) I found the convention center's address, my hotel's address, wifi password, and speaker times.
That data integration was enough to blow my mind. But then thecover image began updating itself as new speakers took the stage. It also sent me push notifications informing me about breakfast, lunch breaks, even what bar people were headed to in the evenings. Amazing.
Thanks in no small way to their incredible Passbook Pass, the NSNorth conference was a remarkable experience. I learned loads and met incredible people. I couldn't have hoped for more. But then, just when I thought I had seen it all with the event winding down, the NSNorth Pass performed its final and most amazing feat: it transformed into a "NSNorth 2013 Attendee" limited edition pass that features a group picture from the event. It's been weeks since the conference and I still open the pass just to look at the group photo.
The execution of the NSNorth Passbook Pass is everything that a mobile experience should be: integrated, useful, and unobtrusive. Passbook as a platform, however, still has a long way to go before it earns the appreciation it deserves. But thanks to events like NSNorth, that promise is within reach.
I'm hopeful for Passbook's future, despite its underplayed role at WWDC this year. For starters, there is a chance that Apple does something impressive with Passbook before iOS7 is publicly released this fall. But more likely than late-inning heroics from Apple, we—the builders and users—need to push Passbook forward. We must take responsibility for the solutions we need. Thank you NSNorth for showing us the way. May others follow.
Get the TNW newsletter
Get the most important tech news in your inbox each week.