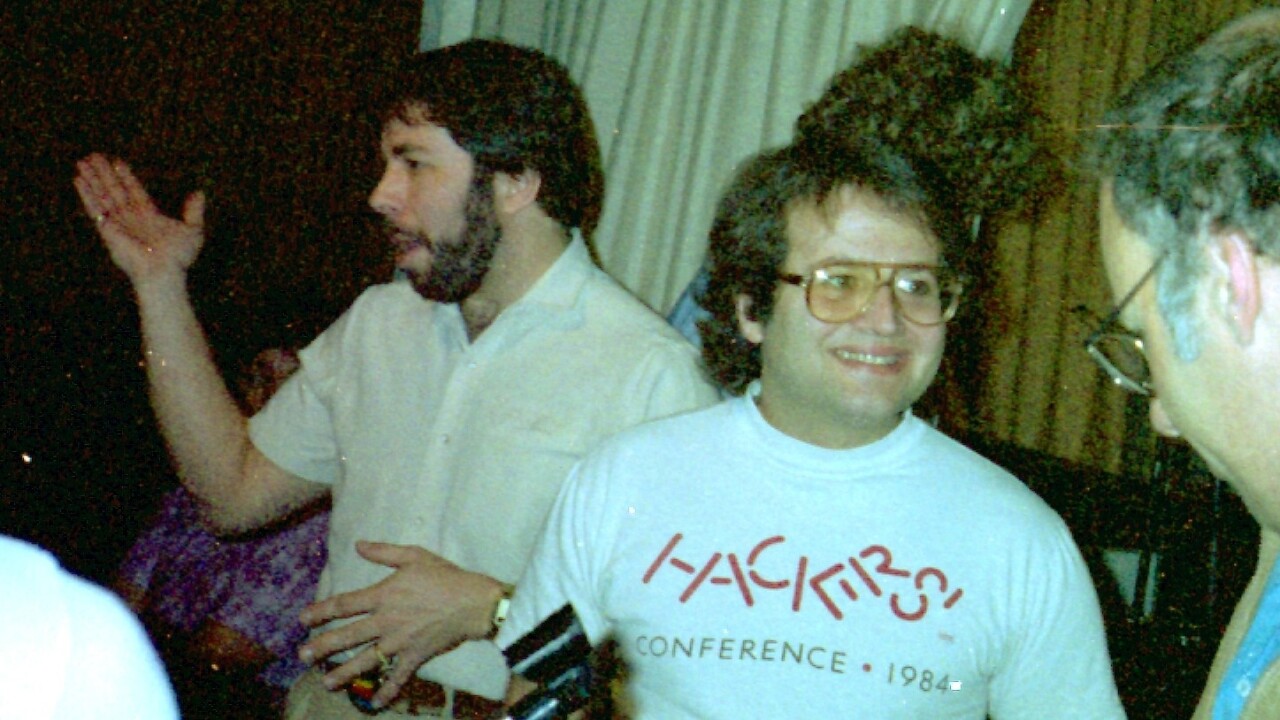 Story by
Josh Ong is the US Editor at The Next Web. He previously worked as TNW's China Editor and LA Reporter. Follow him on Twitter or email him a Josh Ong is the US Editor at The Next Web. He previously worked as TNW's China Editor and LA Reporter. Follow him on Twitter or email him at [email protected].
If you want the inside scoop on the development of the first Apple Macintosh 30 years ago, Andy Hertzfeld is the authority. Not only did he work on the machine's software as part of the core team, but he also created the Folklore.org repository to preserve stories from the project. Andy's business card at Apple had the title "Software Wizard" on it.
You might also know Andy from some of his more recent work. Before retiring last year, he served as one of the original designers for Google+, adding in some of the animations that gave it a bit of a classic Apple feel. We chatted with Andy this week to hear his thoughts on what it was like to have a founding role in the personal computer revolution.
"[Working on the Macintosh team] completely shaped me, changed my life," Andy said in an interview. "I came to Apple as a customer, before I was an employee. I bought an Apple II and fell in love with it. I was just incredibly lucky to be in the right place at the right time."
While designer Susan Kare has said that she was focused on "solving the problem of the day" with the Macintosh, Andy admitted that the team also had big dreams for the project.
"We knew it when we were working on [the Macintosh], that it had a big chance to be a big shift in the world, a historical achievement. Even when we were working on it, we had an inkling of that," he said.
Andy also admitted that it's "pure serendipity" that the products Apple is selling are still called Macintoshes. By his reckoning, Apple could have changed names either of the two times it changed CPU architectures during the Mac's lifespan.
In fact, Macintosh was originally a code name that Steve Jobs and Rob Holt wanted to change after the original creator, Jef Raskin, left the project. Holt ordered the team to change the name of the project to "Bicycle," but they refused. Apple paid a marketing consulting team to come up with names, but its suggestions, such as "Apple 40" and "Apple Allegro," weren't popular. Apple also had to address a trademark issue with the stereo company McIntosh in order to use the name.
Andy compared today's Mac to the paradox of grandfather's axe, where all the parts have changed but it remains the same object.
"I wrote a lot of the initial Mac software and was amazed how long it lasted, but it hit a dead end in 1997."
In 2012, Andy expressed some displeasure at Apple's modest revisions to the then-languishing Mac Pro. I was curious whether he had bought the 2013 version and what he thought of it.
"I missed my window," he said. "I knew I'd have to stay up until midnight to order, but I forgot about it and dozed off."
He does plan to get one, though, once it becomes available again.
"It's extravagant. I'm not sure I have quite the use cases to really need it, but I love it as a work of art. I still have my [Power Mac] Cubes. They were useless as computers, but precious as works of art," he said.
"I was a little disappointed that it has very little internal expandability, but it does have better internal modularity than I would have thought."
Andy added that Apple doesn't appear quite finished. After all, the new Mac Pro is built around 4K video, but Apple doesn't yet have a 4K monitor to pair it with. Instead, the company currently sells a $3,600 Sharp Ultra HD monitor on its online store.
"You don't want that," Andy said. "The Mac Pro is so elegant. That's not integrated with it. "You need [an Apple monitor], they don't have it. Apple's obviously going to have one soon."
When I asked Andy whether he sees the roots of the original Macintosh he worked on in Apple's latest products like the Mac Pro, the iPhone and iPad, he posed a different question instead:
"Do I see Steve in it? When Steve infused himself into the Macintosh, you could say a lot about what the values of the Macintosh were. They were Steve's values. Apple lost that for a dozen years [until]  he came back."
"As for the iPad? I clearly see Steve's values. He's been gone for two years, but I do obviously see Steve's values in the new Mac Pro by being so small, and perfect geometrically, that was a big thing with Steve. It's very, very elegant and beautiful.
Andy joked that he might be Apple's second-best customer, the first being co-founder Steve Wozniak. He at least thinks he's in the top hundred.
So after all these years, which Mac is his favorite?
"I'd have to say the original one, that's the one I put all my blood sweat and tears into. The one that started it all," he said, adding that he also loved the first Quadra with Motorola's 68040 processor.
Andy did offer up his two least-favorite machines, though:
That first Mac Portable laptop in 1989 weighed 25 pounds. It was incredibly expensive, incredibly heavy. Another one that I hated: that 20th anniversary Mac. It didn't have a philosophy that was utilitarian, it was phony futuristic.
When I asked Andy what inspired him to chronicle the history of the Mac, he said that he'd always been interested in writing:
I'm a big literature fan. I wanted a writing project. I had an idea for the perfect format for the Web: short inter-linked anecdotes by a variety of authors. A story-telling system about something that mattered with first-person participants writing about it.
The technical side of the project, which arose at the same time blogging was taking off, would turn out to be an Web-based early content management system, a bit like a primordial version of Medium. However, it was the content side of the endeavor that really stuck.
"I used the most interesting thing I was part of, the Macintosh project, as fodder to develop the system. As I wrote the stories themselves, I began to become more affectionate to them. That kind of gathered momentum," Andy said.
As the project grew, Tim O'Reilly suggested that Andy turn it into a book, so he enlisted the help of friends like Steve Capps and Susan Kare and did just that. Revolution in The Valley: The Insanely Great Story of How the Mac Was Made came out in 2004.
Andy said that he has gone back to writing now that he has more time on his hands.
"I do have a whole great set of stories about the earlier times at Apple than the Mac, the Apple II days," he said.
This particular Mac anniversary has a shadow cast over it because of the team members that have died in the time since the last one five years ago:
In writing about the Mac, and even asking how I feel about the Mac, one of the things I really feel is the people who died, some of the very main people involved with the creation: Steve Jobs, Jef Raskin, and Brian Howard. Brian especially is an unsung hero. He was incredibly important to making the original Macintosh happen. Of the three, he's the only one who stayed [at Apple] all 30 years.

I feel old and I feel lucky. Not only lucky to have done it, but to have been in the right place at the right time, to help create the Macintosh. I feel lucky to be alive and healthy. It seems like in technology, but probably also in science and technical fields, you're best positioned to make breakthroughs in your mid-20s.
Check out our other coverage of the Mac's 30th anniversary here.
See also: Original Mac designer Susan Kare on how everyday objects made computing personal and 30 years in 33 photos: A visual history of the Apple Mac
Image credits: Tony Wills / Wikimedia, Folklore.org, Apple, All About Apple, Folklore.org