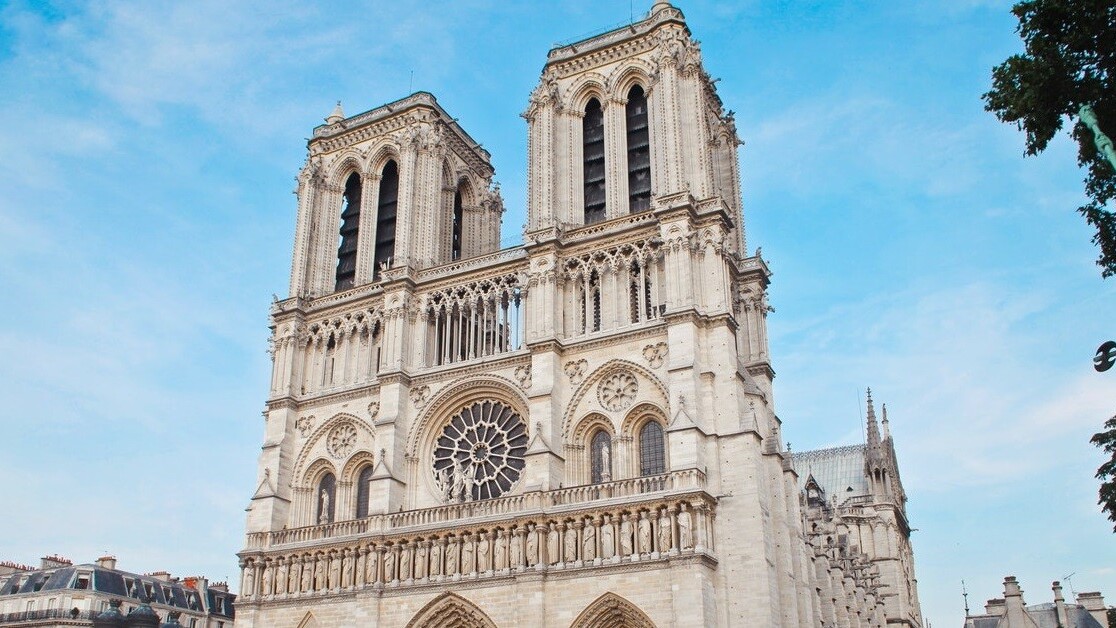 Story by
Internet Culture Writer
Rachel is a writer and former game critic from Central Texas. She enjoys gaming, writing mystery stories, streaming on Twitch, and horseback Rachel is a writer and former game critic from Central Texas. She enjoys gaming, writing mystery stories, streaming on Twitch, and horseback riding. Check her Twitter for curmudgeonly criticisms.
Various commenters on Twitter are using the burning of the beautiful, historic Notre Dame cathedral to further a number of absurd conspiracy theories, ranging from an Anti-Christian arsonist to… actually, that's the worst of them so far. Conspiracy theories and wild speculation about breaking news are common enough on Twitter, but this one is a cut too deep.
In case you haven't yet heard, a fire in Notre Dame de Paris has destroyed a large portion of the church today. While firefighters were able to save the towers, at last report the majority of the building is gone. Currently workers are attempting to salvage art still inside the cathedral. Officials have not yet released the cause of the fire, though they have implied it may be connected to the renovation work going on in the cathedral at the time.
As you'd expect, this tragic event is already attracting some pretty unpleasant speculation about who, or what, could have caused the blaze. The top theory seems to be centered around a series of attacks on Christian churches throughout Europe. Several people, including Stefan Molyneux and InfoWars' Paul Joseph Watson have speculated these incidents could be connected to Notre Dame's blaze.
I visited construction sites when I was in the business world – fire is a constant concern, and incredible precautions are taken.

Imagine how careful people would be when working on a major historic and religious landmark.

IMO, it's either massive carelessness – or arson.

— Stefan Molyneux (@StefanMolyneux) April 15, 2019
A fire has broken out at the famous Notre-Dame cathedral in Paris.

A previous fire at the Saint Sulpice church was an anti-Christian attack.

This one is believed to be linked to "renovation" according to reports.https://t.co/4O5Ug0q0Pc

— Paul Joseph Watson (@PrisonPlanet) April 15, 2019
Earlier today, a French commentator tried to raise the same possibility on Fox News — and credit to Fox News, they shut down the interview immediately and refused to speculate on the cause of the fire. But the idea that the burning of Notre Dame might be related to these previous attacks has been pervasive.
There have also been a number of tweets speculating the fire was started by someone of another religious affiliation. Watson has begun pointing out people who've reacted to the fire on Facebook with smiley-face emoji.
A brief summary of who is responding to the tragic Notre Dame fire with 'smiley faces' on Facebook. Appalling. pic.twitter.com/OBANPl9Wpv

— Paul Joseph Watson (@PrisonPlanet) April 15, 2019
Okay. And?
A tweet from a site called JihadWatch resurfaced a story from 2016 about a woman who'd been arrested for an attempted car bombing outside the historic church. She was apparently sentenced today, meaning the timing of the story appears to be an unfortunate coincidence (Robert Spencer, the site's director, said the tweet was scheduled earlier this morning, before the blaze started), but it's also making the rounds.
Another theory is that the blaze was started by President Emmanuel Macron to take media focus off of him:
Macron cancelled plans to give a national address dealing with #Yellowvests demands because of fire at #NotreDame

How convenient for him.https://t.co/YYjjSFvRw7

— Partisangirl ?? (@Partisangirl) April 15, 2019
An article from InfoWars cited a tweet from a reporter who claimed a friend who knew the staff claimed the fire was deliberate. The tweet has since been deleted. Basically, if you're looking for information about the Notre Dame fire, you're going to get flooded with speculation from people who believe the fire was at the very least intentional and malicious.
Can we at least know the status of the rose windows before we start creating a suspicious person responsible for their destruction? We're talking about the gutting of a building that's been standing for hundreds of years — the rush to gobble at its still-smoldering bones feels incredibly unpleasant.
On an similarly sad note, YouTube apparently confused two terrible events when it put an explainer for 9/11 below live footage of Notre Dame burning. YouTube quickly corrected the mistake, but if we weren't depressed already, we are now.
Get the TNW newsletter
Get the most important tech news in your inbox each week.
Also tagged with