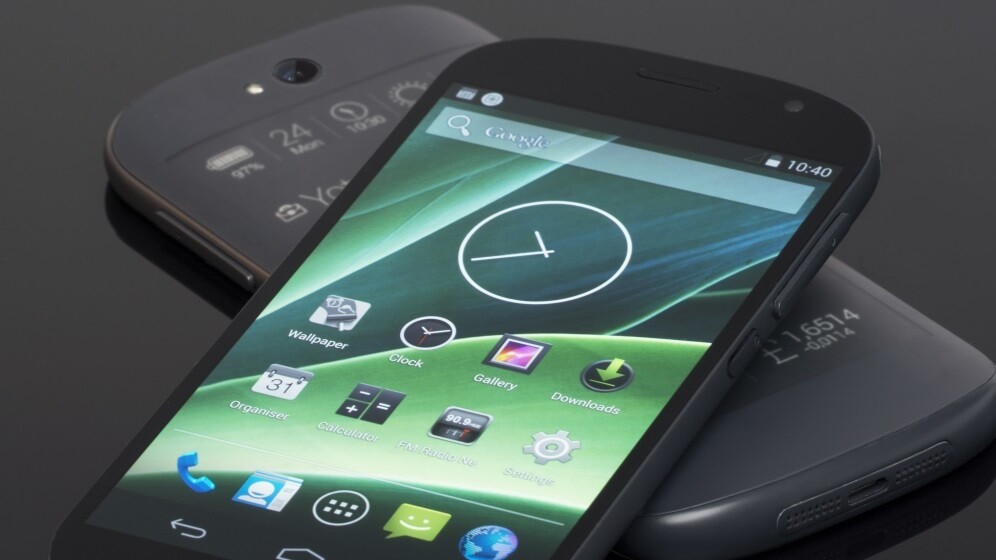 Story by
Europe Editor
Ben is a technology journalist with a specialism in mobile devices and a geeky love of mobile spectrum issues. Ben used to be a professional Ben is a technology journalist with a specialism in mobile devices and a geeky love of mobile spectrum issues. Ben used to be a professional online poker player. You can contact him via Twitter or on Google+.
Russian handset maker Yota Devices has revealed details of its second generation e-ink display equipped YotaPhone today at Mobile World Congress 2014 in Barcelona.
The new device follows in the footsteps of the original, but shows a maturation of the technology concepts it was showing off first time around. For example, while the new model does still sport two screens, with one of them being a low-power e-ink affair, both are now full touchscreen displays allowing for easier control and extra functionality.
The idea behind having the always-on e-ink display of the original YotaPhone was that it provides convenience (seeing notifications and updates) without proving a drain on the battery. In reality, it was convenient for some things, but a little fiddly to operate with the touch sensitive sections below the second screen.
Thankfully, YotaPhone has done away with the strips and just made the whole EPD (Electronic Paper Display) touch-controlled. It's larger too, 4.7-inches versus the 4.3-inches of the original. The result is that it's now possible to respond to notifications and carry out actions (like making calls, responding to messages etc.) without switching across to the main display at all.
"A full touch second display opens a tremendous number of unique user cases for YotaPhone users. You can look and not just get information from the second display, but can interect [with it]. You can respond to email or SMS messages, you can do a lot of things," Vlad Martynov, CEO of Yota Devices, told TNW. "You don't need to activate the phone and make a few clicks to get your data, but if you want to immediately respond you can do that with one touch [directly from the rear display]."
Also like the original, social app updates can be routed to the rear screen via the company's own InternetHub app and images and other info without dedicated apps can be sent to the rear screen with the Put2Back app. There are also a couple more dedicated apps for the EPD display too, like Sportscaster, Fitness Tracker and Mutliple Personas, which allows you to manage a work and personal account from one place.
The rest of the device is a whole lot more familiar – there's a 5-inch (1920 x 1080 pixels) HD OLED 442 PPI display, a quad-core 2.3 GHz Qualcomm processor, an 8-megapixel camera on the back and a 2-megapixel front-facing snapper for stills or video calling.
Bumping up the processor, display sizes and some of the other hardware shouldn't have any sort of effect on the overall battery life though, Martynov assures us, as that's also now been upgraded to a 2550 mAh pack – he added that between generations the company also learnt how to optimize power consumption on low-level software.
Additionally, there's now a power saving mode that allows you to switch off the front display entirely and just use the back display – and the battery doesn't actually have to be low for you to do this either, you can do it at any time.
You don't need to wait until you have low power, if you're in the car you can use LCD when you have a charger, or anywhere you have a charger you don't care about this, but if you go for a hike or you find yourself in an area where you won't have access to power, then you can just switch it into power saving mode from the beginning and you're good-to-go.
Exactly how long will it last from 100 percent using only the EPD? Well, even Martynov isn't sure yet. The company only got the first functional prototypes off the production line a couple of weeks ago, and it'll be a few more months until specifics like this can be answered accurately.
Naturally, it's not all about the displays, and you'll find other staple smartphone features like NFC, 4G LTE, WiFi, Bluetooth and GPS all on board too.
A hard road
While the first generation handset was shown off at MWC 2013, it didn't make it to market until December, a little behind schedule and more compromised than Martynov would have liked.
We were a little late, a little bit late. The first phone was the first dual screen phone, and of course, we faced a lot of engineering challenges, we had to compromise throughtout the whole development process, but we learned a lot. We've [taken] this learning and today we're quite confident we can launch the product with the latest and greatest technical specifications before the end of this year.
Nonetheless, Martynov said that in terms of sales the first generation had performed well and was now being offered in six countries – Russia, Germany, France, Austria , Spain and Switzerland – and would soon be expanding to include the UK, UAE and most European countries.
Part of the challenge for YotaPhone is consumer awareness: there simply aren't many phones around with two screens, and no others that feature an EPD on the back. Clearly, education is a big part of the sales job required here.
Interestingly, to help convince buyers to give the YotaPhone a try, the company has been allowing customers in Russia to return the device if they don't like it. Providing it's within one month of purchase, no other reason is required.
Martynov said that there have been zero customer returns that resulted in a request for their money back, although there have been a few faulty devices that resulted in an exchange – which is a good sign that the concept could stick.
Nonetheless, the device will need to make its way outside of Yota Devices' home market of Russia to have an impact on the wider mobile market.
Update: Don't miss our hands-on with the device.
Visit our MWC 2014 page for more coverage
Get the TNW newsletter
Get the most important tech news in your inbox each week.
Also tagged with