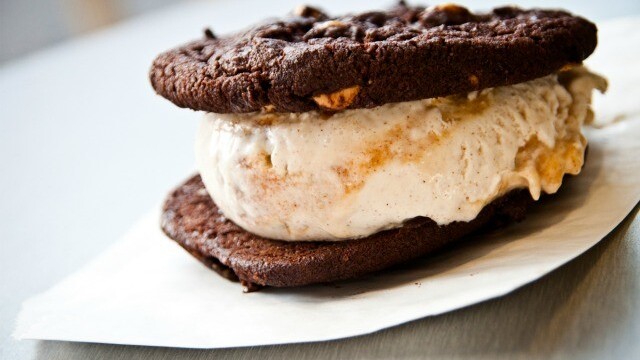 Story by
Chikodi is the West Coast editor of The Next Web, a multimedia producer and entrepreneur who travels the world in search of innovative foods Chikodi is the West Coast editor of The Next Web, a multimedia producer and entrepreneur who travels the world in search of innovative foods and spicy tech. Asked to choose a favorite, he would answer "both." Chikodi loves apps, does Twitter, Linkedin and has a thing for Tumblr.
The idea of yet another daily deals site is enough to cause a rumble of indigestion.
Y Combinator startup Munch On Me offers more than a glimmer of hope to merchants and diners who are suffering from daily deals fatigue. With Munch On Me, restaurants choose the menu item they want to discount and the price, and diners simply read a confirmation code off their phone to get their discounted food. But what really sets Munch On Me apart is that 75 percent of the time, diners will stay and order more food off the regularly-priced menu, according to CEO and co-founder Jason Wang. So restaurants who use Munch On Me are getting new customers, and not just deal hunters.
Wang says that Sunrise Deli in San Francisco had a Munch On Me special where they made $300 worth of discounted falafel balls, and ended up cross-selling $1,200 worth of food at regular prices. That is a net profit of $900 they didn't have to share with Munch On Me. Generating additional sales like these is what daily deals sites always promise, but what few actually deliver.
But isn't the daily deals era over?
Groupon's site traffic declined 50 percent between June and July, according to Hitwise. As the largest deals site in the world, this can serve as a gauge for the industry as a whole. One way to spin this would be to point to increased deals sales through apps and third parties, as well as the Groupon daily newsletter, but this would hardly account for such a precipitous decline in visitors. The truth is that consumers are burnt out on deals, merchants are growing ever more suspicious, and the market has become saturated with competing companies.
At last week's Street Food Conference, Lisa Wood of Portland's Big Ass Sandwich said that running a deal with Groupon nearly ruined her company just as they were getting on their feet. The popularity of the deal, as well as the deep discount Big Ass Sandwich offered meant that meeting demand was sucking the lifeblood out of their brand new business.
This is a story heard frequently when daily deals go awry. Customers don't win, businesses don't either, and you can bet that they'll never use a deals site to market themselves again.
Another of the problems with daily deals is that they seem to be for "coupon clippers," and it's hard to capture repeat customers. A certain percentage of folks out there are just chasing the lowest price, and they'll never come back. Yet another problem is that diners tend to get rude treatment from waitstaff, who see a voucher and expect lousy tips at the end of a meal. With so much that can go wrong, it's no wonder there are those out there who can't wait to dance on Groupon's grave. Of course, this doesn't mean that deals are inherently wrong, either for marketing purposes, or as a way to generate profits. They can simply stand to be improved.
Munch On Me hopes to solve this problem for merchants by focusing on food and not deals. Also, Munch On Me is looking to create long-term partnerships with restaurants rather than focusing on a single deal. To do this, merchants who use Munch On Me promotions can run different featured specials over time. For example, it could be a two-for-one appetizer in April, then $5 off a particular entree in May. After this, Munch On Me and the merchant do a revenue split anywhere from 10-to-40 percent, based on the cost of the item.
Wang says that Merchants who have used Munch On Me have nothing but praise for the service. Since presenting their company at Y Combinator Demo Day last week, Munch On Me's traffic has increased by 50 percent. They've also completed more than 20,000 transactions.
Currently Munch On Me has a sales staff of four people, with deals available in six cities: Berkeley, San Diego, San Francisco, San Jose, Seattle, and West Los Angeles. Wang says the company hopes to raise money to fund a national expansion. Chicago, New York, and Orange County are up soon, and eventually Munch On Me will have a presence in 30 cities.
If anything, what sites like Groupon and LivingSocial have done is help the restaurant business as a whole, by allowing them to market themselves directly to consumers through online social media. Now that there is much greater awareness among business owners, it will be sites such as Munch On Me that stand to truly capitalize.
By the way, any readers of The Next Web who live in the East Bay can claim the ice cream cookie sandwich in the photo FREE for the next four days.
Get the TNW newsletter
Get the most important tech news in your inbox each week.