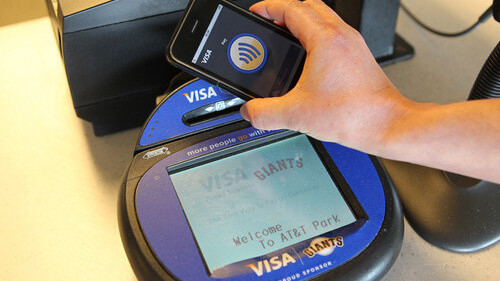 Story by
A music and tech junkie who calls Nashville home, Brad is the Director TNW Academy. You can follow him on Twitter @BradMcCarty. A music and tech junkie who calls Nashville home, Brad is the Director TNW Academy. You can follow him on Twitter @BradMcCarty.
With more phones and more options opening every day for mobile and peer to peer payments, the waters are getting a bit muddied. At the request of some of TNW's Twitter followers, we thought we'd put together a list of the leading options, including the pros and cons of each. Expect this post to be updated as the landscape changes.
The race right now is primarily between three parties – PayPal, Dwolla, Square and newcomer Clover Pay. Each of these services have its ups and downs, but it's worth noting that they can all be used for peer-to-peer payments and that's how we'll be reviewing them.
Let's get down to brass tacks and look at what's available:
PayPal
Setup:
Nearly instant. You can sign up for a PayPal account in just a couple of minutes, then have it funded from a credit card almost immediately after.
Pros:
Widely accepted payment form, in use by millions.
Full-featured mobile app on iOS and Android, including the ability to scan checks for deposit.
Tight integration with the USPS and eBay makes for easy collection and shipping.
Cons:
Often criticized for high fees.
PayPal tends to lock down accounts for investigations with a guilty-until-proven-innocent approach.
Terms of service disallow many actions, and are quite obtuse in important sections.
Dwolla
Setup:
Signing up for and using
Dwolla
is quick, but you'll need to tie it to your bank account to fully leverage its abilities. This can take 3 to 5 business days, depending upon your bank. But, if your bank supports instant transactions, you won't have the typical transfer lag.
Pros:
Dwolla charges only $0.25 per transaction, no matter how much money is being transferred.
A highly-secure mobile app is available for Android and iOS.
Instant transfers to and from your bank account, if your bank is part of the participating network.
Dwolla is integrating with merchants, allowing you to pay directly from your account.
Instant feature will "loan" you up to $500, charging a $5 fee only if you don't pay it back before your statement is over.
Cons:
This could be a pro, depending on how you see it. Dwolla has no debit card function. It's intended to be used as an extension of your existing bank account.
Smaller base of users means that you're not as likely to find a Dwolla customer for exchanging funds.
Square
Setup:
For many merchants, Square has been the dream alternative to PayPal. By allowing customers to swipe physical cards with nothing more than a dongle on the merchant's iPhone, it's changing the way that many companies do business. Just snag a dongle, install the app, tie it to your bank account and you're done. Onboarding with Square is supremely simple.
Pros:
Supremely easy to use.
Flat 2.75% fee on any swiped transaction. Goes to 3.5% + 15¢ per transaction if the card is entered manually.
Next-day deposits directly to your bank account.
Cons:
Square is intended as a business tool, rather than a peer-to-peer platform. Your friends will need to swipe a card to give you cash.
Clover Pay
Setup:
Clover
came out of the gates with
a killer team
and a mobile app that's top-notch. If you can
get an invitation
 to the somewhat-closed beta you can be set up on Clover in a matter of minutes.
Pros:
Super-simple process for requesting and making payments.
Numerous methods for requesting and sending, including face-to-face, by email or over SMS.
Fee-free for non-commercial use.
Cons:
Low limits on funding your account via credit cards, as well as withdrawal to PayPal.
$2000 monthly cap on ACH funding or withdrawal.
Adoption seems to be slower than other services.
Who Should You Use?
That's the real point here, right? You want to know what option is best. Unfortunately, there's not any one that rises completely above the others. Dwolla and Clover are my two choices for the most promising, but PayPal's ubiquity keeps it as a necessary thorn in my side. The real answer has a lot more to do with how you plan on using the service.
If ubiquity is important to you, there's only once choice and that's PayPal. But if you're willing to give up a bit of convenience, then Dwolla's $0.25 per transaction and bank-account-augmentation are compelling features. I have big hopes for Clover, mainly because it's a great team and a beautiful app. But I've yet to talk to anyone who's actually used the service.
Finally, there's an elephant in the room here…and in the image at the top of this post. Google Wallet. Unfortunately there are a lot of factors that prevent Google Wallet from being a be-all, end-all solution. The primary problem? It's locked to Android right now. And even then it's locked to only a select few Android phones. It's a big promise, but one that will take a lot of time to come to fruition.
The end result is that there probably isn't one "great" choice, just yet. But we're moving in the right direction and that's important. For me, it's a combination of (begrudgingly) using PayPal when I have to and reverting to Dwolla when I can. Maybe your situation will be different, but hopefully this has helped you gain some insight.
Get the TNW newsletter
Get the most important tech news in your inbox each week.
Also tagged with