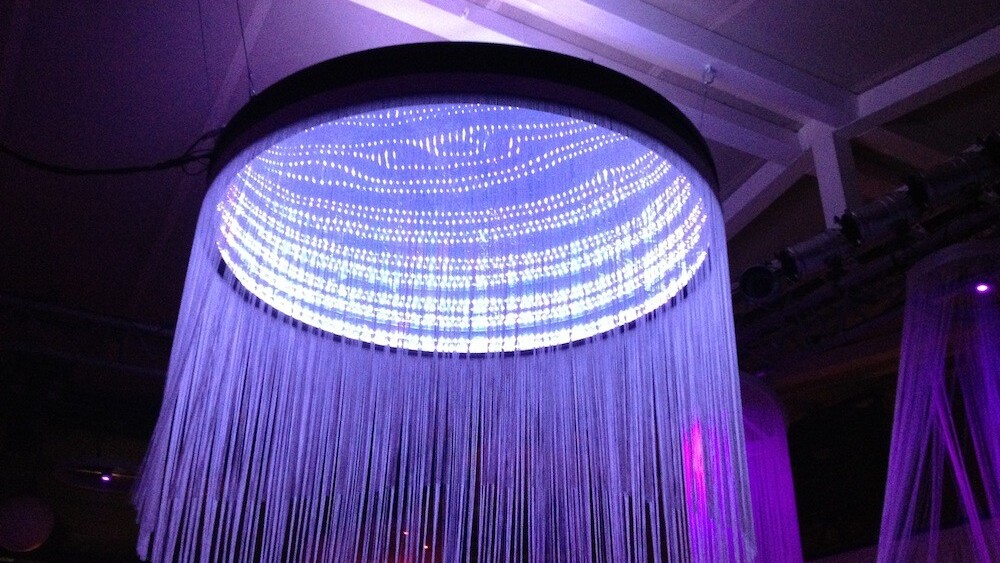 Story by
Anna Heim is the founder of MonoLibre and a freelance writer for various tech and startup publications. She is a polyglot French news junkie Anna Heim is the founder of MonoLibre and a freelance writer for various tech and startup publications. She is a polyglot French news junkie with a love for technology.
Berlin-based developers Liine have released a new and free interactive music app for iOS, called Smudge, which you can test live at DJ Richie Hawtin's new night in Ibiza, Spain this summer, ENTER.
While the app works anywhere, it is at its best when used to interact with the dedicated audiovisual installation that occupies an entire terrace at Ibiza's famous club Space every Thursday, and which we got the opportunity to visit. Called ENTER.Interakt, the room consists of illuminated columns with sound effects that can be activated through motion sensors or via the app.
The app itself relies on Bluetooth to let you create original sound and light sequences, in collaboration with other attendees and the master iPad that can be found in the DJ booth.
The room and its eerie sound effects may initially seem quite mysterious to partygoers, but posters on the wall let them know about the app and how to get it on their phones, leading a handful of them to download it on the spot. Once open, the app immediately tries to connect to the room; once the connection is in place, it starts "pulsing."
Playing with it is very intuitive – all you have to do is to draw a form with your fingers. While you may be tempted to draw familiar forms, the app is actually more subtle than it seems – each "Smudge" includes invisible control points such as reverberation, pitch and other variables, which you can adjust to trigger effects on "your" column.
As a matter of fact, Smudge is not a gadget, and also reflects the conceptual vision of Richie "Plastikman" Hawtin and his friends, as well as Liine's raison d'être. Formed in 2010 by Etienne Noreau-Hébert, Gareth Williams, John Acquaviva, Mark Quail, Nicolas Bougaïeff and Richie Hawtin himself, Liine defines itself as a group of musicians and developers passionate about music and technology. Its long-term goal is "to redefine the way people interact with sound."
While the studio is best known for its pro tools such as Griid and Lemur, it has already ventured into the consumer segment with mainstream music apps with the Remiix series. This is also the case of Smudge, which is free and accessible to any individual or group of people interested in playing with sound control. In standalone mode, which works best with headphones, one single user can create one full sequence of 16 smudges; in collaborative mode, users can connect Smudge via multiple iPads to share the same sequence.
Still, Smudge can only be fully understood when interpreted as yet another element of the ENTER. concept, symbolized by a black dot. The driving force behind Hawtin's long-expected first solo residency in Ibiza, ENTER. marries great music, sake, visual arts and technology to create "a new sensory experience beyond music involving cutting edge technologies and ideas."
One thing is for sure, it's exciting to see a big name like Hawtin keep on innovating, when he could simply cash in on his reputation. This obviously reflects his geekiness, which he uses to enhance the music experience; a few weeks ago, he unveiled the latest version of Twitter DJ, a plugin that lets DJs broadcast the tracks they are playing in real-time during their sets.
Yet, this isn't only about Hawtin, and it's also another sign of the natural connections between electronic music and tech. Unsurprisingly, this trend can also be observed in dance music mecca, Ibiza. While some go there to do yoga retreats and channel their hippie or mystical vibe while disconnecting from the world, the island itself has never been so connected. It's not only about Space; right across the street, Ushuaïa Beach Hotel experiments contactless payments and uses RFID wristbands to let revelers automatically share their pictures on Facebook. Could Ibiza become the ultimate geek destination?
➤ Smudge