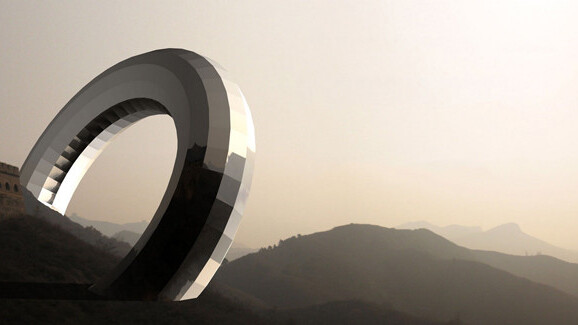 Story by
Reporter
Jackie Dove was in charge of The Next Web's Creativity channel from February 2014 through October 2015. Jackie Dove was in charge of The Next Web's Creativity channel from February 2014 through October 2015.
If you're not satisfied with photographing the world as it is, Pixite's new Matter app for iPhone and iPad has devised a way to let you insert all kinds of inanimate objects into your shot. These aren't just any objects, but beautifully rendered, highly customizable 3D effects, complete with their own shadows and reflections and ready for export as either photos or video loops.
You can aim to be photorealistic, fantastical or somewhere in between with endless ways to integrate these structures into your picture. Matter — brought to you by the makers of Union — ships with four packs of models, from simple geometric shapes to complex, architectural structures. You can enhance each object by choosing a color and style, such as reflective, refractive, opaque or translucent. You can place the image you want to use in the window and then use your finger to cycle through the menu of shapes, styles and shadow variations.
Matter adds shadows to objects in real­ time and you can fine­ tune the shadow's position, opacity, and strength, as well as use the app's built-­in masking tools to erase portions of the model or shadow to blend into the photo's tableau.
A four-pack of 3D objects and structures ships with the app.
The app's video export feature lets you create short animated loops of the object spinning, pulsing, and hovering in the photo. You can achieve different effects by adjusting the rotation, speed and direction of the object.
Pixite's Free For All photo browser, which launches alongside the app, offers photos contributed by Instagram artists. If you don't have photos of your own to use, you're free to edit and share community photos as long as you credit the contributing artist. The browser is available by tapping the Community Photos button at the bottom of the Matter photo picker.
When you're done, you can save and share your work as videos — with objects animating the photo — or still images by email, SMS, Instagram, and other social networks.
Use your finger to swipe through the selection of objects, styles, shadows and masks. (Photo: Nick Nestler, Matter Free for All browser)
Matter is not for everyone, but I found it more intriguing than I — a photorealist– would imagine. The renderings are so well done that I found myself looking around my collection for images to enhance. The sheer volume of choices can be overwhelming, so when viewing the app, it's nice to have a conception about how you want to use it in your photo. On the other hand, you can just go crazy — no harm done.
While the app is easy to use, the fact that it only operates in portrait orientation gives users very limited space to maneuver around the canvas if you're using an iPhone. Using Matter with photos shot vertically, at least on the iPhone, is easier than with horizontal shots. The iPad, even in portrait orientation, is easier all around and I found the tablet offered a more fun experience.
Matter requires iOS 7 and is available on the App Store for $1.99.
➤ Matter