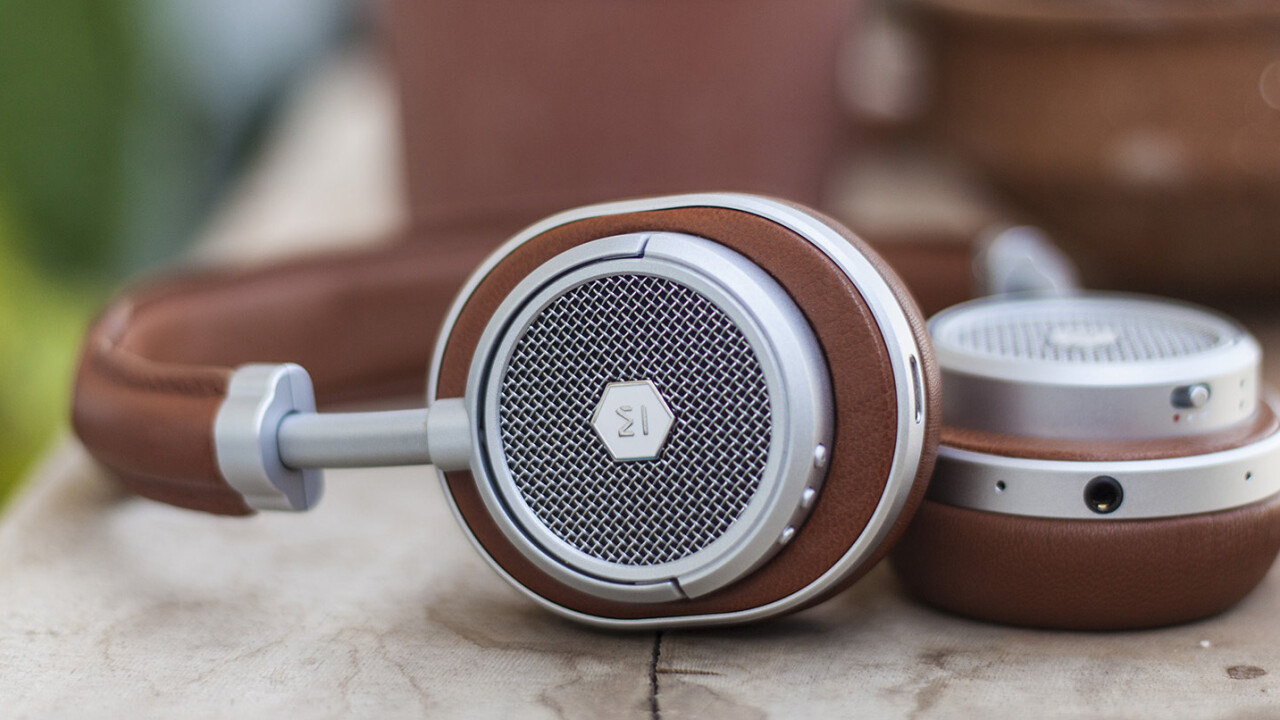 Story by
Managing Editor
Abhimanyu is TNW's Managing Editor, and is all about personal devices, Asia's tech ecosystem, as well as the intersection of technology and Abhimanyu is TNW's Managing Editor, and is all about personal devices, Asia's tech ecosystem, as well as the intersection of technology and culture. Hit him up on Twitter, or write in: [email protected].
So you're in the market for great-sounding headphones, but you don't want them to weigh you down? New York-based brand Master & Dynamic wants to prove that function, style and high-end performance can indeed come together in a portable package, with its recently released MW50 wireless supra-aural (on-ear) headphones.
At $450 (499€ in Europe), they're certainly not cheap, but they offer a lot for the asking price: an excellent design that goes anywhere, high-quality components, luxurious materials and incredible build quality. But should you pony up that sort of dough for a pair of cans? I tested the MW50 over the past few weeks to find out.
Design
The MW50 features a timeless design that blends old-school charm – in elements such as the grilles on the ear pads, buttons that will remind you of old hi-fi sets – with modern touches like chamfered edges on the the ear pad frames.
I'm going to get into some detail about the materials on the MW50 than we usually do with other products, but they're part of the reason behind the headphones' high price. You've got beautiful heavy grain cowhide leather on the exterior of the headband, and soft lambskin on the interior as well as the removable ear pads for comfort. The finish is fantastic, with clean stitching and embossing making for a premium feel.
The MW50 is designed to be smaller and significantly lighter than its over-the-ear counterpart, the MW60. The pads are connected to durable stainless steel hinges that rotate to allow you to fold the ear pads flat and pack them into the included canvas carrying case.
You'll also find a beautiful leather-covered box for the included braided AUX cable and USB-C charging cable. It's a well thought-out package that shows M&D's commitment to getting the details right.
Comfort
I'm not a huge fan of the buttons because it's hard to distinguish between them without a close look. You could perhaps get used to them in a few days, but as I frequently switch between various sets of headphones, I couldn't keep the order of buttons straight in my head.
The ear pads are comfortable enough that you can wear the MW50 for hours at a stretch without a fuss, but the headband did cause mild discomfort as it squeezed the tops of my ears against the temples of my glasses. It's not a deal breaker by any means, though, as the fit does ensure that the headphones are never at risk of falling off.
Features
The MW50 pairs with mobile devices over Bluetooth 4.1 without much hassle; the set supports the aptX audio codec to deliver better quality sound over its wireless connection, and that helps a great deal in maintaining fidelity.
While M&D claims 16-hour battery life for this model, I got a couple of hours less than that. Still, it's certainly not bad if you've got a long day on the road. As far as range is concerned, the MW50 fares pretty well across long corridors over a distance of several meters – a lot more than my smaller wireless earbuds managed – but you'll encounter skips if there are many walls between the headphones and the audio source.
The MW50 can handle calls, but this is where its fares the worst: callers could either hear my voice at a low volume or found my voice to be drifting in and out of focus. That's a bummer because it means that I practically have to take these off to receive or make a call.
Performance
Now for the fun stuff. The MW50 sounds fantastic no matter what you throw at it, thanks to its 40mm Beryllium drivers, which are said to be clearer and more responsive than aluminum or Titanium ones (and therefore more expensive as well).
Spin some melodic prog rock like Disperse's last record and you'll be able to clearly pick out every ghost note from the drummer's cymbal work and enjoy the nuanced pick attack during the jazz-influenced guitar and bass solos. The chord changes were crisp and well defined, and there was none of that tangle of high-frequency sounds during the highly involved choruses that you usually encounter with cheaper equipment.
Composer Mick Gordon's excellent industrial metal-inspired DOOM soundtrack delivered a serious kick in the pants every time the nine-string guitar made an appearance. On the quieter side, everything from Sampha's soulful vocals on his hip-hop-tinged 2017 release 'Process', to Iron & Wine's folk masterpiece 'Our Endless Numbered Days' shone on the MW50, thanks to its warm and expertly balanced sound profile.
While you're probably better off using a multi-speaker system for movies and TV, M&D's effort is no slouch in that department. Listen to BBC's amazing Planet Earth II documentary series with Sir David Attenborough's commentary, a movie with varied soundscapes like Argo or finely produced podcasts like Serial and Detective, and you'll find the MW50's sound to be gloriously rich in detail and clarity.
Overall, it sounds exciting, warm and clear all at once, and the difference in sound quality between the MW50 and cheaper headphones becomes clearly evident in just a couple of minutes of listening time. Comparing these to my $150 Bragi The Headphone wireless buds and $40 MEE Audio Air-Fi Runaway Bluetooth on-the-ear set, the MW50 is far and away a much better option; fittingly so, considering the fact that it's significantly more expensive than both those pairs combined.
Should you buy the MW50?
I'll be honest: at this point in time, I'm not the sort of person who'd drop $450 on a pair of headphones. While I can certainly appreciate quality audio gear, it's not a major priority in my life, and that's partly because of the diminishing marginal utility that you notice as you climb the ladder towards more expensive listening equipment.
Having said that, you'll be hard-pressed to find headphones that look and sound as good as the MW50 for less than its asking price. There's also plenty of attention to detail in the way these cans are crafted, and it feels like it'll hold up well for several years.
If you're looking for a good pair of headphones in the $400 – $800 range, these are certainly worth a shot. Just be prepared to answer lots of questions about which brand of cans you're sporting when you're out and about. You can find them on Master & Dynamic's site, as well as on Amazon US.
---
We like some products. We don't like others. Either way, if you buy something through our affiliate links, we get a small cut of the revenue. This isn't a sponsored post, but for the sake of transparency, you deserve to know what's up.
Get the TNW newsletter
Get the most important tech news in your inbox each week.
Also tagged with