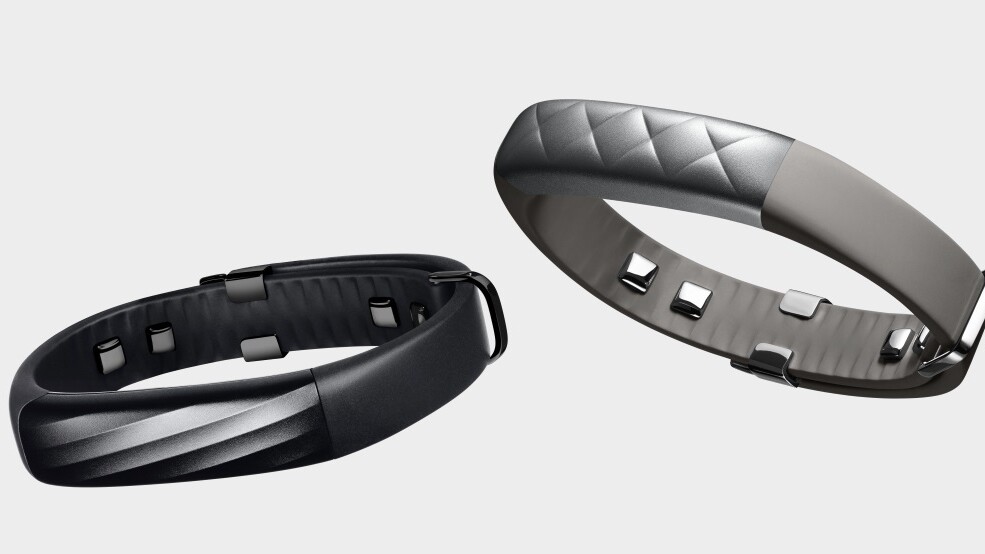 Story by
Europe Editor
Ben is a technology journalist with a specialism in mobile devices and a geeky love of mobile spectrum issues. Ben used to be a professional Ben is a technology journalist with a specialism in mobile devices and a geeky love of mobile spectrum issues. Ben used to be a professional online poker player. You can contact him via Twitter or on Google+.
Jawbone's recent announcement that it was opening up its software platform may have shown a renewed interest in controlling its destiny through an extensible software platform, but at its core, it's still a hardware company. A fact it cemented with the launch of two new wearable activity trackers today.
Rather than aiming to replace its existing UP and UP 24 bands, the new additions are designed to fill-out the range in terms of price and functionality. Currently, the UP costs $80 and the UP24 is $130.
Now at the low-end there's the UP Move at $49.99 (£39.99) and at the high-end there's the all-singing, all-dancing UP3 priced at $179.99 (£149.99).
Basic movement tracking features remain the same throughout, but the more you spend, the more detailed feedback you can get from each device.
UP3
At the top-end of the pricing and functionality scale is the UP3, which has a wealth of sensors for tracking a range of information – some of which you won't find on rival products.
For example, it'll track your heart rate, galvanic skin response, respiration rate, and temperature – both skin and ambient. There's a tri-axis accelerometer on board too for the actual movement tracking.
The key to this band though is the intention for the wearer to keep it on all-day long, and through the night too. At the moment, it's offering the ability to measure resting heart rate – something that can only accurately be done first thing in the morning when you wake up, before you've done anything else (checked email, drunk coffee etc.). In the future, a firmware update will allow the band to provide on-demand heart rate measurement too, Jawbone told TNW.
The other big part of UP tracking is sleep, which has also been upgraded for the UP3. You can now track different stages including REM, Light and Deep, to give you more information about your rest. Obviously, the idea is that you use the feedback from the app to inform your routine.
To ensure you have as much info as possible, there's also a new Smart Coach system with insights, suggestions and goal-tracking. The more you tell it about your activity, sleep and eating habits, the more it can suggest changes to your routine. For example, it can provide an extra incentive to go to bed early by reminding you that on your most active days, you always get at least X hours of sleep.
There's also new automatic recognition of specific activities, which should mean a more complete picture of your exercise; forgetting to start tracking your run/cross-training/tennis session (or many other activities) shouldn't be an issue any more.
Handily, the UP3 is also water resistant up to 10 meters – and unlike earlier models in the range – comes in just one-size-fits-all option. Jawbone said it can happily go about one week between charges.
The UP3 will arrive in two colors (Black Diamond or Silver Cross) from "this winter" both online and in retail stores. Initially, the app for UP3 will only be compatible with iOS devices, but an Android version will be available "early next year," the company said.
➤ UP3 [Jawbone]
UP Move
The second wearable, the UP Move, is Jawbone's shot at the low-end of the market. Delivering a relatively low-cost wearable allows Jawbone to reach more potential customers, particularly those who may already be using the app without a tracking band but are now ready to take that first step into hardware.
It's also essential for the company to have a sub-$50 option on the market, as some of its competitors do too – Xiaomi's Mi Band costs an equivalent of just $13.
For that $50 asking price, you may only get a footing on the bottom rung of Jawbone's hardware ladder, but basic tracking includes steps, exercise activities and calories burned, plus information about your sleep.
As it's essentially a single app for all the UP bands, you also get access to the new Smart Coach too – although you'll be feeding it with less data than UP3 users due to the lack of certain sensors.
In some ways, it uses a similar interface to the Misfit Shine à la its blinking system of LED lights to indicate the time, your step progress and the amount of sleep you got the night before.
UP Move will be available in five color combinations: Onyx Burst in an Onyx Clip, Blue Burst in a Fog Clip, Grape Rose in a Grape-colored clip, Ruby Rose with a Red Punch clip and Slate Rose in a Yellow clip. Alternatively, you can just pop the tracker in your pocket or place it inside a wrist strap (to be sold separately, after launch).
To avoid the problems of needing to remember to charge the band, it uses a standard watch battery, which a spokesman said should last for up to six months.
The UP Move will be available from November 7 for pre-order on Jawbone.com and will be available from late November in select colors via online and brick-and-mortar retailers like Apple and Amazon.
➤ UP Move [Jawbone]