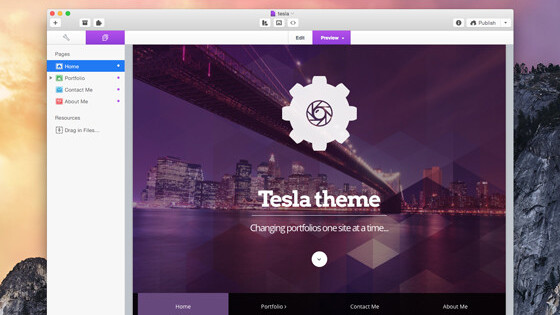 Story by
Reporter
Jackie Dove was in charge of The Next Web's Creativity channel from February 2014 through October 2015. Jackie Dove was in charge of The Next Web's Creativity channel from February 2014 through October 2015.
With the increasing prevalence of online blogging software from platforms like WordPress and Blogger, it's hard to remember that regular folks and many small businesses still create websites — with traditional desktop software, no less.
Apple's abandonment of iWeb as part of the 2012 sunset of MobileMe and the rise of iCloud, cleared the decks for other Mac developers to pick up the slack on the consumer end. RealMac Software's RapidWeaver was among the software packages widely touted as successors to iWeb, alongside competitors like Karelia Software's Sandvox, Rage Software's EverWeb and Softpress' Freeway.
It's no coincidence that RapidWeaver 6 is being released at the dawn of Yosemite, and RealMac's founder Dan Counsell has stated that this upgrade was built specifically for both Mavericks and Yosemite. Now a 64-bit app, RapidWeaver has undergone a complete overhaul to include, among other things, full screen and multi-file upload capabilities and compatibility with OS X features like Versions and Auto Save.
RealMac says that RapidWeaver 6 is three times faster than the previous version thanks to an upgraded publishing engine. It includes five new responsive themes that make it easier to build mobile-friendly sites. Responsive previews and preview presets for the Desktop, iPad and iPhone let you view your site on different devices before a public launch.
RapidWeaver is integrated with the popular Markdown language that generates HTML without users having to code. Coding support for HTML, CSS and JavaScript lets you insert code into your project to apply site-wide. With more than 1,000 third party add-ons, RapidWeaver has also updated its add-ons manager to organize and locate those used for each site.
RapidWeaver 6 costs $89.99 and is available now from the Realmac Software store, with upgrades priced at $39.99. The app  launches in English, but other language versions, including French, German, Italian and Japanese are on the way. It requires OS X 10.9 and above. 
RapidWeaver has decided not to offer the software through the Mac App Store, at least not at launch. In a blog post, the company explained that despite being App Store-ready, it wants to maintain more control over this major update and to offer preferential upgrade pricing to longtime customers.
Get the TNW newsletter
Get the most important tech news in your inbox each week.