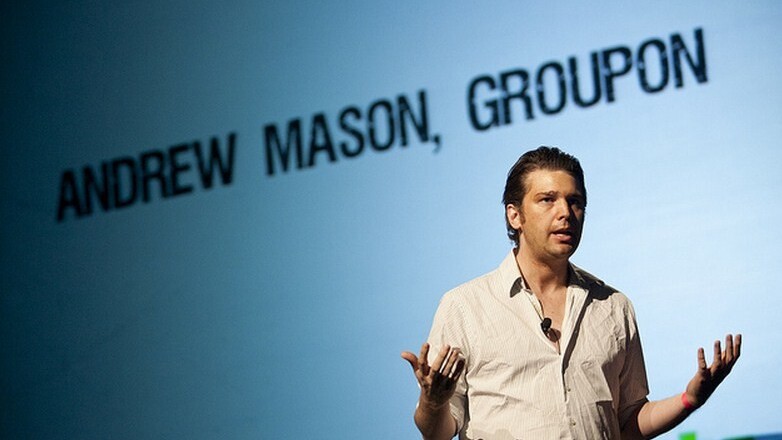 Story by
Alex Wilhelm is a San Francisco-based writer. You can find Alex on Twitter, and on Facebook. You can reach Alex via email at [email protected] Alex Wilhelm is a San Francisco-based writer. You can find Alex on Twitter, and on Facebook. You can reach Alex via email at [email protected]
One strong quarter has not righted the Groupon ship, as its stock today hit a fresh low. Losing nearly 5.5% during the day's trading, Groupon ended the day at $8.31.
According to Google Finance, that places its total market capitalization at $5.37 billion. That figure matters, as Google reportedly offered $5 billion for Groupon before it went public, a deal that included a $750 million earn out, placing the full potential value of the offer at $5.75 billion. Thus, Groupon is trading down about $400 million when compared to what Google was willing to pay for it.
Recently, Groupon's stock 'unlocked,' allowing insiders in the firm to sell their shares. When that happened, the company's stock took a hit.
However, not all has been dark in the land of Groupon: its last quarterly earnings report was far better than expected. From TNW's previous coverage:
Today Groupon released its first quarter earnings, marking the second time that it has done so since its initial public offering. The company had revenues of$559.3 million and earnings per share of $0.02 (non-GAAP). On a GAAP basis, the company lost $0.02 per share.

On a year by year basis, Groupon grew its revenues 89%, compared to the same quarter in 2011. Here's what analysts, according to Bloomberg, had anticipated: Sales of $530.8 million are expected for the quarter, with a net loss of $28.9 million. As we noted previously, that anticipated sales figure would represent an 80% year over year rise.
Following that report, Groupon's stock rose sharply. Those gains, and more, have been erased. Why? According to the influential Crain's Chicago Business, the latest slipping in Groupon's public share price "started last week when a Wall Street analyst lowered his earnings outlook for next year and Chairman Eric Lefkofsky said he'd be spending more time on venture capital firm Lightbank."
Whenever an executive makes a statement like that, it can shake investor confidence. For Groupon, however, a company that has a non-stellar record thus far as a public firm, the news carried a little more weight than it might have at a different enterprise.
Groupon went public at $20 per share.
Top Image Credit: TechCrunch