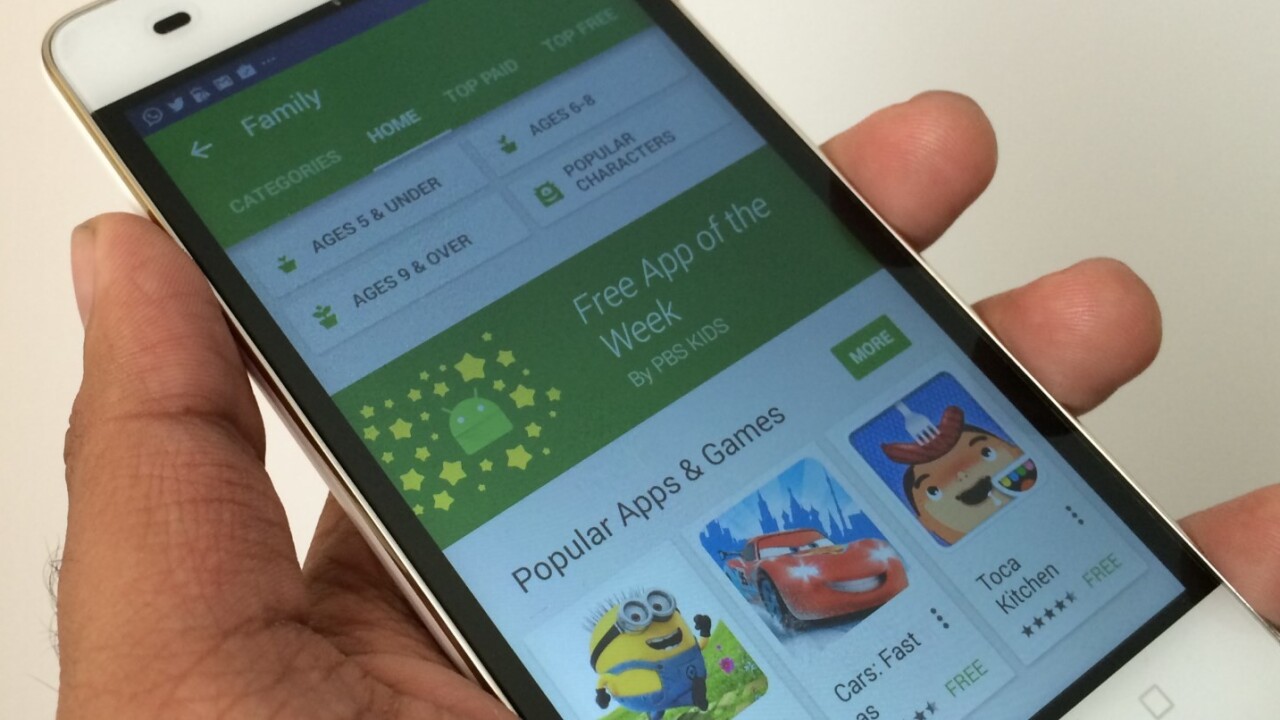 Story by
Former Reporter, TNW
TNW's former West Coast writer in the PNW (Portland, Oregon). Nate loves amplifying developers, and codes in Swift when he's not writing. If TNW's former West Coast writer in the PNW (Portland, Oregon). Nate loves amplifying developers, and codes in Swift when he's not writing. If you need to get in touch, Twitter is your best bet.
Today at the Game developers Conference (GDC), Google announced new features that will allow developers to make more money, learn more about users and stand out in the crowded Play Store marketplace.
Independent developers have the spotlight
A new Play Store section named 'Indie Corner' will highlight independent developers and teams. Google tells us there are no hard and fast rules for being featured, though it will be looking for teams of roughly 15 developers or less.
Additionally, games featured on Indie Corner will have the best implementation of various tools available to developers like leaderboards and achievements for gamers. Google will also task its own staff with playing each submitted game to qualify that the in-app experience is top notch.
Google also tells TNW it wants to surface content from independent developers, which it sees as vital to the health of the app ecosystem.
Google knows in-app spending is huge
Developers will also see more tools for managing in-app purchases and features. In the Google Play Developer console, developers will soon be able to adjust things like virtual goods and currencies in apps without changing the APK.
The new feature can be managed from the Console, and will be built into the Play Developer API. Google will be rolling the new feature out over the next few months.
YouTube live is coming to games
A video recording API will let gamers record in-app play, then share it to YouTube.
In addition to recording and sharing in-app play, Google is bringing livestreaming functionality. Gamers will be able to livestream their screens, as well as utilize the front-facing camera to show their own reactions.
Analytics
Google's Player Stats API has a clever new feature named 'predictive analytics' that offers up information on the in-app behavior of users.
The goal is monetization. By analyzing what gamers do in apps, Google thinks it can help developers know who will spend, and when. With that knowledge, developers can create a more custom experience for users.
For instance, if a player's behavior suggests they're likely going to spend money, there would be less reason to display ads encouraging that they buy a bag of coins for in-app purchases. Similarly, players with behavior suggesting they're likely — but not probably — to spend money may respond to a gentle nudge or unique sale for those coins.
And that player that shows no signs they're willing to spend money? Maybe a fantastic deal will encourage them to buy something.
Google tells TNW the API will only monitor behavior, not personal information of users.
Search is more useful
A feature which allows players to try games before downloading them is rolling out widely, and getting better.
When Android users search for games using Google search on their devices, a 'try now' button lets them play the game for ten minutes in an emulator. There is no initial download of the game, but players can download a game once they've run through the trial.
Google says the trial puts gamers in the game proper, so developers won't need to create a unique experience for search. To that, it's valuable to have a great on-boarding experience so players can see why a game is valuable.
Ads matter
Portrait ads are coming to games. Noting over 80 percent of videos viewed in mobile apps are done so in portrait, Google will soon allow video ads in portrait format, which its own studies say improve click-through and conversion rates.
Developers will also be able to target dedicated gamers. A new targeting feature will let developers show ads to gamers that have played more than 30 minutes in a week, which should be handy for games with more robust experiences.
Lastly, Google is adding AdMob Mediation, which lets users engage with ads for in-app rewards. Currently, mediation supports the AdColony, AppLovin, Chartboost, Fyber, Upsight and Vungle networks.
This is just the beginning
Google notes it has more features coming throughout 2016, too. While these features are all great news for developers, Google I/O is still on the horizon. We should expect more great things to come from that conference.