Story by
Reporter
Napier Lopez is a writer based in New York City. He's interested in all things tech, science, and photography related, and likes to yo-yo in Napier Lopez is a writer based in New York City. He's interested in all things tech, science, and photography related, and likes to yo-yo in his free time. Follow him on Twitter.
Ever since Google launched Allo and Duo, we've known that Hangouts would be making the transition from a consumer-focused product to a business one. That change begins today with the announcement of Hangouts Chat and Hangouts Meet.
While the standard Hangouts app will stick around for a while, it's essentially being replaced by Chat and Meet. The pair are clearly aimed at taking on Slack (and Microsoft's new Teams) in the workplace. And naturally, the apps are tightly integrated with the rest of the G Suite apps.
Chat is your new place for team conversations. Like Slack, you can have virtual 'rooms' for different projects and/or people, and it includes threaded conversation from the get-go. Files shared from Drive and Docs can be viewed inline, and it's equipped with powerful search with filtering options.
Google is also giving Chat integrations by launching the Hangouts chat platform. In other words, expect an influx of Hangouts bots soon. In fact, there's already a bot built in – @meet – which can schedule meetings for you and directly plug them into your Google Calendar.
Meanwhile, Google is also partnering with companies like Asana, Box, Prosperworks and Zendesk.
The other side of the equation, Meet, is a refreshed take on video conferencing, one of Hangouts' strong suits. Google says Meet has been built to be light and fast, as well as to make it easy to invite outside participants.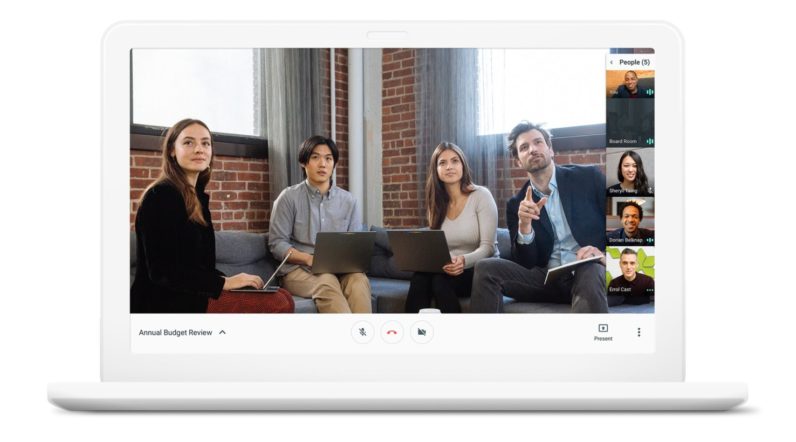 For instance, you can simply share a link to a conversation, with no need to create account, install a plugin, or use other downloads. You can also join in from a Google Calendar post, email invite, or – for enterprise-tier users – a dedicated dial-in number. It can even automatically pull in files you need directly from Google Drive for when you need to screen share.
You'll have to wait to try out Chat, as it's still in a relatively early phase; you can apply to try it out via Google's Early Adopter Program. Meet, on the other hand, is available today and will roll out to G Suite customers "over the next few weeks."
While it's nice to see Hangouts finally having a direction after wandering around pretty aimlessly the last few years, plenty of people still use Hangouts to communicate for non-business uses, particularly within Gmail.
It's not clear how Hangouts Chat will integrate with your inbox in the future. According to the Verge, Google says it make chat widely available to Gmail users at some point, and will implement a "freemium" model so users have to pay up for certain features. What those feature are, however, remains to be seen.
Get the TNW newsletter
Get the most important tech news in your inbox each week.
Also tagged with