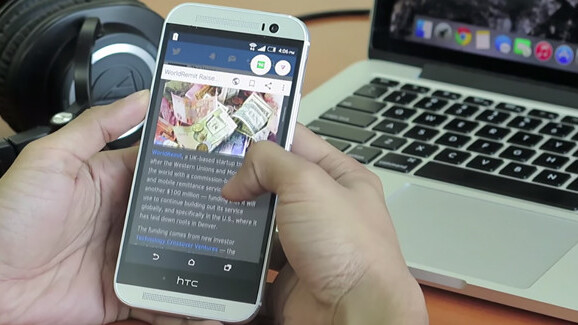 Story by
Reporter
Jackie Dove was in charge of The Next Web's Creativity channel from February 2014 through October 2015. Jackie Dove was in charge of The Next Web's Creativity channel from February 2014 through October 2015.
One small screen — so many links. How do you keep them organized?
Flynx, an Android app that has just emerged from beta, is a lightweight browser that runs in the background, offering an uninterrupted browsing experience for multitaskers. Wrapped in a minimalist layout that's easy on the eyes, Flynx helps you keep your mobile reading list organized so you don't go flying off into distracting tangents. You can even save content for viewing offline if you run out of time.
Flynx's algorithms automatically detect articles or blogs from links on Facebook, Twitter, Google+, WhatsApp and others, and presents a small globe icon on the page. Tap the links you want to read, and Flynx opens them in the background. Click the icon and the app opens the items you saved in reading mode without ads.
A double-tap lets you save articles or images for later and for offline viewing. If you save more than one item, Flynx presents a counter badge on the icon letting you know how many items are in the queue. You can save up to four items. Share links quickly to Facebook, Twitter, Pushbullet or save links to Pocket, Instapaper, Readability and Evernote.
When you click directly on a link, you get a choice of whether to open it in Flynx or another browser, and you can choose once or always to keep Flynx as the default.
As you save items, the little icons line up at the top of the window, ready for you to read. To remove them, just slide down to the X icon on the screen. For example a night mode for white-on-black reading is more comfortable for dark environment and you can adjust the text size.
The concept behind Flynx is not new. Link Bubble, another Android app, also performs a similar function. Flynx is free, though limited to four saves. With Link Bubble, the ability to link from more than one app, plus night mode, reading mode and other features must be purchased for $5.
➤ Flynx [Google Play Store]
Get the TNW newsletter
Get the most important tech news in your inbox each week.
Also tagged with