Story by
Andy is an editor and content translator at VentureSquare. He has lived in Korea for over seven years and has an avid interest in technology Andy is an editor and content translator at VentureSquare. He has lived in Korea for over seven years and has an avid interest in technology and startups. You can follow Andy on Twitter or email him.
Korean startup Greenmonster has launched a Web version of its mobile journal writing platform Flava.
The service began as an iOS diary app development project back in early 2011, with the goal of unleashing the iPhone's multimedia journaling capacity within a single app interface.
Flava then launched as a paid app for iPhone users in the second half of that year, quickly becoming featured in iTunes' "New and Noteworthy" category in 105 countries including the US, Japan and China. Just two weeks later, Flava was featured once again in the "What's Hot" section of the iTunes stores in the US, Canada and China.
In our initial review, we called it described it as a "fantastic companion for anyone who wants to save random things throughout the day".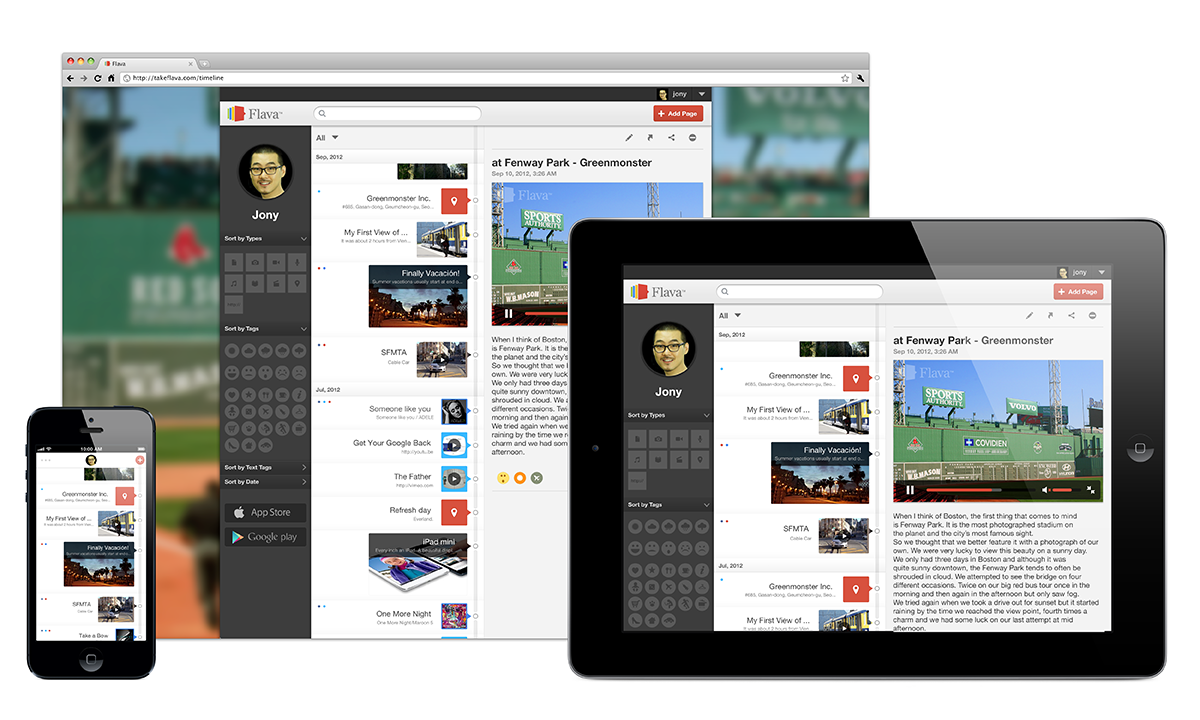 Gaining confidence from the initial positive market response, Greenmonster moved forward with the more ambitious goal of turning Flava into a cloud based multiplatform service. Flava dropped the price barrier in order to acquire more users along the way and raised close to half a million US dollars in its first round of venture capital funding.
In the third quarter of 2012, Greenmonster introduced the Flava Android app, where it enabled cloud back-up of user data and also released a second version of the iOS app with a major overhaul of the user interface.
With the introduction of cloud back-up, it was only a matter of time before Greenmonster would eventually come up with a Web version of Flava. However, few could have anticipated Flava's Web counterpart to arrive as early as January 2013.
Daniel Ha, CEO of Greenmonster, said:
"It might appear that we're doing too much too fast. However, all these product line-ups have been envisioned as early as late 2011. We've been working consistently to materialize our big picture throughout 2012 and things are just becoming more visible now. Making journal writing easier with smartphones was only half of the job. We wanted Flava to become a cloud based multiplatform service so that our users can rely on Flava for lifetime continuity of journal keeping."
The Web version was developed following high demand from users' to access their Flava timeline on a bigger screen so that they could do more with their moments and thoughts captured with the mobile app.
If you're all about keeping tabs on your life then definitely give this service a look. Flava can be downloaded for both  iOS and Android, or accessed via the new Web login.
Disclosure: This article contains an affiliate link. While we only ever write about products we think deserve to be on the pages of our site, The Next Web may earn a small commission if you click through and buy the product in question. For more information, please see our Terms of Service
Get the TNW newsletter
Get the most important tech news in your inbox each week.