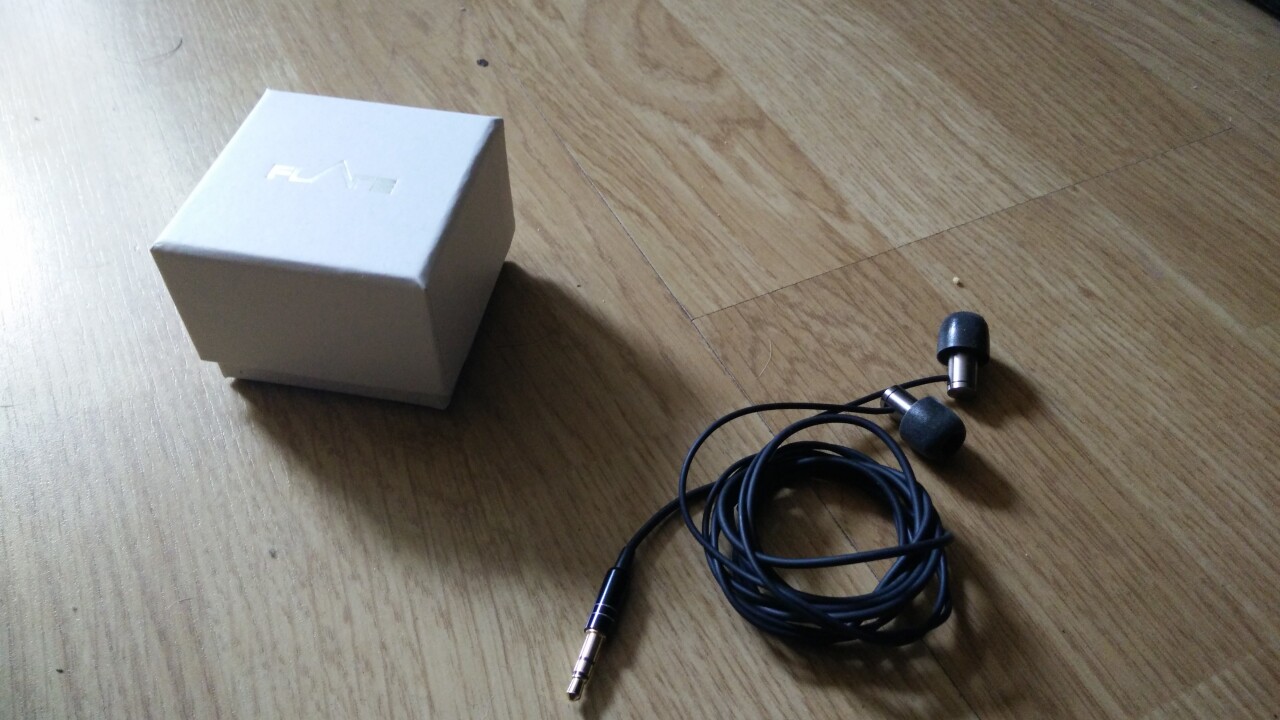 Story by
Commissioning Editor
Matt Hussey was the former Editor-in-Chief for The Next Web. Previously he worked on the launch of Wired UK, ShortList and Mr Porter. He's b Matt Hussey was the former Editor-in-Chief for The Next Web. Previously he worked on the launch of Wired UK, ShortList and Mr Porter. He's been an active contributor to GQ, FHM, Men's Health, Yahoo, The Daily Telegraph and maintains a blog on Huffington Post
Britain has a stellar reputation for creating studio quality speakers. Bowers & Wilkins, Funktion-One, Gale and KEF all maintain a high standing among competition from abroad. Another such company is Flare Audio, based on the south coast. The award winning speaker maker supplies recording studios, live festivals and even the occasional cinema.
More recently, however, the company has got into headphones. Its current Kickstarter campaign introduced a pair of in-ear buds – in six material and color variations – and two over-ear models incorporating technology that Flare claims has never been used before in portable audio. Can a plucky British upstart reinvent the headphone industry?
Packing a punch
I was given a pair of the R2PRO Titanium ear buds to try out. The PROs are top of the pile when it comes to the in-ear range, coming in at $310 (£200) if you buy on Kickstarter, or an eye-watering $620 (£400) if you wait for full production.
The company says the earphones will definitely launch later this year. The Kickstarter campaign is more to raise awareness than source the funds to put them into production. So please do buy them now to avoid a massive mark-up later.
My pair arrived in a tiny, almost ring-sized box, which feels a bit underwhelming. Trying to get the headphones out of their enclosure was nigh on impossible with my fat fingers. I had to resort to gently sliding a knife down the side to remove the internal packaging.
The first thing I noticed was just how small these buds are. I have a cheap pair of Adidas sport headphones for the gym, and they look like monsters compared to these. There's no labelling anywhere, not even a simple 'L' or 'R' to indicate which ear you should put them in. Just black, silver and a gold tipped headphone jack. (Since publishing, we have been told that the headphones will feature branding and 'L' and 'R' indicators).
Inside the box, you'll also find a pair of professional grade Comply Isolation memory foam tips. Sadly, they come in a rather unseemly plastic bag which makes them look more like something you'd be handed on a long-haul flight.
To get the R2PROs into your ears you have to squash the foam with your fingers before inserting and holding for 10 seconds. That sounds awkward, but it does mean they form a pretty tight seal without the need for active noise canceling.
Once in, I was surprised by just how comfortable they were. I barely noticed they were there. I managed to sit at my desk with them in for eight hours and never once needed to take them out because my ears were aching. The headphones did start to itch after four hours, but that would be classed as excessive use. Most people would actually step away from their laptop at some point during that time.
I have a pair of Bowers & Wilkins P5s which crush the cartilage on my ears meaning I have to take them off after an hour or so. So I was relieved to find a pair of headphones that I can wear all day. But how do they sound?
Vibration free sound
This is what Flare really wants you to focus on. The tiny buds are made from a solid block of titanium, which has a molecular structure that prevents vibrations. Inside there's a pressure balanced micro 5mm neodymium driver that Flare claims eliminates audible distortion completely.
I listen to a lot of streamed music through my laptop, and so I wasn't expecting to get much of a difference between these and my P5s. But I was surprised. The R2PROs delivered one of the most pleasant listening experiences I've ever had.
The sound is so stable. Even when streaming stuff from BBC's iPlayer which guts and compresses audio files to within an inch of their life. There were no flare ups in the treble or squashy bass notes. Which felt, well, a little weird.
Previously when I've put on bass heavy music, that classic wobble feeling you get when a pair of headphones reaches its capacity is satisfying, and gives you goosebumps. With the R2s however that's not there. For an audiophile that's totally fine, but for someone who might be thinking of graduating from cheap buds to something you'd guard with your life, it can be a bit disorientating.
This is a pair of headphones for someone who wants to hear every bleep, beat, or pluck of a guitar string, and not just have something familiar to soothe your way from home to the office and back again. They compel you to pick your way through songs rather than just ignore them, which is a genuinely thrilling experience.
However, for me, a pair of ear buds this expensive needs to make me feel a little more, special. The complete absence of branding is at odds with what every other headphone manufacturer is doing. Companies like Beats Audio understand that headphones aren't simply a tool for listening to music – they're a badge that tells other people a bit about who we are.
Flare Audio has hidden all of that, choosing instead to focus on the music and nothing more. That will appeal to a lot of people who care about what they put in their ears. For everyone else, the unassuming packaging, the plastic bag for the foam tips and the absence of any noticeable sign of high quality audio – bar the build quality will leave a lot of consumers feeling a bit put off.
I love the R2PROs for everything they aren't, but would I pay more than $600 (£400) for them? Absolutely not.
Read Next: This $49 wearable Bluetooth speaker actually sounds pretty great
Get the TNW newsletter
Get the most important tech news in your inbox each week.
Also tagged with