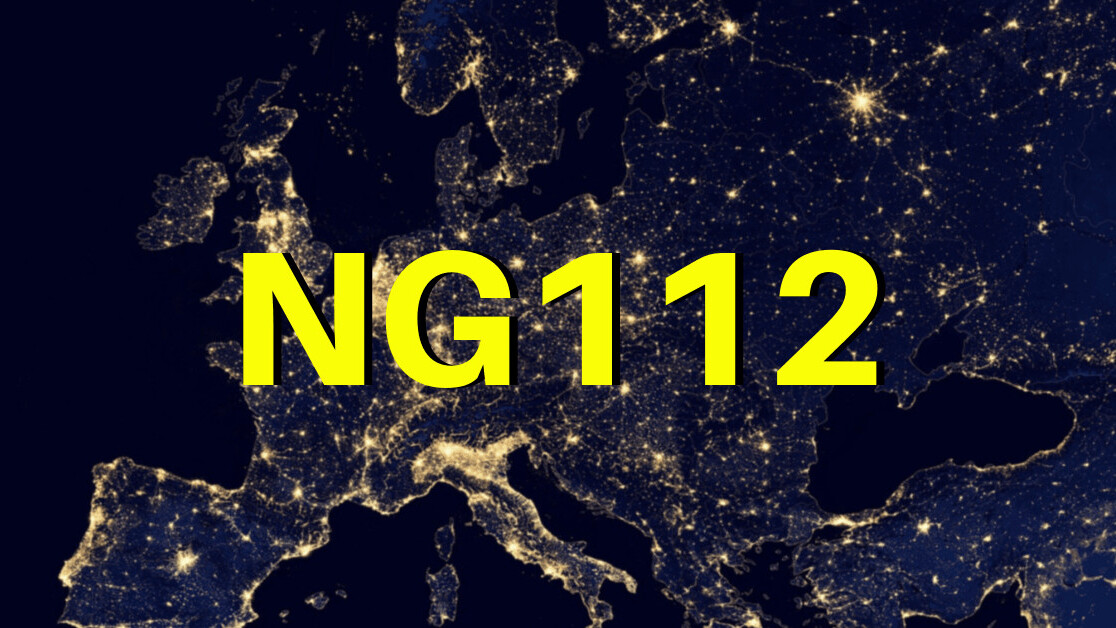 Story by
Editor, Growth Quarters by TNW
Már tries to juggle his editorial duties with writing the occasional weird article. He also loves talking about himself in the third person. Már tries to juggle his editorial duties with writing the occasional weird article. He also loves talking about himself in the third person.
The Brussels-based NGO, European Emergency Number Association (EENA), has launched Next Generation 112 (NG112), a new pan-European technical architecture to enable emergency calls through new technologies like VoIP and video calls from smartphones, 5G devices, and home speakers.
"Currently emergency services are only reachable by voice telephone calls. 5G, IoT, and smart cities are arriving and public safety could benefit from these technologies — but with the current only-voice-traditional-telephony this won't work," said Cristina Lumbreras, EENA's Technical Director, of the year-long pilot project. "Emergency services have to change their technology if they want to be part of the future, and implementing NG112 is today a must."
So what will the next generation of emergency calls look like, and why should we care?
Getting emergency services up to date
Lumbreras says it's incredibly important to ensure that emergency services don't become technologically isolated, and keep up with current user trends. When a person is in an emergency situation they'll instinctively use the communication methods they're used to — so emergency services need to adapt.
This can be tough, though, as a myriad of countries, cities, emergency responders, and companies are needed to bring about this change. That's why EENA is launching NG112; the goal is to inform all of these parties the standards exist and bring public and private ventures together to save lives. The solutions also need to be interoperable to ensure maximum effectiveness, and that's what the NG112 architecture will bring.
The European initiative is partly based on NG9-1-1 in the US, so there's some hints already of the results. Maria Jacques, President of the US National Association of State 911 Administrators, told TNW that Europeans have a lot to look forward to with NG112 as it'll make emergency services far more effective — benefiting everyone.
Jacques explains that implementing next generation emergency calls doesn't mean you'll get great technological advancements overnight — like video calling emergency services. "But when we deployed it, we thought of it as putting together a basic highway for the 911 of the future. So when new technology comes along, you don't have to replace whole systems in order to use it."
In Maine, where Jacques is also the Director of Emergency Services Communication Bureau, this has allowed emergency services to adopt text communication similar to instant messaging, which is extremely important for people with hearing disabilities and often used in domestic violence situations. Dispatchers can also easily transfer those conversations to more relevant emergency services across state (and even national) borders, making it easier to save lives.
Big ambitions
The EENA-backed NG112 aims to match NG9-1-1's capabilities, while also exploring the vast possibilities of rising technologies.
"With NG112 we'll have much more data to ensure safety," Lumbreras explains. "We're looking into prevention, to know what's happening before it happens. We're looking at smart cities, connected cars, IoT, and other things that might be of use to emergency services."
There's almost endless possibilities that new partners could bring to NG112, but some possible use cases include:
Supporting video calls when people dial emergency services, giving responders access to more contextual information about the situation at hand

Enabling real-time texting for emergency communications — just like in some states in the US, like Maine

Intelligent home speakers could be used for emergency calls or act as a delivery system for public warning messages ("reverse-112") based on their location
EENA is currently looking for public authorities and private companies across Europe to join NG112. The first step will be to update how calls from smartphones are processed (going beyond the old fashioned phone call); Lumbreras says the nonprofit is already in discussions with multiple parties for other emerging technologies, such as manufacturers of smart speakers.
The final partners will be announced in June, and the goal is to implement the NG112 in two countries soon after. The results of the 12-month project will then be announced next year. You can learn more about NG112 and it's implementation on EENA's website.

TNW Conference 2019 is coming! Check out our glorious new location, an inspiring lineup of speakers and activities, and how to be a part of this annual tech bonanza by clicking here.
Also tagged with