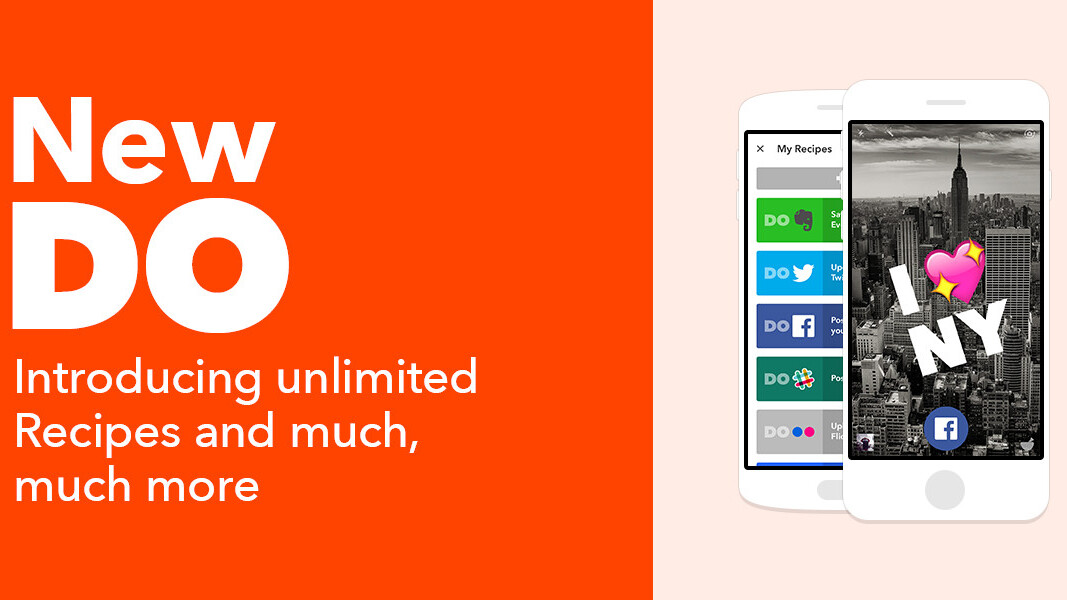 Story by
US Editor
Natt Garun is the former US Editor at The Next Web, managing the North American team on content, events, features and reviews coverage. She Natt Garun is the former US Editor at The Next Web, managing the North American team on content, events, features and reviews coverage. She previously wrote for Digital Trends, Business Insider, and Gizmodo. Facebook | Twitter | Google+
In a major update today, IFTTT has announced several new functionalities coming to its Do series of apps and the IFTTT channel itself.
Launched this past February, Do apps will now remove the three recipe limit to so you can add as many shortcuts as you want to the Do Button, Do Camera and Do Note apps.
The Do Camera app will also get a Snapchat-like feature that allows you to hold the image to preview your photo, draw and/or add text to the image, or apply filters before sending the photo off to your designated recipe.
Additional Apple Watch support has been added for Do apps as well, such as the glance feature to quickly see and trigger recipes.
To cut even more time down from accessing Do apps, IFTTT has also added a "floating button" feature on Android so users can access the widgets directly from their home screen – much like Facebook's Chat Heads.
One of our favorite uses for the floating button: The "Get yourself out of an awkward situation" recipe which fakes a call to your phone so you can excuse yourself. Genius.
On the IFTTT side, the company has added new channels devoted to all things Android. Now, users can build recipes based on Android functionalities, such as triggering actions when specific Android notifications appear or if the battery level goes below a certain percentage.
Other customizable actions include the ability to launch turn-by-turn navigation, mute/unmute the phone, turn Wi-Fi on/off or play music.
To tie to all together, two-step verification is now enabled on all IFTTT accounts for an extra layer of security.
"After months of user feedback, it was clear overtime that the recipe managing part of the experience wasn't as compelling as making stuff happen in your world," IFTTT CEO Linden Tibbets tells us of the rationale behind today's update. He says floating buttons will remain Android-specific for now due to iOS's API limitations.
Since Do's launch, Tibbets said he's seen "very different types" of users getting started with IFTTT via the new set of apps. "Over a million recipes have been created, and they have collectively run over 3 million times."
Originally, the three recipe limit on Do was part of its monetization strategy. Over time, however, Tibbets felt that opening IFTTT possibilities to more users was priority.
"We're not prepared to talk about our new monetization strategy just yet, but stay tuned."
➤ IFTTT
Read next: Yahoo Pipes: An obituary for a former 'internet milestone' turned busted flush
Get the TNW newsletter
Get the most important tech news in your inbox each week.
Also tagged with