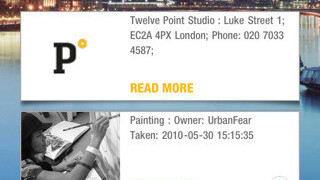 Story by
A music and tech junkie who calls Nashville home, Brad is the Director TNW Academy. You can follow him on Twitter @BradMcCarty. A music and tech junkie who calls Nashville home, Brad is the Director TNW Academy. You can follow him on Twitter @BradMcCarty.
Once in a while I get the urge to address something that bugs me. Today is one of those once in a while times. I'd like to talk to you about devices, but more appropriately I'd like to talk to you about the applications that run on them.
Devices get a lot of hype. They are "magical" or they are "game changing". All the while, the lowly software sits in the background doing its thing and getting next to no credit.
I'm here to send out the message that Steve Jobs doesn't want to hear: Devices aren't amazing, magical or anything else of the sort. But the applications they can run certainly are.
While I'm sure that this will bring out the fanboys from all sides, I'm not really attacking any one PC or phone or tablet or anything else for that matter. What I'm attacking is the mentality that surrounds them.
There was all of this talk, when the iPhone 4 came out, about how revolutionary it was. Apple's own advertising campaign stated that it changed everything…again. Oh, and remember when the iPad came out? If it weren't for the applications on the thing, it would just be another piece of plastic and metal, sitting prettily on your night stand.
When I first got my hands on my Moto Droid, I thought it was the best piece of hardware I had ever held. I was amazed at all the things that it could do. Then the realization hit me that the device itself does nothing without the applications that run on it.
When I dug deeper and got involved with rooting my device, the clarity of that fact became even more apparent. I'm sure, by now, you've seen different flavors of Linux running on Android devices. So what's that tell you? It means that the device is no more useful than the software that you put on it.
Looking at one of the biggest releases this past week, we have to take a moment to talk about the iPad as well. At its heart, it's a computer. Honestly, it's a pretty weak computer. What makes it so "amazing" is what it can do because of the applications that it houses.
Flipboard had one of those "a-ha" moments when a few hundred thousand people decided that it would be really handy to view content from sites in a more readable fashion. Granted, the manner in which the iPad works is (at the moment) the reasonable platform for Flipboard, but it could have still gone different directions.
That raises the question, then, about whether the platforms drive the applications or if it is vice versa.
If we look at the computer gaming industry, the demands of the games (the applications) are what continue to drive the hardware to new goals. Without this symbiotic relationship, neither side will grow. There is no need to buy new hardware if the applications won't exist. Likewise, it's worthless to develop an application that no platform can run.
I've said all of that to pass on this message: stop worrying about the devices.
If you truly want to be impressed with a piece of hardware, then find out what piece of software will do the things that amaze you the most. Send a nod to the developers by donating or purchasing those applications, then sit down and really enjoy the hardware for what it's meant to be — a platform for displaying applications.