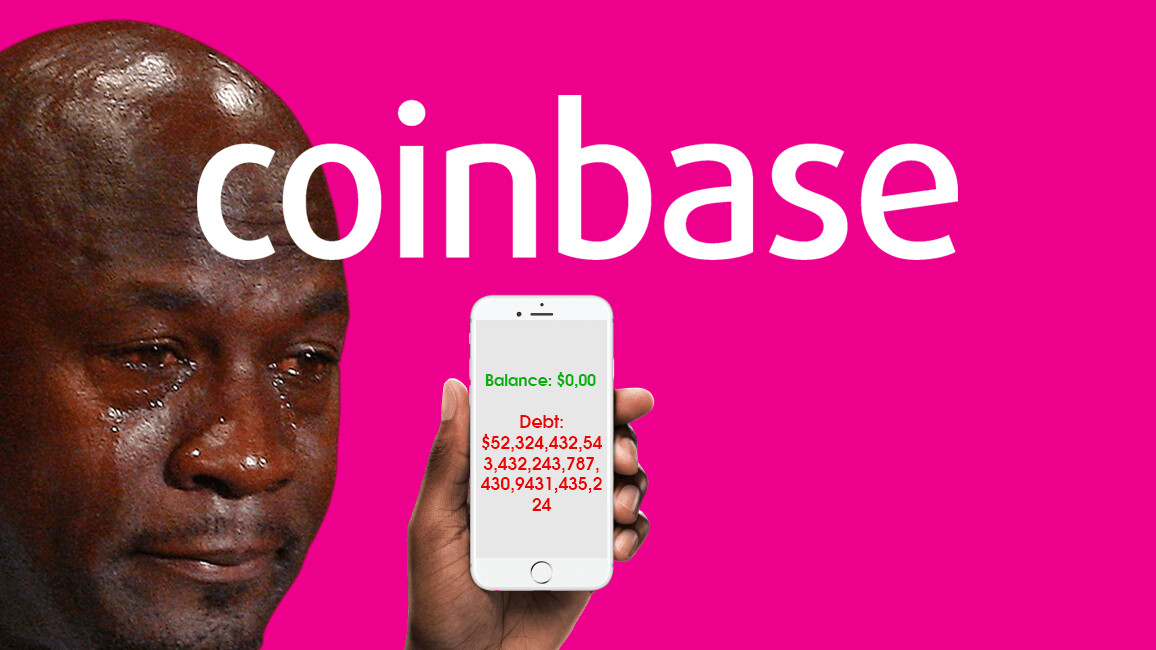 Story by
Former TNW Writer
Mix is a tech writer based in Amsterdam that loves cinema and probably hates the movies that you like. Tell him everything you despise about Mix is a tech writer based in Amsterdam that loves cinema and probably hates the movies that you like. Tell him everything you despise about his work on Twitter.
Coinbase customers are going through an especially rough patch. Days after the popular exchange desk admitted its users are being erroneously charged for the same purchase multiple times, complaints that the issue is still occurring continue to roll in on Reddit.
"Triple charged again," read one of the more recent threads. According to the affected customer, the original purchase took place on February 4, but he was charged on two separate occasions: February 16 and February 21. The more problematic part is how confusing the refund process appears to be.
"Coinbase tell me to contact my bank," the Redditor continued. "But my bank told me that I need to contact Coinbase because they have the money."
The incident is one among several others, claiming they experienced the same hurdle over the past couple of days.
"Coinbase made unauthorized charges again," reads another thread posted on February 21. "Coinbase quadruple charged me now," worryingly said the author of yet another thread.
While the exchange desk initially blamed the issue on Visa, Visa later on insisted the issue did not originate from its system, practically putting the blame back on Coinbase. The leading financial service then released another statement – this time together with payment processing provider Worldpay – to clarify the issue did not stem from Coinbase either.
Regardless, Visa didn't explicitly name a culprit for this technical blunder.
"Worldpay and Coinbase have been working with Visa and Visa issuing banks to ensure that the duplicate transactions have been reversed and appropriate credits have been posted to cardholder accounts," Visa told TNW. "All reversal transactions have now been issued, and should appear on customers' credit card and debit card accounts within the next few days."
Contrary to this promise though, users continued to report being unable to claim their money back. Indeed, numerous customers said that – despite its announcements – Visa reps knew nothing about the company "accepting responsibility for overcharging."
It is worth nothing that some users have already reported successfully claiming their refunds – not without incurring small fees from their banks though.
And while the parties involved are still figuring out how to avoid taking accountability for this massive fail, users remain in the dark on how – or when – they can expect to receive their cash back.
This is inaccurate information.

— Coinbase (@coinbase) February 21, 2018
"We are working with Visa, Worldpay, and affected banks to ensure customers have all erroneous charges refunded as quickly as possible," a Coinbase support rep told recently overcharged Redditors.
"Unfortunately, we cannot control the timing of the reversal directly, so it may be several more days before the charges are able to be reversed by the processors."
Update: When we contacted Coinbase, a spokesperson told us the following:
We're investigating any claims on social media of new issues. At this point, we have no reason to believe that there are any additional issues besides the Visa/Worldpay/card issuing banks incorrect double charging issue.

Coinbase has no control over incorrect charges. The card issuing banks are responsible for incorrect charges and subsequent reimbursement. We're pushing all involved parties to resolve this for customers as quickly as possible.
Even though blockchain and cryptocurrency might not be perfect yet, we're exploring the possibilities at TNW Conference 2018. Find more info here.
Get the TNW newsletter
Get the most important tech news in your inbox each week.
Also tagged with