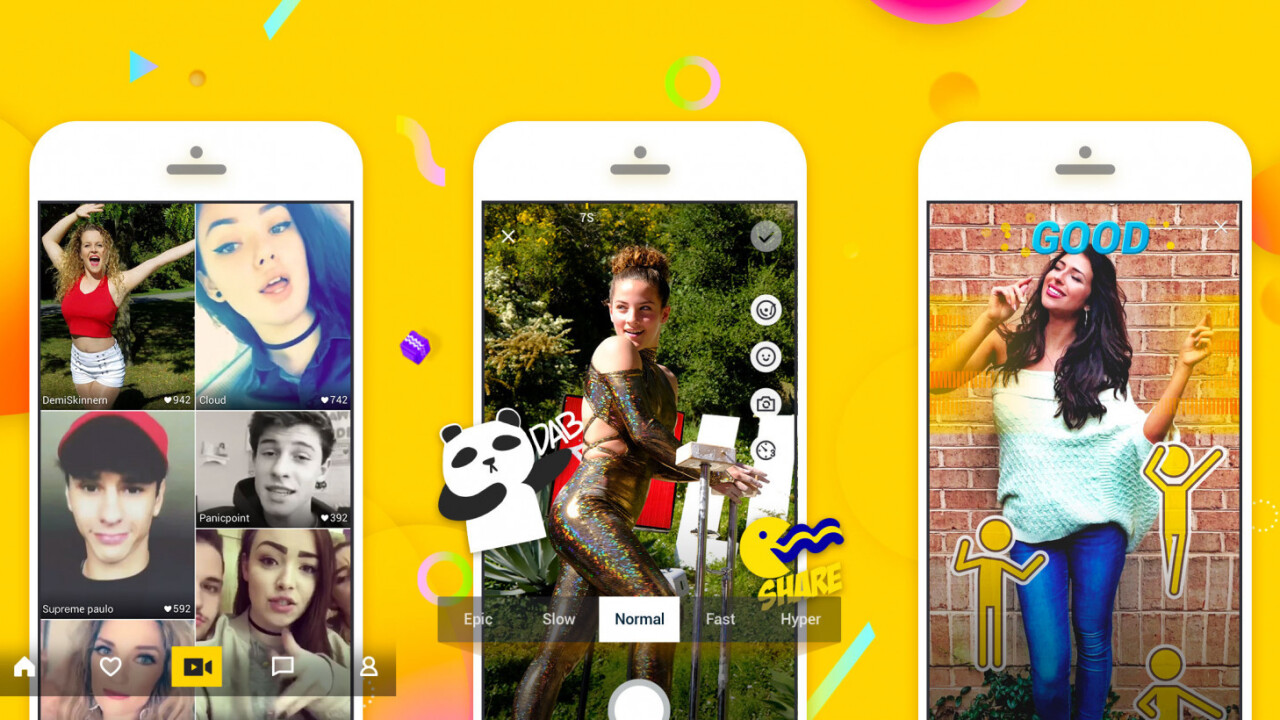 Story by
Former TNW Reporter
Matthew Hughes is a journalist from Liverpool, England. His interests include security, startups, food, and storytelling. Follow him on Twi Matthew Hughes is a journalist from Liverpool, England. His interests include security, startups, food, and storytelling. Follow him on Twitter.
Remember Vine, the popular video sharing app acquired by Twitter in 2012, and brutally murdered by the same company just last year? I certainly do, and so too does Live.Me, which just launched a spiritual successor to the service, called Cheez.
The Cheez formula should sound immediately familiar to anyone familiar with Vine. Users create ultra-short videos, which can be enhanced with Snapchat-style effects and stickers. Remarkably, there's also a Dance Off feature, which is interesting, and we'll get to later.
Cheez at the moment is very much a blank canvas; it launched literally yesterday, and hasn't been able to develop the kind of following that its rival apps boast. Therefore, it's really hard to tell how people will ultimately come to use the app. That said, it's worth mentioning that Cheez was soft-launched, so there are already a few morsels of content on it that give us a clue.
The biggest difference between Cheez and Vine is the length of videos. While Vines lasted a maximum of six seconds, videos on Cheez can be as long as seventeen seconds.
Brevity, they say, is the source of wit, and what I loved most about Vine was it created a form of storytelling that was compact and rapid. Cheez's longer videos feel a bit like Twitter's 280-character tweets; certainly there's a bigger canvas to experiment with, but it feels as though this comes at the expense of something intangible and important.
While Vine was used for storytelling and comedy, Cheez feels best suited to candid "day-in-the-life" style clips, and indeed that represents the majority of the content on the app. That's hardly a surprise because, as mentioned, its owner is a popular livestreaming site.
What makes Cheez so unusual is its "Dance Off" feature, which works a bit like Dance Central for the Kinect. Selecting this, you're prompted to pick a track, and then have to perform the dance moves as instructed. The list of songs are pretty limited; Taylor Swift's Look What You Made Me Do; Michael Jackson's Thriller; Ed Sheeran's Shape Of You; plus three others I didn't recognize. That said, I can say with some authority that Lean and Dabb is unequivocally the worst song I've ever heard.
It's an interesting idea, and given the obviously teen-oriented bent of Cheez and Live.me, I'm sure it'll be popular. Already, Cheez is filling up with videos of photogenic young things throwing shapes to Taylor Swift. However, it's not something I could see myself using.
While acknowledging the fact that I'm clearly not its target audience, I couldn't help but feel that Cheez is a few years too late. Vine's video-making community is dispersed; most notably to Facebook, YouTube, Instagram, and Snapchat. Crucially, other sites have since aped Vine's shortform, ephemeral video format, making Cheez feel less original, and more like an also-ran that's chasing after a train that's long left the station.
But then again, maybe I'm wrong; like I said, I'm clearly not its target audience. If you're curious, you can check it out here on iOS and Android.
Get the TNW newsletter
Get the most important tech news in your inbox each week.
Also tagged with