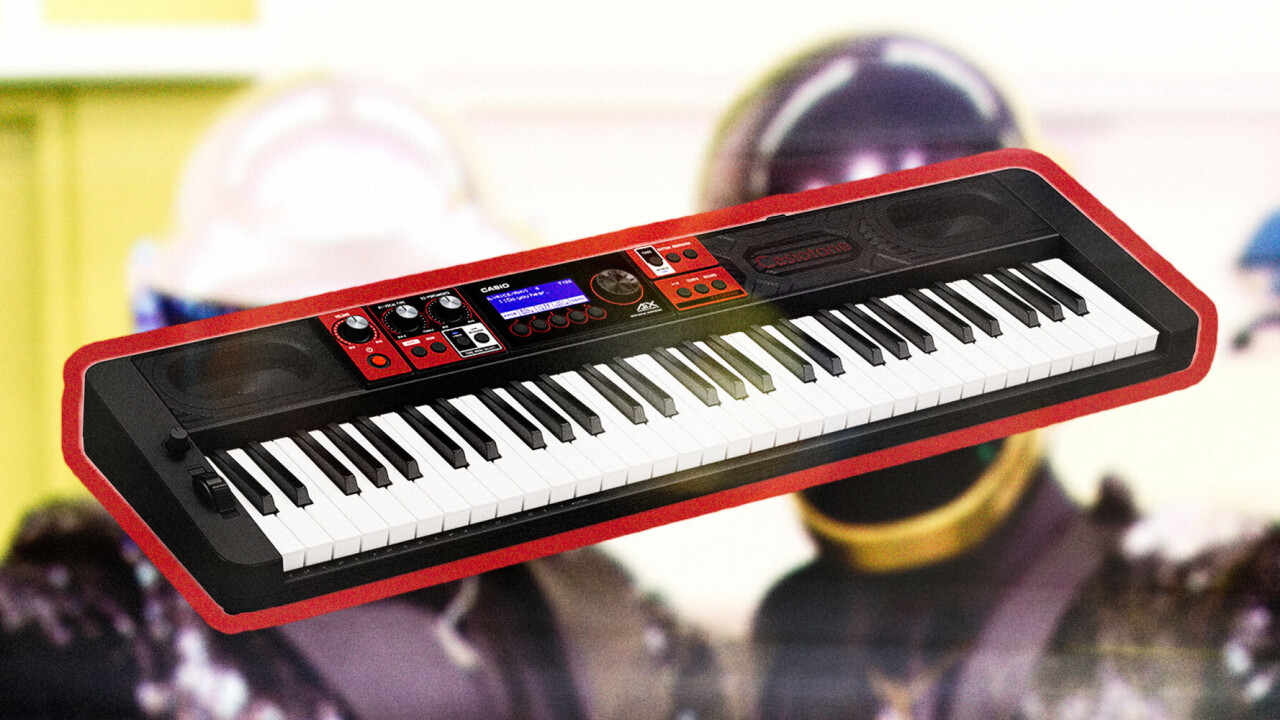 Story by
Reporter
Napier Lopez is a writer based in New York City. He's interested in all things tech, science, and photography related, and likes to yo-yo in Napier Lopez is a writer based in New York City. He's interested in all things tech, science, and photography related, and likes to yo-yo in his free time. Follow him on Twitter.
Casio made a name for itself providing lots of bang-for-your-buck with its musical instruments, as evidenced by my review of the excellent $200 CT-S1 last year. Now the company is launching the CT-S1000V, which offers all the features that made the CT-S1 great, but adds a ton of creative tools for professional musicians and amateurs alike. Chief among these is an innovative vocal synthesizer, which allows you to type any text using your smartphone and then be able to 'play' the voices with your keyboard.
In other words, it makes it ridiculously easy for you to sound like Daft Punk.
Traditionally, getting that kind of effect requires an expensive vocoder or hooking up your system to a PC to run through software. It's not the type of thing you see built right into a keyboard—especially since you don't even need to even use your voice. It's even rarer at a price of $450.
The CT-S1000V's vocal synthesizer features 22 types of voices, "including talkboxes, processed choirs, robot voices, vocoders, and whispered voices," and these can all be customized with a range of parameters including gender, age, vibrato. You can play phrases according to specific rhythms, or it can 'say' syllables as you hit different notes. The wealth of possibilities is frankly pretty remarkable for something at this price point.
Vocal synthesis aside, the device also features a huge variety of sounds and rhythms including the same excellent tones built into the CT-S1. That instrument 'only' had 61 tones, while this one has 800 (and luckily, it also includes a screen to actually sort through them). You also get three assignable knobs, various DSP effects, hundreds of rhythms, various accompaniment options, and Bluetooth connectivity (via an included adapter). You can also sample your own sounds using the included 1/8-inch stereo input or Bluetooth.
Casio's CT-S1 already had better built-in sounds than a keyboard its price had any right to, and in the short time since its release, it's already become a bit of a favorite for musicians looking for a lightweight, affordable keyboard with high quality sounds built-in. But for some people, it suffered from its barebones approach focused just on keyboard instruments.
The CT-S1000V takes things a step further, and though Casio is still aiming for accessibility here, I can also see it being more useful as a tool for professionals who might want a second keyboard to quickly make original music for their audio and video projects. While the built-in voices aren't exactly going to convince anyone they're human, they open up numerous creative opportunities for stylized music. And if you don't need the built-in vocal effects, Casio's new CT-S500 offers everything else for about $380. Both instruments can be powered by six-AA batteries and weigh just 10 pounds, although you can plug them into a power brick too.
I'll be getting my hands on the CT-S1000V soon, so stay tuned to TNW for more.
Get the TNW newsletter
Get the most important tech news in your inbox each week.
Also tagged with