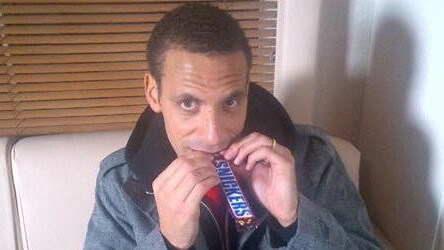 Story by
Paul Sawers was a reporter with The Next Web in various roles from May 2011 to November 2014. Follow Paul on Twitter: @psawers or check h Paul Sawers was a reporter with The Next Web in various roles from May 2011 to November 2014. Follow Paul on Twitter: @psawers or check him out on Google+.
It seems you can't even post a photo of yourself eating a chocolate bar on Twitter these days without kicking up a stink.
On Tuesday, Manchester United and (former?) England defender Rio Ferdinand – with almost two million Twitter followers – posted this message, accompanied by a photo of himself just about to get stuck in to a Snickers chocolate bar:
You're not you when you're hungry @snickersUk#hungry#spon lockerz.com/s/177408824

— Rio Ferdinand (@rioferdy5) January 24, 2012
So what, right? Well, yes. Except, with the status that Rio has – both in real life and on Twitter – he holds a lot of sway. And a simple 5-second tweet can get him a lot of money from companies willing to pay him to promote their products, which is what happened here.
Such an offence actually contravenes the UK's Office of Fair Trading's (OFT) guidance that celebrities must make it absolutely clear that they are promoting or endorsing a product. It's deceptive advertising if they don't reveal they are being paid to promote.
Snickers-gate, as it will surely be known, was actually preceded by a number of other UK 'celebrities' doing something similar to promote Snickers' new UK Twitter account – Jordan, Ian Botham and Amir Khan all tweeted images of themselves eating Snickers over the weekend.
The basic premise is thus – they send tweets about something really banal and out of character, and follow it up shortly after by saying they were feeling out of sorts because they hadn't eaten a Snickers. It's all very imaginative. Here's what Rio had to say prior to his 'Snickers' elation:
Really getting into knitting!!! Helps me relax after high-pressure world of the Premiership

— Rio Ferdinand (@rioferdy5) January 24, 2012
We don't know how much these celebrities were paid for the 'stunt', but it must've been fairly substantial. It's thought that Rio alone earns over £100,000 a week at Manchester United (even when he's not playing), so for him to risk irking his mass of followers, Snickers must've waved a sizable sum at him.
This is perhaps indicative of the way Twitter is going though. Yes, it can be used to communicate and broadcast to the world in times of political crises, but it can also be leveraged as a BIG marketing tool, especially with users that have millions of followers.
Ashton Kutcher: The value of a tweet
In January 2011, we pondered how much traffic a single Ashton Kutcher tweet gets you, after the actor tweeted a link to a media company's online video. In just five hours, the company in question said that the tweet had sent 13,000 people to the video's YouTube page. A company spokesperson said at the time:
"This means that my video was watched for a total of 365 hours. In other words, with 5 seconds of effort Ashton was able to consume 365 hours of his followers time.

Now, that is leverage. To be exact that is about 1 to 250,000 leverage!"
Indeed, The Next Web actually discovered first-hand what an Ashton Kutcher tweet is worth, after he tweeted one of our stories on New Year's Eve:
Best places in the world to be on New Years Eve – where will you be? tnw.co/so3qr9

— ashton kutcher (@aplusk) December 31, 2011
What did it mean for us? Well, let's just say he drove a heck of a lot of traffic to our site and leave it at that.
Of course, Kutcher wasn't being paid for his 'promotion' – he was merely sharing links to content he liked. But with well over 9m followers, he has the ability to bring a website to its knees, especially if it's just a small company with small server capacity. But that's another debate altogether.
Legal issues
As we've mentioned, Snickers-gate actually raised a genuine legal question in that celebrities must make it clear they are being paid to endorse a product. In the UK, at least.
"The internet plays a key role in how people purchase products and services and the importance of online advertising continues to grow," said Heather Clayton, Senior Director of OFT's Consumer Group, to the Telegraph. "The integrity of information published online is crucial so that people can make informed decisions on how to spend their money. We expect online advertising and marketing campaigns to be transparent so consumers can clearly tell when blogs, posts and microblogs have been published in return for payment or payment in kind. We expect this to include promotions for products and services as well as editorial content."
A spokesman for the Advertising Standards Association (ASA) added that it would look into the Snickers campaign only if it received a formal complaint, so it looks like Snickers and Rio are off the hook for now.
Back in 2011, the OFT was forced to take action against a PR firm Handpcked Media that was found to be paying bloggers to write favorably about its clients, noting at the time that it has to clearly state when promotions in the social sphere have been paid for.
The future of advertising
But what does this Snickers campaign mean for the future of advertising? And what implication does it have for Twitter as a platform? It seems we'll start seeing much more of this kind of activity moving forward, and we could see a staggered pricing structure – the more followers you have, the more you can charge to promote. However, all that will come at a price, figuratively speaking.
For celebrities, they risk alienating themselves from their followers, and a single 'promotional' tweet could potentially
sever any trust ties that are in place. Legal issues aside, if you are paid to promote a chocolate bar you probably should mention that you're deliberately advertising it, because people will then wonder if future tweets are 'promotional too. What if Rio says on Twitter "I'm watching the big fight on Sky Sports tonight," people may assume he's being paid for it when in fact he isn't.
On TV adverts, there's no blurring of lines – you know it's an advert and you know the people in it are being paid for it. Following Rio's Snickers promo, a number of his followers took umbrage at his actions, asking him whether he really needed the money and complained that they didn't follow him to be 'advertised to'. One even called it embarrassing.
The whole furor over the actions of these Snickers-celebs may seem a bit over the top, but fans of the microblogging service don't want Twitter to be turned into a massive marketing fest.
Wait a minute…who's paying Twitter here?
We're already seeing brand pages rolling out, whilst promoted tweets and trends are gaining traction too as Twitter strives to build a proper revenue-generating platform. And this perhaps raises the biggest question of all – how does Twitter get its cut of the Snickers' promo cash? Or with other brand-celebrity partnership for that matter? Well…it seemingly doesn't.
From what we can tell, the money from Snickers bypasses Twitter's coffers altogether. If that's the case, and we see many more of these celebrity/brand team-ups (which we will), you can bet your bootlaces that Twitter will be extending its palm for a share. Or at the very least, it could look at ways to discourage paid-for tweets that don't carry its official 'promoted' stamp of approval. Because that's the whole point of Twitter's Promoted Tweets, right? You KNOW you're being promoted to because they're labeled quite clearly. Of course, how Twitter would enforce this is another issue altogether – it may have to simply rely on the respective consumer watchdogs around the world to enact their own country's laws.
This is actually quite an interesting quirk. In TV advertising, a brand pays people (celebrities or otherwise) to star in its commercial, but crucially the broadcaster receives its share of the money. With Twitter, this doesn't seem to be the case.
However this all pans out, you can be certain that 2012 will be the year Twitter really comes to the fore as a powerful platform for advertisers, and you'll likely be seeing many more celebs take to the Twittersphere to endorse big brand names. We're just at the very beginning.
Get the TNW newsletter
Get the most important tech news in your inbox each week.
Also tagged with