Story by
Former TNW writer
The war on Bitcoin is far from over. In spite of attracting wide adoption when it first launched back in August last year, it appears that Bitcoin Cash still lags behind Bitcoin's SegWit soft fork when it comes to overall transactions processed.
The research arm of cryptocurrency exchange desk BitMEX found that SegWit has 31.5 percent more cumulative transaction volume than Bitcoin Cash.
SegWit (a portmanteau for 'Segregated Witness') was introduced in August 2017 as an improvement protocol designed to solve the blockchain size limitation.
After this update, users had the option of using SegWit and upgrading their wallets, which provides the benefits of about 41 percent more scale as per BitMEX.
Around the same time, Bitcoin Cash also provided an alternative mechanism for increasing capacity, which also requires users to upgrade to a new wallet and adopt a new transaction format to get the benefit of more transaction throughput.
Bitmex compared the transaction throughput of SegWit to that of Bitcoin cash, in an attempt to study the adaptability of both capacity-increase mechanisms.
The research found that the Bitcoin Cash and the SegWit soft fork transaction volume have been reasonably similar. 
Since the launch of Bitcoin Cash, 6.1 million SegWit transactions have occurred against the 4.88 million Bitcoin Cash transactions. For the record, this means the soft fork is currently processing about 20 percent more transactions on its network.
One thing BitMEX points out is that this number jumps to 31.5 percent, when adjusted for Bitcoin Cash's one-month head start.
The research also warns about the possibility that at some point either or both of these figures could be manipulated.
The progress graphs for cumulative transaction volume show that while Bitcoin Cash had a sharp spike in transaction volume when it initially launched, SegWit adoption grew gradually to surpass it in October 2017 – and has remained in the lead ever since.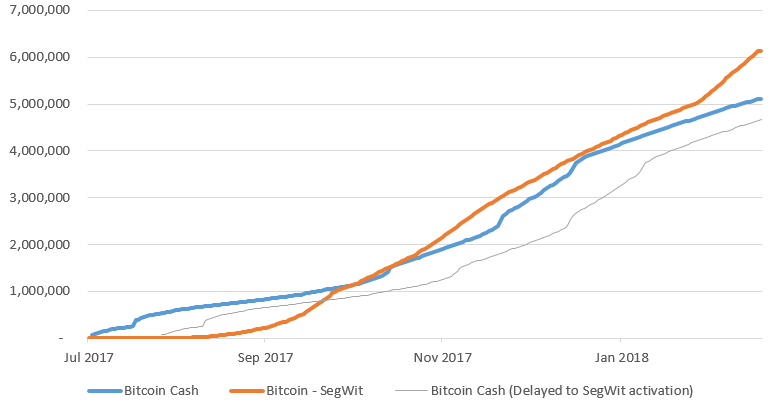 BitMEX further notes that – despite the discrepancy in adoption stats – the results of their research are not necessarily a dig against Bitcoin Cash:
Although the data suggests that SegWit transaction have been adopted slightly faster than Bitcoin Cash, resulting in more transaction volume, Bitcoin Cash advocates could argue that the Bitcoin Cash token is more about a philosophy of larger capacity in the long term, rather than the speed of the actual increase in transaction volume in the short term. Therefore Bitcoin Cash supporters can still claim that Bitcoin Cash will eventually have more transaction volume than Bitcoin, once adoption of the coin increases.
Still, the researchers conclude that adoption for the new transaction format has been "reasonably slow" for both SegWit and Bitcoin Cash overall.
Even though blockchain and cryptocurrency might not be perfect yet, we're exploring the possibilities at TNW Conference 2018. Find more info here.
Get the TNW newsletter
Get the most important tech news in your inbox each week.
Also tagged with