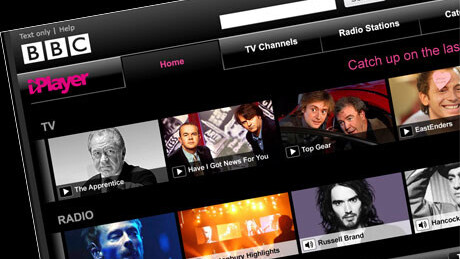 Story by
Matt is the former News Editor for The Next Web. You can follow him on Twitter, subscribe to his updates on Facebook and catch up with him Matt is the former News Editor for The Next Web. You can follow him on Twitter, subscribe to his updates on Facebook and catch up with him on Google+.
Today the BBC pushed the button on the new beta version of its online catch-up television website BBC iPlayer, offering a revamped user interface, options to share tips on social networking sites and a multitude of personalisation options.
BBC iPlayer launched in 2007 and since launch has grown to offer opportunities to watch live TV, catch high-definition broadcasts as well as listen to radio. Over the years the service has become available through an increasing number of devices including smartphones, games consoles and web-connected televisions.
Today's launch sees the BBC looking to build on the success of iPlayer, a service that served 123m streams last month. iPlayer has been tweaked so that users will be able to personalise iPlayer to create "their own BBC iPlayer experience". Programmes are also organised into specific categories with the front page currently listing programmes that friends have recommended, the most popular programmes, featured programmes and also a "For You" category that will recommend programmes based on your previous choices.
When you navigate around the site there will be the option to share and recommend content to your Facebook and Twitter friends as well as highlighting shows to friends made within iPlayer.
Windows Live Messenger users will be able to log into their accounts via the iPlayer website, allowing the sharing of content without leaving the website.
The BBC has said it is committed to establishing additional partnerships so you can expect more social networking sites to be added soon.
BBC Director of Future Media and Technology, Erik Huggers, said:
"The launch of this version of the BBC iPlayer is part of our strategy to do fewer things even better and make it more simple, personal and connected. We must no longer try to do everything online, but focus on delivering genuinely world-class products like BBC iPlayer – which audiences love and which really embodies the BBC's core mission in a digital age.

"Bringing the benefits of emerging technologies to the public is in the BBC's DNA as its sixth public purpose. BBC iPlayer gives audiences greater control over the programmes they enjoy, guarantees subscription-free access to BBC content in an on-demand world, and provides better value for the content they have already paid for.

"In two and half years BBC iPlayer has evolved to become one of our most popular websites, integral to BBC Online, and available on a wide range of internet-connected devices."
In a bid to silence its critics and promote competition, the summer will see the BBC rolling out links to programmes offered from ITV Player, 4oD, Clic, Demand Five and SeeSaw, after it struck partnership deals with other public service broadcasters. Sky will not be featured but may do in the future – "If Sky wants to be part of this, we would very much welcome their participation," Huggers said. "They are considering it."
Features will be added to the beta website in the coming months. To view the new BBC iPlayer beta, head over to http://beta.bbc.co.uk/iplayer/.
Get the TNW newsletter
Get the most important tech news in your inbox each week.