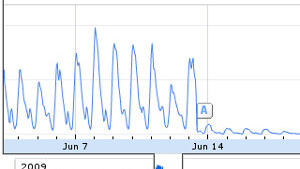 Story by
A music and tech junkie who calls Nashville home, Brad is the Director TNW Academy. You can follow him on Twitter @BradMcCarty. A music and tech junkie who calls Nashville home, Brad is the Director TNW Academy. You can follow him on Twitter @BradMcCarty.
A lot of noise is going on today concerning an interview on the BBC with Research In Motion CEO Mike Lazaridis. The Internet is buzzing with talk about how Lazaridis handled the situation incorrectly, how he'll be fired soon and other such remarks.
The problem is that absolutely nobody who is making these comments has any sort of context. Though in fairness BBC Interviewer Rory Cellan-Jones does have a more complete interview up on his dot.Rory blog at BBC, the clip that is being passed around more heavily is the part that was edited out.
My knee-jerk reaction was that Lazaridis was out of line. However, I freely admit that I'm biased toward the media in most circumstances such as this. Far too often we get nothing more than PR-coached responses, so it's decidedly refreshing when someone decides to be candid.
Obviously Lazaridis had PR with him — you can hear the voice, faintly, suggesting that the interviewer should ask other questions — but he did at least seem to be forthcoming with his answers.
The facts, as we see them in the 89 seconds of video, are these:
Lazaridis ignored the PR talking in his ear and instead chose to answer a difficult question.
Lazaridis correctly states that RIM has been "singled out" and also correctly denies that RIM has a security problem.
Lazaridis notes that the issue is one of national security, rather than an issue with RIM itself.
What Cellan-Jones neglected to state was the fact that India has brought a rather hefty amount of accusation against RIM, and yet RIM has managed to stay in operation in the country, conforming to all demands to date. Instead, the interviewer asks the question in an inflammatory manner:
Can I move onto the problems that you've had in terms of security and the various arguments you've had with the Indian government and the government from the Middle East? Is that anywhere near being sorted out?
The short answer, and the one that Lazaridis probably should have said is this: Yes. In the case of India, we've met every demand that the country has made and our Indian customers continue to be able to use our service. Lazaridis unfortunately chose to take the route that the question wasn't fair. Admittedly, it was tough and it was phrased in a way that was intended to throw Lazaridis off, but the context behind the question was fair indeed.
Moving forward, the interviewer continues to drive the same question time and again, phrasing it in different ways. While this is a typical trick of interviewing, it only served to further frustrate Lazaridis until Lazaridis stated that he was done with the interview.
Now let's look at the bigger picture. What we don't know is how the interview was conducted up until this point. At the risk of sounding like an apologist to PR-driven answers, it seems that the BBC interviewer could have used a bit more tact in order to get the answers he was trying to find. It's likely safe to say that the interview until this point was rough, but we simply don't know for sure.
The media can have a tendency to bully people into getting the answers that we want. In short, Lazaridis could have (and likely should have) kept his cool and rephrased the question before answering it. What we get instead is 89 seconds, taken completely out of context, and an Internet that is calling for the metaphorical removal of Lazaridis' head.
In short, I say all of that to bring this point — Consider carefully the fact that we live in a society that values highlight reels much more than in-depth discussion. In this case, regardless of Lazaridis' reaction, I have to side that The BBC displayed a lack of journalistic integrity in posting only a section of the video, and doing so without any explanation.
Harsh? Yes. But considering that the video which highlights only Lazaridis' reaction is given its own post, it doesn't seem fair play from The Beeb.