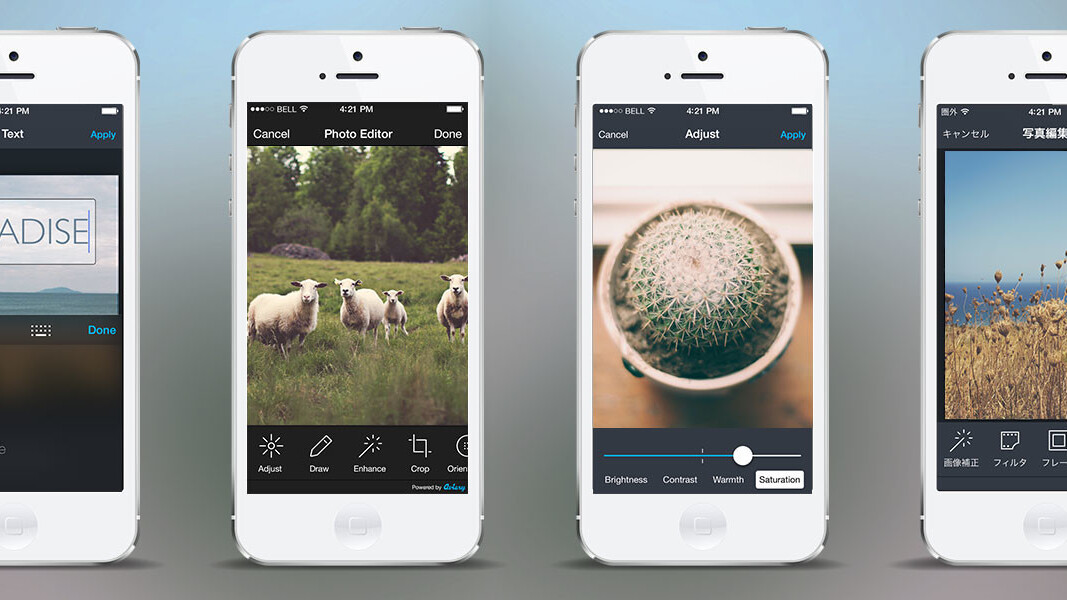 Story by
Reporter
Jackie Dove was in charge of The Next Web's Creativity channel from February 2014 through October 2015. Jackie Dove was in charge of The Next Web's Creativity channel from February 2014 through October 2015.
Aviary, the photo editing software behind a vast range of photography and productivity apps, today announced a major overhaul of its iOS SDK.
Available now, the new SDK features an updated design and interface and enhanced compatibility with iOS 7. While previous versions offered some updates based on iOS 7's new design scheme, this new release features full technical integration, according to the company.
"We are long past the point when photo editing is just about turning an average picture into a good one," said Tobias Peggs, Aviary CEO, in an email interview.
"Photo editing—on mobile specifically—is now about enhancing visual communication between billions of people across the planet. Whether people are storytelling on mobile social networks, going back-and-forth on messaging apps, creating content for mobile publishing, or selling things on the go, it's all being done on mobile and it's all enhanced with better pictures. We've upgraded our SDK now to support developers tackling all those verticals, and more," Peggs said.
As part of the upgrade, Aviary has improved the customization experience for developers and designers, according to the company. One of the big improvements is new "Customizer" software, which comes bundled with the SDK. This is an OS X desktop app that allows developers and designers to easily customize the Photo Editor using a WYSIWYG interface.
In addition to adopting Apple's 64-bit support, the upgrade also includes an update to all photo editing tools. For some, this involves new user interactions like sliders for brightness, contrast, and saturation. For others, it includes new imaging technology to improve the output of the edited photo. One brand new addition features a set of text overlay tools with multiple fonts.
Aviary is now customizable in 23 languages. While it always translated its SDK in English, Dutch, French, German, Italian, Japanese, Korean, Portuguese, Russian, Spanish, Simplified Chinese and Traditional Chinese and more, it's also available in Arabic, Turkish, Thai, and Bahasa Indonesia.
A basic version of the SDK is available free of charge, but new monetization options—including access to Aviary's Premium Content Network, offer a revenue sharing plan on in-app purchases (IAPs) and exclusive brand campaigns.
In addition, Aviary has streamlined the SDK for better performance.
More than 7,000 developers now partner with Aviary to incorporate photo editing functionality, the company says, making use of its photo filters, stickers, and frames.
➤ Aviary