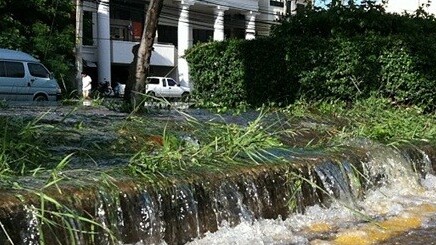 Story by
Jon Russell was Asia Editor for The Next Web from 2011 to 2014. Originally from the UK, he lives in Bangkok, Thailand. You can find him on T Jon Russell was Asia Editor for The Next Web from 2011 to 2014. Originally from the UK, he lives in Bangkok, Thailand. You can find him on Twitter, Angel List, LinkedIn.
Google is leading the drive to put resources online and help people in Thailand find information in real-time as the country battles the effects of severe flooding.
To date, 27 of the country's 76 provinces have flooded causing 269 deaths and affecting more than 2 million people. With water levels rising in Bangkok suburbs and other areas in the city expected to experience issues, Thais are turning to the Internet and technology to stay informed of developments.
Maps, resources and information online
Search giant Google has developed a crisis map to give a clear indication of the areas that are affecting by the flooding.
"We have a combined global-local crisis response team that created our map over the last 24 hours," a Google spokesperson told The Next Web. "It is designed to be open source and we're actively updating the data within it."
The company, which opened its Thailand office in September, is working with a number of organizations to vet and verify flooding report tips which we can be submitted through a link on the map.
Other media and websites are actively using and updating the map helping it to stay up to date. Flooding resource thaiflood.com has built on top of the map to include details of evacuation centres and shelters, a table detailing zones that are waiting for assistance and the status of those that have been responded to.
Full details of Google's flood activity can be found on its Thailand blog, which is translated into English here.
English language resources are in the minority but non-Thai readers can also find information in ThaiFlood.com's English section and at the Tourism Authority of Thailand website which has updates for all affected provinces – including alternate transport routes, major national roads to avoid. Many local blogs and travel sites are also providing updates.
The Thai government's disaster site includes yet more information in English with flood situation reports updated and published daily. One of more creation resources is Nostra's Thai flood map which combines flood and traffic data with related tweets, YouTube videos and Flickr images.
However there is not a huge amount of user-generated content, presumably because only tweets, videos and photos that are geo-tagged can be indexed.
Other maps are available including the official government flood map and the Water Measurement System which monitors the water level in canals and rivers across the country. While the Thai Flood Reporter iPhone app offer an interesting alternative.
Social media
In addition to the many blogs, web portals and news sites covering the floods, social networks have seen a huge amount of discussion as people seek information, share news and post pictures and videos from affected areas.
Facebook conversation topic trends are notoriously difficult to track but with more than 12.5 million users in the country (90 percent of whom identified as being in Bangkok), it is safe to say that Facebook is playing an important role facilitating conversations and multimedia that is being shared around the flooding.
Twitter is also a prime communication channel for many, as shown by statistics from Thai Trend, a system that tracks tweets from more than 600,000 Twitter users in Thailand.
Throughout the week, #Thaiflood has been the most popular hashtag while น้ำท่วม (Thai for 'flood') received more than 348,000 mentions. Combined they've appeared in more than half a million tweets – that's an average of a mention every 1.15 seconds.
It isn't just civilian observers that are making use of social media during the disaster, Twitter is a key tool for media in the field, such as Noppatjak Attanon of The Nation Group whose tweets are read by almost 50,000 followers.
"Accurate information is very important during the crisis," Attanon said, "and thanks to Twitter, I'm able to provide people with reliable updates about their homes and areas where they live."
The journalist also revealed that, as well as following tip-offs and providing updates, his tweets have encouraged Twitter users to provide donations that might not have been been forthcoming otherwise. Thanks to his Twitter activity, he has helped to get 100 boats, 500 life-jackets and thousands of baht in donations.
Significance
The Internet is not yet a primary resource for many in Thailand, however its significance for news gathering around the flood is another example – like the political protests in 2010 – that is likely to accelerate the usage of the web in the country.
When it comes to communication in Thailand, offline media such as TV and print has a far wider reach.This emphasis is reflected in company communication spending, Ogilvy estimates firms in Thailand allocate just 2 percent of budgets to digital media. The rate is expected to grow to 10 percent next year, but it remains that many firms see the majority of their audience outside of the Internet.
With less than 20 percent of Thailand's 67.8 million population enjoying access to the web, mobile is the big hope. TNS expects the number of mobile Internet users in Thailand to double to 22% of mobile, overtaking national fixed-line usage, with one in four mobile users likely to use social media on their device.
For these reasons access to social media is growing and so is its usage according to Dr Ian Fenwick, a lecturer at Sasin Business Management school and co-founder of digital media consultancy DigiAindra.
"I hate to use the words 'tipping point' but usage of digital media in Thailand has grown so much that it is well above the visibility threshold. As a result more information gets posted, and so digital media are more relied upon," commented
Fenwick does, however, warn against "the spectre of misinformation" which can see false information spread and gain credibility across services like Twitter where it cannot be verified before being published. It is a danger that was demonstrated when the false rumour of Piers Morgan's sacking went viral in July.
As Internet access continues to grow in Thailand so its population will continue to make use of its benefits for access to communication not only in times of crisis but for everyday communication too.