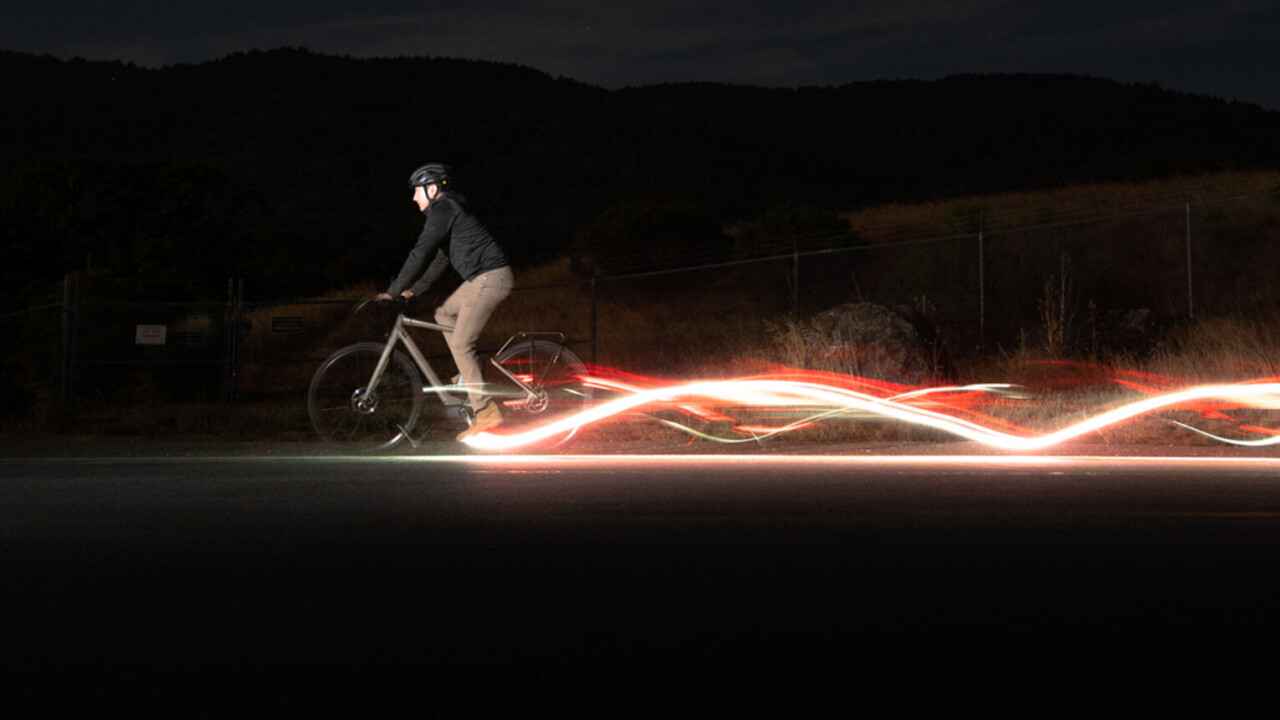 Story by
Reporter
Napier Lopez is a writer based in New York City. He's interested in all things tech, science, and photography related, and likes to yo-yo in Napier Lopez is a writer based in New York City. He's interested in all things tech, science, and photography related, and likes to yo-yo in his free time. Follow him on Twitter.
Did you know SHIFT is taking the stage this fall? Together with an amazing line-up of experts, we will explore the future of mobility during TNW Conference 2021. Secure your ticket now!
I'm all about proper lighting on bikes. I was an occasional driver before I started riding my ebike everywhere, so I'm well aware of the dramatic difference a couple of lights can make to keep cyclists safer on the road.
But though I've seen lights integrated into ebike frames, helmets, wheels, and more, Redshift's new Arclight pedals are one of the few times I've seen bike lighting integrated right below your feet. Redshift isn't the only company to adopt this concept, but the Arclight is definitely the most intriguing take on light-up pedals I've seen yet.
Now, first things first: this is a crowdfunding campaign. Those are often subject to delays and disappointment, and we normally don't even cover them unless we've tested a prototype.
In this case, I'm making an exception because Redshift is an established bike accessory company — one which makes my favorite suspension seatpost and stem, both of which launched on Kickstarter as well. I'll be getting samples within the coming days, and will update this post when I've got my hands on them.
The pedals are actually composed of a few separate components each: the aluminum pedal itself, as well as magnetic light modules that insert into the pedal. These are rechargeable via USB, and can be removed to add illumination to other parts of your bike if you'd like.
The Philly-based company claims the design is more than just a futuristic-looking gimmick. It cites a 2020 study that found that highlighting 'biological motion' — the more exaggerated movement of your legs, specifically — can improve visibility by "up to 57%" compared to plain old bike headlights and taillights.
In the study, cyclists were asked to place taillights in different locations during daytime rides. It was found that strapping lights to their ankles made them significantly more visible than regular lighting locations. In the second part of the study, it was found that wearing fluorescent leg covers in addition to a fluorescent jersey improved visibility by 3.3x compared to the jersey alone.

Intuitively, that makes some sense to me too. When I'm driving, I don't always know if a light in my rearview mirror is from a bike, another vehicle, or some other light source altogether. LED pedals would make it pretty obvious the approaching lights are from a bike. It's just one study, but those results are enough to convince me.
Some other highlights about the Arclight pedals:
The lights provide a 360-degree illumination pattern rather than just a narrow beam in front and behind you.
They come with an auto-on and off feature based on your motion.
The pedals can automatically detect their orientation so you always have a white light facing forwards and red light facing backward.
Battery life is rated at up to '36+' hours in the lower power flashing setting, although just 3+ hours with the steady light setting.
The lights have an integrated USB plug — no need to fish around for a tiny cable. There's also an included charging dock for topping up multiple lights off one outlet.
The lights are IP64 water and dust-resistant.
You can also mount the light modules to your handlebar or seatpost, like regular lights.
There are just a few caveats to keep in mind. The pedals are, unsurprisingly, a little pricey at an MSRP of $135 (going for $109 on Kickstarter) for two pedals, four lights, and the charging dock. But there are regular, non-shiny pedals that sell for that much anyway, let alone once your add in some extra lights. Especially if the safety claims pan out, it could well be worth the extra expense.
It should also be noted that the primary goal here is to help you be seen rather than being able to see ahead of you in a poorly lit road. For that, you'll still want a decent headlight, although I'm curious to see how the individual light modules perform when I get my hands on them.
Still, the Arclight pedals look like a welcome new option for lighting up your bike — one that'll hopefully keep cyclists a little safer on the road.
---
Do EVs excite your electrons? Do ebikes get your wheels spinning? Do self-driving cars get you all charged up? 
Then you need the weekly SHIFT newsletter in your life. Click here to sign up.
Get the TNW newsletter
Get the most important tech news in your inbox each week.
Also tagged with