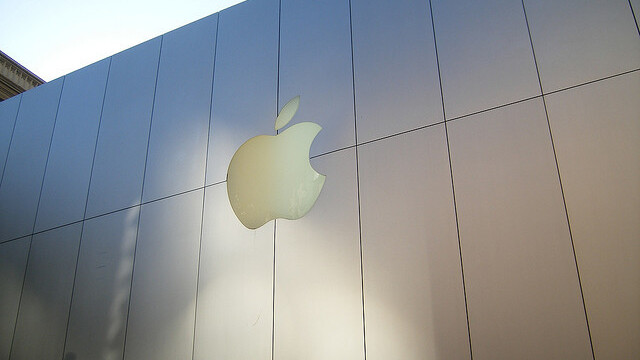 Story by
Matt is the former News Editor for The Next Web. You can follow him on Twitter, subscribe to his updates on Facebook and catch up with him Matt is the former News Editor for The Next Web. You can follow him on Twitter, subscribe to his updates on Facebook and catch up with him on Google+.
Three months after it announced the appointment of John Browett as its new Senior Vice President (SVP) of Retail, Apple has today filed all the necessary paperwork with the Securities and Exchange Commission (SEC), formally declaring to its investors that the former Dixons Retail CEO has begun employment at the company.
Apple filed a Form 3 with the SEC, which must notify the commission (and investors) no later than 10 days after an employee joins the company, officially declaring Browett's position. This was later joined by a Form 4, which shows Browett was issued 100,000 shares upon his appointment – equating to around $60 million (although they can't be vested until he reaches certain milestones in his role).
It appears that Apple waited to release its second quarter earnings before filing with the SEC, a report that saw the company smash expectations and continue adding to its huge cash pile.
Apple's quarterly revenue amounted to $39.2B with earnings of $13.87 per share. The numbers beat industry estimates but were down from the company's previous record quarter. It sold 35.1 million iPhones, 11.8 million iPads, 4 million Macs and 7.7 million iPods. That meant that Apple's cash pile stands at $110 billion.
On January 31, Apple announced the appointment of the former Dixons CEO, reporting directly to Apple CEO Tim Cook. Browett had been CEO of Dixons since 2007 and was due to join Apple sometime in April, becoming immediately responsible for the company's retal strategy and "continued expansion of Apple retail stores around the world."
Tim Cook said at the the time: "Our retail stores are all about customer service, and John shares that commitment like no one else we've met. We are thrilled to have him join our team and bring his incredible retail experience to Apple."
Browett also held a series of executive positions at UK supermarket chain Tesco PLC, serving as CEO of Tesco.com, the company's online shopping website.
Browett will take the position formerly held by Ron Johnson. Johnson announced his impending departure from Apple in June last year, vacating that spot to take on the role of CEO at the department store chain J. C. Penny.
Johnson, a Stanford graduate with an M.B.A. from Harvard, was lured away by Steve Jobs from his previous position as the vice president of merchandising for Target in January 2000 to head Apple's yet-to-be-launched retail initiative.
He had been phenomenally successful in that role, having overseen the launch of over 300 retail stores for the company all over the world. The company served the one billionth visitor to its retail stores this past July.
Browett departed Dixons on April 20th following a hand-over period and was succeeded by Sebastian James, who joined the Dixons group board on February 20th.
Also tagged with