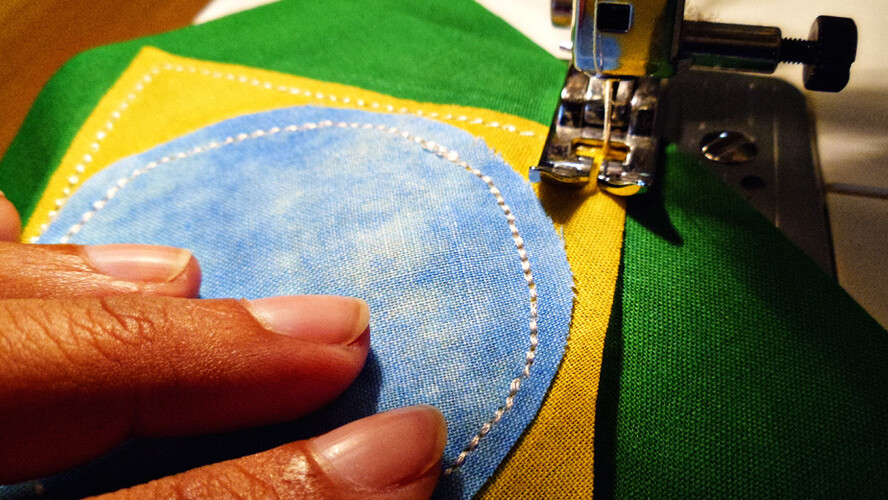 Story by
Eliz is Brand Ambassador at The Next Web. She is responsible for brand strategy and awareness, media partnerships, helping with PR, company Eliz is Brand Ambassador at The Next Web. She is responsible for brand strategy and awareness, media partnerships, helping with PR, company engagement and some fun projects like #TNWLife posts.
As you may know by now, I'm a Brazilian expat living in the Netherlands. I left Brazil in the search for an experience abroad and better life quality. Work and life balance, earn in a stronger currency and most importantly, safety.
If you've read recent news about Brazil, you'll find a political coup, embezzlement, cases of systemic corruption, high concerns about the security and the success (or lack thereof) of the Rio Olympics. These are just some of the topics unfortunately a bit too familiar for most Brazilians. Paired with this not very cheerful news, we see our economy declining in eight of the past 10 quarters (GPD steepest decline since the 1930s), unemployment rates being one of the biggest in six years and crime rates rising again.
All this makes any Brazilian really pissed and worried – even if living an ocean away.
Fortunately not everything is grim and depression. Despite this chaotic scenario, the startup ecosystem in Brazil is finding a way to grow, thrive and help their communities overcome this shitty moment. Here are three companies Brazilians, and the startup community worldwide, can be proud of.
Resultados Digitais
This startup from Florianópolis, the Brazilian city known as Silicon Island, Resultados Digitais, is bringing inbound marketing to the country. Its RD Station software was developed to help companies manage their marketing areas in an efficient and organized way. Currently, the RD Station is the main competitor of other marketing automation software like Hubspot and Marketo.
Despite the country's high unemployment rates, the company currently has 330 employees and is looking to reach 450 by the end of the year. With 4,500 customers and a much more attractive licensing for the Brazilian market (monthly subscription in Brazilian reais and the entire system in Portuguese), they are an affordable and new solution for companies to overcome the recession with inbound marketing techniques.
The company has also received two big investments being the last one, in 2015, the most notorious one in the amount of approximately $5 million (R$15 million).
Easy Carros
Easy Carros is an app connecting car owners with car cleaning services. You tell the app the location of your car and a specialized professional meets you there with all the equipment needed. This comes in very handy in the 30 big cities where the app is present.
Going into its second year, the company from Sao Paulo has grown 320 percent in its first 6 months, and has been growing 45 percent every month after that. Their growth is explained by their guaranteed excellent service performed by the "EasyCarristas," how are called the one thousand trained professionals that the company has in its base.
They understood the economic crisis and are using it in their favor – customers end up buying fewer new cars, keeping their cars for longer and increasing the average age of the fleet, having to invest in preserving them more.They also create opportunities for millions of self-employed and small business professionals affected by the economical crisis.
Though only two years old, Easy Carros has already won Best Brazilian Startup of 2015 from SeedStars World and was in the running to be selected the world's best.
Nubank
Nubank is the leading digital finance company in Brazil.
Their solution is close to magical – in a time where banks are imposing high interests and taxes, and making the banking process even more bureaucratic, Nubank does the complete opposite. You sign up – you fill a extensive online form and they do check your credit records and they put you on a waiting list. If your application passes, you get a Mastercard connected to a very user friendly app and that is it – no banks and extra fees involved, no paperwork or long term contracts.
From the app, you track your expenses and savings in real time, (which no other Brazilian bank does) in a very clear way – the app shows you how much you've spent, how much you already have in the future bills and what you have left and even makes predictions based on your expenses habits. You can add notes to your expenses and hashtags to calculate how much you've spent in a particular thing (e.g. #houserenovation).
The solution has been extremely popular because it works against all the inefficiencies of traditional financial services providers, it's eco friendly since every transaction is only available through the app and it's cheaper with interests of less than 7.7 percent (against 12 percent from most banks).
The company has raised over $150 million in equity funding and debt financing and it's defeating the idea that it's risky to invest in finance in Brazil.
Brazilians have in them the strength to overcome nearly anything. We unite and joke in the most absurd moments.We're also extremely creative and resourceful. These companies show the best side of Brazil and definitely makes us proud.
We still have a long way to go and the road will be bumpy, but with a bit of market knowledge, willingness to change and good developers available, we will turn this 7×1 around.