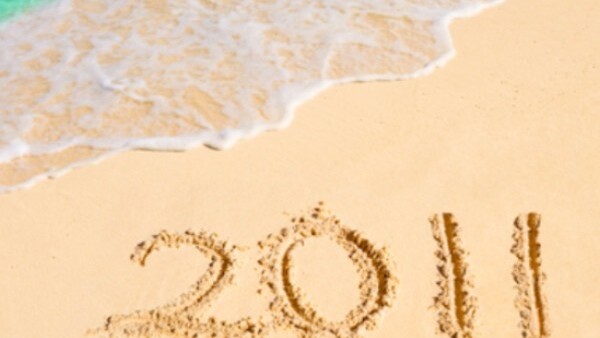 Story by
Co-founder at Simply Zesty. I love everything social and I think I have the best job in the world! I'm particularly passionate about bloggin Co-founder at Simply Zesty. I love everything social and I think I have the best job in the world! I'm particularly passionate about blogging and seeing innovative uses of social platforms by organisations. Feel free to drop me an email if you've got any questions, comments or you just want to say hi - [email protected]
It's that time of year! I'm going to place my bets on the ones to watch in the social media world in 2011. There are some key trends emerging online for 2011 – social news, social commerce, social TV. I wanted to take a look at who is in a good position to emerge as a key player not just for consumers but for businesses as well. And as well as looking at pure startups I wanted to look at those that may have been going for longer but who could be about to come into their own.
News aggregator – Ongo
When major players in the publishing industry team up, you know it's going to be interesting. Ongo is a yet to launch social news service that has been funded by Gannett, Washington Post Co & the New York Times Co. The startup is based in Silicon Valley and will offer a new type of news aggregation and sharing. And as well as some big-hitting investors, the team at Ongo are pretty strong themselves. The project is headed up by Alex Kazim, who previously ran Skype while it was owned by ebay. Though they did announce they would be launching before the end of the year (there's still time!), this is definitely one to watch in 2011. With an A-team of investors I predict some exciting things to come for this company. The only downside is how much the project is structured for consumers and how much it is shaped to protect the interests of the investors. Two very different things and it will be interesting to see how this plays out.
Philo – Reinventing Television
There's no doubt that social TV is going to be huge. We've just heard that Google TV is currently on hold but that doesn't mean there aren't going to be some exciting companies in this space over the next few months. Philo offers an interactive approach to TV viewing – something a bit more than just tweeting a hashtag while you're watching a show. Similar to GetGlue, Philo allows you to check in to TV shows and see what your friends are watching. What's exciting about Philo is that it's operating within one area. Whereas GetGlue is about checking in to entertainment (books, shows, music), Philo is all about TV. And because of that focus and the talent behind it, they're able to experiment with new methods. Next year will see them investing in social TV projects that will see Philo's technology used in TV shows. This kind of experiment has been tried with Twitter before but it failed massively. Maybe it was a bit too early,but I think Philo has a lot going for it in its simplicity – with an activity stream that resembles Twitter it's easy to use and as more people try the service it could be a hit.
Waze – social traffic
Waze has been going since September 2009, but I think they haven't quite hit the potential that they could, due to the fact that in order for it to succeed it really has to hit the mainstream, and not just the tech elite. The app that just made our list of The Best Travel Apps for the iPhone of 2010 offers crowdsourced driving navigation, so users benefit from real-time information such as roadblocks or accidents. They have recently completed a round of Series B funding which is another reason why they could hit it big in 2011, as well as a strategic move to Silicon Valley. They already have over 2 million users and hopefully it will now reach widespread use in Europe :

TV – clicker.com
Clicker may well be one of my favourite sites. It's already fairly popular and I think it will continue to grow in 2011. It's not a new site, but a recent round of funding combined with the new growth in social TV means we could see a lot more from them in 2011. It offers a completely personalised TV viewing experience – showing you what shows your friends have Liked and what's recommended for you, through partnering with Facebook. Each individual programme page gives you synopses, links to watch for free or paid, a friend feed to show which of your friends also like it and plenty of other features such as a discussion board. Ultimately your decision to watch something is based on an ad or friends' recommendation. And since I do a lot of my viewing online, this is the perfect website for a social TV experience. It's also well positioned to benefit from Google TV.
Mobile – Sensobi Jot
It's not often that you hear about a new app and instantly wonder how you will survive without it. Sensobi Jot is one of those. It bridges the gap between our offline and online communications and could soon become an essential for professionals. Sensobi Jot is currently in beta and it's essentially an app that allows you to easily take notes after a phonecall. When you make or receive a call, you get an email from Sensobi, which you reply to with the call notes. It may sound simple but it's absolute genius. I am one of the least organised people that I know and this could be a huge lifesaver for me. It's much more than just writing a note about a call, it is one of the first steps needed in organising contacts between email and phone.
Social Gaming – DeNA
Looking outside of social applications, there are going to be some new names in social gaming next year, which is currently being firmly owned by Zynga. DeNA may certainly be less known, at least outside of Japan, but it is certainly not small where it matters. They're based out of Tokyo and made close to $280 million in Q1 this year. You may start hearing about them more and more in 2011, thanks in large part to a recent partnership with Samsung. Their mobiles installed with Android will also come with DeNA's social game platform installed, bringing them right into the hands of millions. The platform is called Mobage, which is a recent acquisition by DeNA. It shows that the company is serious about going global and 2011 could be a very strong year for them indeed.
Social CRM – JiveM
In the b2b space, social CRM is going from strength to strength. And while only a few companies are seriously investing in this now, that could all change in 2011 as companies are forced to invest time and money in this, to ensure a smooth customer journey online. Jive is currently making waves here. They offer social business software across a wide range of products but what's of real interest is their social customer support software. This enables customers to help serve each other. This happens naturally across many communities but Jive's software provides a cost-effective solution for this. It bridges employees, customers and customer service reps together. Outside of Jive, I think we're going to see a lot of social CRM tools emerge in 2011. Just as social media monitoring has exploded with hundreds of companies offering free and paid solutions, social CRM will go the same way.
Music – Tubeify
Spotify has gone a long way into making music more social, through sharing playlists but new music service Tubeify has gone one better than that. Tubeify was started by a frustrated student (hello new Facebok!) who wasn't satisfied with the way that you could discover music on Youtube. Tubeify is powered by Last.FM's search API and Youtube and is currently a web-only service. Most music videos are watched on Youtube but the experience is certainly not easy. Tubeify has addressed that with a really nice and clean website that also allows you to search while a video is playing. Perhaps one of the nicest features about this site. It also allows you to create custom playlists that can be accessed anywhere, and are easily shared through Facebook, Twitter and email. It also has some nice additional features such as accessing Billboard's charts. Warning though, it is ridiculously addictive.
In related news, see our list of the 10 Best Social Media Apps of 2010. What are your social media driven apps to watch for 2011?
Get the TNW newsletter
Get the most important tech news in your inbox each week.