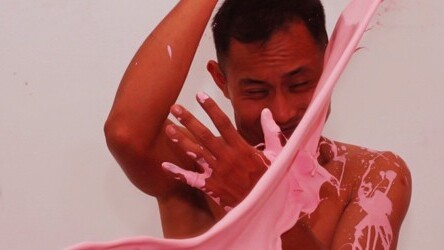 Story by
Brodie Beta is a technology enthusiast with a passion for gadgets, media and anything related to the Web. She has worked in communications Brodie Beta is a technology enthusiast with a passion for gadgets, media and anything related to the Web. She has worked in communications and media for the past nine years. Follow her on twitter here .
Feeling creative? We've rounded up 8 sites that will help you create things like action figures, animations and t-shirts –they're all sure to get those creative juices flowing.
Make Animations
Xtranormal is a service that provides a user-friendly interface for creating animations. From the Xtranormal site, users have access to an assortment of characters and environments that can be tweaked with various camera angles and character expressions.
The produced videos are quite impressive and it offers themes that make it easy to come up with a script. It includes a Late Night with David Letterman theme that contains celebrity characters and it has historical event themes like the moon landing that has a tiny Neil Armstrong character. Characters will also read lines from the script you write — just like real actors. Overall, it's a fun way to waste time and the finished product makes you look like an expert animator. The video below was made using Xtranormal.
Create a skin for your Laptop, iPhone, and iPad.
Why buy pre-made skins when you can make your own? Infectious will help you design skins for the iPhone, iPad, iPod touch and laptops of various sizes including; netbooks and Macbooks. The skins or decals are personalized by simply uploading an image and it will show you a preview of the design on the device prior to publishing. If you wanted to get really creative, try designing something yourself using software like Photoshop or InDesign. The skins are made from "top of the line 3M vinyl material" and can be shipped after designing. iPhone, iPod and iPad skins are under $20.
Photography Effects
BeFunky will apply creative effects to your images. Not experienced with software like Photoshop? BeFunky offers numerous effects like one that turns images of your friends into cartoons, and users can add some flare to pics with holiday themed stickers, graphics and borders. This service can also be used to crop images and improve the look of an image by adjusting the colours and brightness. There are a number of effects available for free and it will certainly help a newbie photo-editor.
Animated Gifs & Avatars
Loogix turns your images into small animated pictures aka gifs. There's a lot of services on the web that will enable you to make a quick gif but Loogix gives you multiple designs to choose from; swirl face, negative and zoom. One of the best effects is called movie which makes your image look as though the camera is moving from left to right across the image.
Create your own tee's and bags
Cafe Press can assist you in designing your own t-shirts, bags, magnets and buttons to name just a few of the items. To add graphics to the merchandise, users simply upload an image. After the design is saved, items can also be bought by the user or other shoppers at Cafe Press.
Cafe Press makes the design process easy and its revenue sharing model is perfect for users who want to add a virtual gift shop to their sites. It's also neat to discover what other people have made. I personally found some pretty badass dinosaur t-shirts that I've never been lucky enough to see in stores. If you love graphic hats and tees this site is a major win.
Create you own action figures
Sculpteo will let you create an action figure of yourself online. For those of us that had been waiting years to have our very own action figures, we no longer need to wait until we're famous. By taking both a front and side profile of your face, Sculpteo is able to make a 3D replica of you. Users can also add some details to the figure including the colour of the hair, clothes and accessories.
Sculpteo can even put a graphic t-shirt on your figure should you decide to design one for your mini guy or gal. Mini-me figures are just one of the services available at Scupteo and users can turn almost any image into a real 3D design.
Design a Website
I know, "designing a website" sounds like a huge undertaking but not if you're using a service like Squarespace. It's perfect for both newbies and those that are experienced but want to put something up quick with no hassles. Designing a Squarespace site takes nothing but creativity and it's as easy as dragging objects around the page to build the site. Tweaking the colours, changing fonts, adding widgets and adjusting page layouts can all be done without any web designer skills. And, users can pick a theme for their site or build it from the ground up.
It costs nothing to create a site and Squarespace will host it the site free of charge for 30 days. After that, the prices per month are pretty reasonable and it saves you from paying a designer to create and maintain your site.
Write a Script
Plotbot is a free web service for writing screenplays and it allows writers to invite friends to collaborate on projects. Plotbot is not just a cloud-based text editor for writing a script, it has sections for scene descriptions and each line of text can have notes appended to them. It's ideal for writing a screenplay.
As an example, if you were writing dialogue for characters, utilizing the features of Plotbot you could write notes on each of the actor's lines "look scared when you say this line" etc. The Plotbot forum is filled with screenwriting tips and has a community of people that write, read and pitch each other's scripts. It also lets you invite Facebook friends within the app but users can also invite friends directly via email. This service does save your script in the cloud however it can be downloaded as well.
Get the TNW newsletter
Get the most important tech news in your inbox each week.