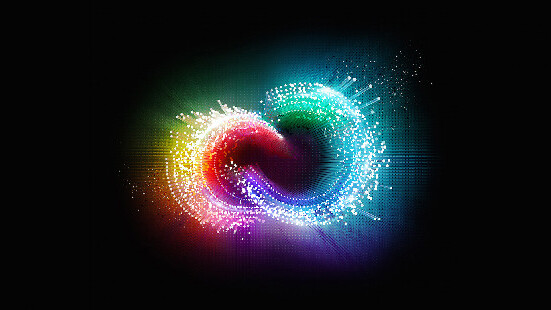 Story by
Reporter
Jackie Dove was in charge of The Next Web's Creativity channel from February 2014 through October 2015. Jackie Dove was in charge of The Next Web's Creativity channel from February 2014 through October 2015.
It's become a ritual in its own right: It's mid-June and Adobe has released a new version of Creative Cloud, a huge collective update for its entire line of desktop and mobile apps for photographers, artists, videographers, graphic designers, animators, and others in creative fields.
This year is the same, but radically different. Adobe will take the stage at Lincoln Center in New York an hour and a half from now to live stream the keynote address that will launch the following products.
Creative Cloud 2014 — the launch year is now part of the suite's naming convention — tightens integration between the desktop-based subscription service and an assortment of brand new mobile products and services that signal an accelerated cloud orientation. In addition, Adobe has launched its first hardware: the Project Mighty and Project Napoleon tablet pen and ruler set it debuted last year, now called Ink & Slide.
Adobe Ink & Slide, the tools formerly known as Project Mighty and Project Napoleon.
Adobe's mobile apps are occupying more space than ever and the company is now transforming Creative Cloud from merely a branded suite of products into a platform in its own right. With the release of Creative Cloud 2014, Adobe is laying the groundwork for making its new Creative SDK an integral part of the landscape for third-party developers.
Already, there are some good examples of what it can do: The Creative SDK was used to build three newly released mobile apps — Adobe Line and Adobe Sketch, which were made especially for Ink & Slide, and Adobe Photoshop Mix, a cloud-based app that puts advanced desktop Photoshop features on your tablet.
In addition, Adobe has added a new "services layer" to Creative Cloud with the release of the Creative Cloud App for iPhone and iPad. With those, users can now access their workflows and creative profile – files, photos, fonts, colors, community and more – on the go.
Interface for the new Adobe Mix.
For the increasing number of people considering Creative Cloud — and certainly for the 2.3 million existing subscribers — the issue of security will naturally arise. In answer to a TNW query about how Adobe plans to keep subscriber information safe, the company responded: "Adobe employs a rigorous set of security software engineering practices and processes for building our products and services as part of its secure product lifecycle (or SPLC) . With Creative Cloud, Adobe's SPLC is integrated into multiple stages of the product lifecycle from design and development to quality assurance, testing, and deployment."
Photoshop CC 2014
As with all Creative Cloud desktop updates, Adobe's flagship Photoshop app tends to make the biggest splash. This year is no different.
If you've ever taken a portrait shot with a shallow depth of field, Photoshop CC's new Focus Mask feature comes to the rescue. Focus Mask is a new way of separating the foreground of an image from its background. To create the mask, you select the in-focus areas of an image. It's recommended for portraits and other images with a shallow depth of field.
The new version of Photoshop CC has two new blur effects that promise to create or enhance your photo's sense of motion. Path Blur and Spin Blur can create a feeling of motion not originally captured with the camera, giving shooters more choices in how to express a scene.
When the content-aware fill feature was first introduced, the term "magic" was surely justified. Photoshop could "see" behind an object and fill in what would be there if the object were not blocking the view. The new version of Photoshop enhances the feature with content-aware color adaptation improvements so that retouched images using content-aware fill, move, and patch look more realistic. New technology added to the feature now blends areas containing gradients, like skies, for more accurate results.
The new Photoshop lets you link smart objects and share them across multiple documents, then automatically package the links into a single directory when you want to move a Photoshop file to another computer, or share it. There are also improvements to smart guides, layer comps, and software performance on Windows 8 touch devices like the Microsoft Surface Pro 3.
Under the hood, users will see better performance for the new improvements with an upgraded Mercury Graphics Engine.
Photoshop Mix
We already have a mobile version of Photoshop with Photoshop Touch, but Photoshop Mix is a different take on the genre because it allows for intensive processing in the cloud that is prohibitive even on powerful devices like the iPad.
While in Photoshop Touch you can work with layers and do some pretty advanced compositing, Mix in the cloud will actually let you perform functions like content aware fill and lens correction. You can apply looks, cut out parts of photos and combine different photos together.
In addition to local files, Mix lets you access images from your Creative Cloud account, Lightroom Mobile, Facebook or other online sources. You can open not only Photoshop documents, but individual layers from PSDs. When you're done, you can export even layered and masked images back to Photoshop on the desktop or publish your work to the community.
Advanced photo processing in the new Photoshop Mix are done in the cloud. Here, two images are combined.
Creative Cloud Photography plan
The Creative Cloud Photography Plan, launched last year as a $9.99-a-month pilot program, is now a permanent subscription option. This alternative to the company's $49.99-per-month Creative Cloud service, includes the latest versions of Photoshop CC, Lightroom desktop, mobile and Web, integration with the new Photoshop Mix mobile app, and training with Creative Cloud Learn. It also costs less than individual product subscriptions, which are $19.99 a month.
With this move, Adobe acknowledges that despite its initial effort to target Creative Cloud membership to professionals using Adobe products for a living, the user base for Photoshop and photo-related apps span a wider spectrum of the community.
The new photo plan differs from the pilot offering, for new subscribers. Free storage space is now limited to 2GB, down from 20GB, and a free Behance portfolio site is no longer included in the deal. Adobe says it will allow past Photography Program subscribers to keep those features by grandfathering in the original deal for them.
Both Lightroom Mobile apps and Photoshop Mix are available free to everyone from the App Store, though users must have an Adobe ID to use the storage and syncing features.
Content aware fill in the cloud with Adobe Mix.
Creative SDK
Alongside the release of Adobe's Creative Cloud 2014 sweeping release of new desktop and mobile apps and services comes the new Adobe Creative SDK allowing third-party developers to incorporate Creative Cloud features into their own mobile apps.
Right now, the SDK is in private beta and is being tested by a select vendor group targeting the iOS platform. Adobe says it will release a beta version of the SDK in the next few months, and that eventually it will be made available free of charge.
Applying looks in Adobe Mix for iPad, which was built with Adobe's Creative SDK.
The SDK consists of a software library that lets developers incorporate features like accessing files stored in Creative Cloud, extracting elements from Photoshop PSD files, incorporating Adobe's Touch Slide straight-line utility, and editing features like Photoshop's content-aware fill and upright.
From Adobe's perspective, the SDK also boosts compatibility between its mobile apps and desktop apps like Photoshop and Illustrator, and offers advanced image editing capabilities.
All of Adobe's brand new mobile apps — Line, Sketch and Mix — were built using the new SDK. Mix, for example, uses the new APIs for compositing and applying looks.
Lightroom for iPhone
Adobe has closed the loop on its Photoshop Lightroom mobile offerings with the release of Photoshop Lightroom Mobile for the iPhone. Following the long-awaited launch in early April of Lightroom Mobile on the iPad, the iPhone app now offers iPad feature parity in your pocket. You can edit and organize images, enhance smartphone photos or raw DSLR images, automatically sync mobile edits with the desktop software, and share photos.
Lightroom Mobile gets a few new features, too. You can now add star ratings and view and sort photos in any order, which will automatically be synced with Lightroom desktop. Also included is an update to Lightroom for the desktop to version 5.5, which adds support for the new iPhone app.
Lightroom is somewhat of an anomaly in the Creative Cloud family in that it's the only software (aside from Acrobat) that's still available as a perpetual license. Adobe says that will not change, and that Lightroom, as well as its mobile companions, will continue to be available independently of Creative Cloud except for needing an Adobe ID to sign in.
Both the iPhone and iPad apps are now available free from the App Store and run on iOS 7. The iPhone app is compatible with the iPhone 4s and later. The iPad app works with the iPad 2 and later.
Other familiar faces
With its concentration on the mobile side of the aisle, Adobe placed less emphasis this year on upgrades to its traditional desktop apps. And that's how the cloud subscription should work. One of the main lures of Creative Cloud was precisely that users did not have to wait 12-18 months for major updates to the software — instead, upgrades would be rolled out continuously whenever they were ready.
Still, Adobe has its own timetable for certain things. For example, it always releases information about updates to its pro video apps, such as Premiere Pro and After Effects, at the National Association of Broadcasters Convention. Thus, the main updates, contained in our report, were already public. Here's a rundown of the rest.
The Illustrator update includes live shapes that can transform rectangles into complex shapes while being able to return to the original rectangle. On Windows, the Illustrator update features faster rendering of vector graphics with GPU acceleration.
With the new version of InDesign, you can now drag and drop columns and rows within tables and use the EPUB fixed layout to create books.
SVG export in Flash Pro lets developers export any frame in a Flash project as a SVG file. There are also new variable width strokes, tweening for variable width strokes, and a motion editor featuring WebGL for animation.
Web designers have new updates to Dreamweaver. A live element quick view feature now lets developers see, navigate, and modify HTML page structure. In addition to certificate support, CSS Designer improvements help developers apply gradients, shadows and borders with a handy undo.
Muse, the visual Web page designer now has native 64-bit support and HiDPI support for sharper looking images, objects and text. You can now preview and optimize desktop and mobile versions of your sites before going live.
Edge Animate, the Web animation tool, gets native HTML video support allowing the direct import of HTML5-friendly video clips. You can now import sprite sheets and link articles in Adobe DPS. There are also a new actions editor, and the ability to copy and paste SVG files from Illustrator.
Enterprise and education
Adobe has not forgotten about its enterprise or education customers. The new Creative Cloud for Enterprise, targeted to large workplaces, is designed to work with enterprise software such as Adobe Marketing Cloud, Acrobat, Adobe Anywhere and the Digital Publishing Suite. It features more collaboration and file storage and a new management dashboard.
For classrooms and labs, Adobe now offers device-linked licensing, which lets multiple users share a single device rather than tying it to an individual Adobe ID. This helps educational institutions with a transient student population. The Creative Cloud Complete Plan for Students is $19.99 a month, a price drop of $10 for the first year.
All software updates announced today are available free to Creative Cloud subscribers. Adobe Creative cloud subscription are $49.99 per month for individuals and $69.99 a months for teams, based on an annual membership. Adobe's Website has more information about plans and prices. Currently, Ink & Slide is only available in the U.S., but will ship in other regions later this year, Adobe says.
See also: Adobe launches Creative Cloud hardware-software combo for drawing on-the-go and Hands on with Adobe Ink & Slide: New Apple-centric devices and apps for cloud-based drawing