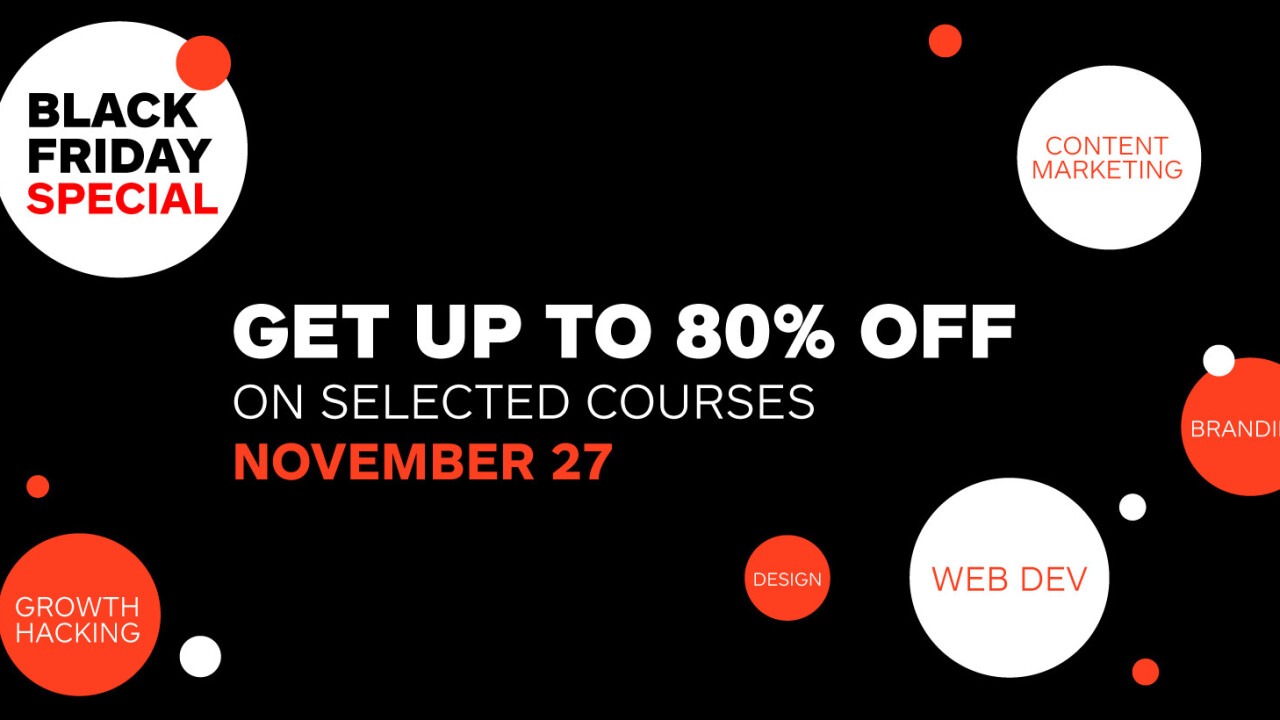 Story by
The official online education and training chapter of The Next Web The official online education and training chapter of The Next Web
With Black Friday today, now is without a doubt the best time to indulge in a healthy dose of spontaneous shopping without running the risk of going drastically over your budget. This is the thrill and appeal of Black Friday; and besides, who doesn't enjoy engaging in a little discount shopping every once in a while?
For this special occasion today, we have decided to join the Black Friday madness at TNW Academy and want to give you the opportunity to invest in your future by enrolling in some of our premium online courses at a ridiculously low price. 
Want to know more? Here are a few of the courses that are available at a discount today:
As its title promises, the course Learn To Build Beautiful Responsive Websites will familiarize you with the process of developing robust and aesthetically pleasing websites, as well as a number of tips and advice on how to use your newly acquired skills and knowledge to find clients and consistently offer high quality services.
Put together by self-directed learning enthusiast, self-taught web developer and crafty entrepreneur Ryan Bonhardt, this course covers a diversity of topics, including HTML5 and CSS3, responsive design, rapid development, SEO and SMO as well as a few other fundamentals of web development.
➤ Learn more: Learn How to Build Beautiful Responsive Websites
An experienced online teacher and the Director of Communication at OneMonth, in her course Content Marketing: The Art of Promotion Sarah Kathleen Peck will walk you through the principles of content marketing and also bring you up to the most recent trends in the field.
Sarah will explain how and why you should integrate content marketing in your business strategy and show you how to get started with laying out the foundations for your content marketing strategy. As Sarah says, content marketing is part science, part art–  she will teach you both.
➤ Learn more: Content Marketing: The Art of Promotion
Taught by seasoned media strategist and author of the best-selling book Trust Me I'm Lying: Confessions of a Media Manipulator, in Growth Hacker Marketing: The Course Ryan Holiday will give you the blueprint for the marketing success of some of the world's leading megabrands, among which Facebook, Dropbox, Airbnb as well as Twitter.
Breaking away from the tools and methods of traditional marketing, Ryan will put you a fast track to mastering growth hacking and becoming a kick-ass growth hacker. This course comes with a copy of Ryan's book Growth Hacker Marketing and a subscription to his premium channel GrowthHacker.tv.
➤ Learn more: Growth Hacker Marketing: The Course
Hungry for more? Visit TNW Academy and take advantage of our Black Friday special offers by enrolling in one of our premium courses today.
Oh, and don't wait too long or you miss your chance, these offers will end in less than 24 hours (ending time: Saturday 28th Eastern Standard Time).
➤ Check out all the insane Black Friday offers at TNW Academy
Get the TNW newsletter
Get the most important tech news in your inbox each week.