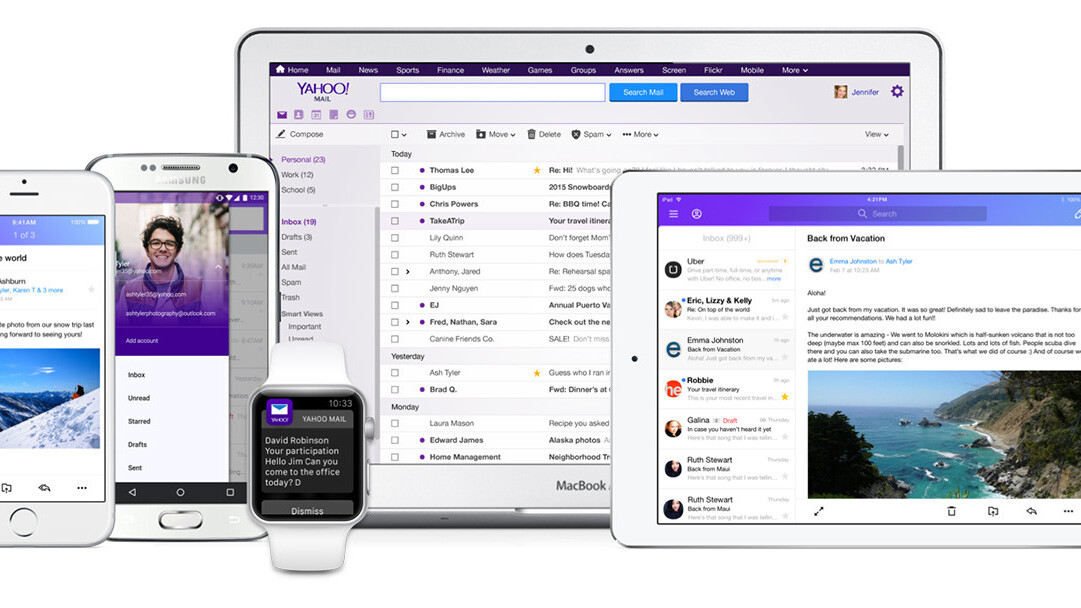 Story by
Reporter
Jackie Dove was in charge of The Next Web's Creativity channel from February 2014 through October 2015. Jackie Dove was in charge of The Next Web's Creativity channel from February 2014 through October 2015.
Yahoo has announced a sweeping update to its Mail service that overhauls the interface, introduces multiple mailbox support and launches a brand new feature designed to completely eliminate passwords.
Built to improve both performance and aesthetics, Yahoo has put considerable effort into improving the look and feel of the app, making it easier to use, and boosting the scrolling performance. The new Yahoo Account Key is designed as a simpler and more secure alternative to passwords.
Multiple accounts in the Yahoo Mail
Acknowledging that most people maintain multiple email accounts from various sources, Yahoo is now allowing Mail users to connect to and manage accounts from Outlook, Hotmail and AOL Mail directly from within Yahoo Mail. Users will be able to access Mail's features — new search algorithms, smart contacts, auto-suggest and rich compose — across all mailboxes.
Yahoo Account Key to get rid of passwords
Earlier this year, Yahoo launched on-demand passwords, which let you sign into your Yahoo account using an SMS code. It was the first, somewhat awkward step toward eliminating passwords.
The company has developed a remedy with the new Yahoo Account Key, which uses push notifications to let you access email from your smartphone. If this works the way Yahoo hopes, the days of having to memorize complex passwords will soon be over.
Account Key is considered more secure than traditional passwords because once you activate it– even if someone gets access to your account information – they still can't use it to sign in.
New Email Search
Searching for emails or content within emails is not only a certified drag but often unsuccessful, and Yahoo Mail's new search intends to change that by letting you find a message, photo or attachment with a couple of taps.
Typically, app search results are derived either from messages stored locally on the device or the top 100 messages on the server. Yahoo Mail search is all server-side, and now you can view not only messages but images and files that were shared with these messages.
The system is contextual in that it knows whether you're using the app on your desktop or mobile device
As most people search by sender, Yahoo made that the fastest and easiest way to go. By tapping in a couple of letters, Mail will suggest the most likely contact. Results are automatically organized into messages, photos and attachments, and you can also search for messages you sent.
If you search by keyword, the app will search across messages, photos and attachments to gather smarter suggestions and offer more relevant results.
Prettier interface
Sometimes form follows function, but in this update, Yahoo is devoting considerable effort into making Mail more pleasing to look at and to make it easier to send emails with images and attachments.
To send photos, videos and notes to yourself via email, just long-press the compose button from your phone or click on the Plus (+) icon on your message.
Yahoo Mail connects with Twitter, LinkedIn and Facebook, so photos from those senders will now show up in the interface as contact avatars even if you don't have them stored in your contacts. If a sender is photo-phobic, mailbox icons are still improved. In a partnership with Flickr, Mail will show the sender's initials from a photo curated from its image library.
Contact information is automatically recorded so you can tap anyone in an email to see information they've shared: name, company, title, email history and even recent tweets. Yahoo Mail maintains this data automatically on the server, even if that person is not in your address book.
The new Mail app takes Apple gestures into account. Swiping right on a message marks it as read or unread. Swiping left deletes the message. A long press selects multiple messages. If you want to move or delete a lot of messages, tap and hold on a message to go into multiple select mode.
Photos and videos appear directly in your email, and are scaled automatically. Prefer to attach rather than display photos in a message? Just tap the "…" on the photo to convert it to a regular attachment. To send a quick email to yourself, just long-press the compose button.
The logos that Yahoo Mail shows for commercial emails — say from your drugstore or bank — also function as an additional security feature ensuring that senders are legitimate, Yahoo told reporters in a briefing.
Yahoo Mail App for Desktop, Android and iOS
The new version of the Yahoo Mail app is available in Apple's App Store to all global users now, and rolling out for Android on Google Play starting today. The desktop version is available for US English users today and will be coming soon to international users. Account Key is now available globally for the Mail app and will be rolling out to other Yahoo apps this year.
Get the TNW newsletter
Get the most important tech news in your inbox each week.
Also tagged with