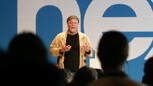 Story by
Courtney Boyd Myers is the founder of audience.io, a transatlantic company designed to help New York and London based technology startups gr Courtney Boyd Myers is the founder of audience.io, a transatlantic company designed to help New York and London based technology startups grow internationally. Previously, she was the Features Editor and East Coast Editor of TNW covering New York City startups and digital innovation. She loves magnets + reading on a Kindle. You can follow her on Facebook, Twitter @CBM and Google +.
The recent 9.0-magnitude earthquake in Japan, the strongest ever recorded in the country killed at least 10,000 people in what Prime Minister Naoto Kan said was the country's worst crisis since World War II. The effects of the quake moved Japan's main island by eight feet and shifted the Earth on its axis.
"We're all trying to figure out how we can do our part to support the people of Japan during this time of great tragedy. XCom Global is doing its part by providing free Internet access to relief workers heading to Japan. With its parent company, Inter Communications Co., Ltd. headquartered in Tokyo, it is of the highest priority and with gratitude that XCom Global assist those providing aid," said a rep for XCom Global.
XCom Global is one of the finest options for travelers looking for low-cost, MiFi hotspot rentals in foreign countries. Up to 5 travelers can use one device to roam wirelessly abroad with unlimited data plans starting at $14.95 per day in over 35 selected countries including Canada, China, France, Germany, India, Japan, Mexico and the United Kingdom. The units are shipped out ahead of your departure date with a prepaid return shipping package. See a list of pricing plans here for longer trips.
The company has respectfully decided to provide its rental service free of charge to relief workers heading to Japan or to those already in Japan.
"I am relieved to say that all of my employees at Inter Communications are safe," said Seiji Nishimura, CEO, XCom Global, Inc. in the press release. "I was working in our Tokyo office when the earthquake hit. It was unlike anything I have ever experienced. The devastation in our country is heartbreaking. We appreciate all of the aid that is coming in from countries around the world. So much is done via the Internet now. If we can be of assistance by connecting the relief workers to information and each other, we are more than happy to do so."
In Japan, XCom Global uses Docomo, the country's leading mobile communications company; unfortunately the infrastructure in Japan is still being stabilized and Internet connections are likely affected.
Contact information:
For relief workers who have not left the U.S. yet, contact XCom Global at 1-877-520-8242
For those already in Japan, contact 03-5766-2722.
Get the TNW newsletter
Get the most important tech news in your inbox each week.