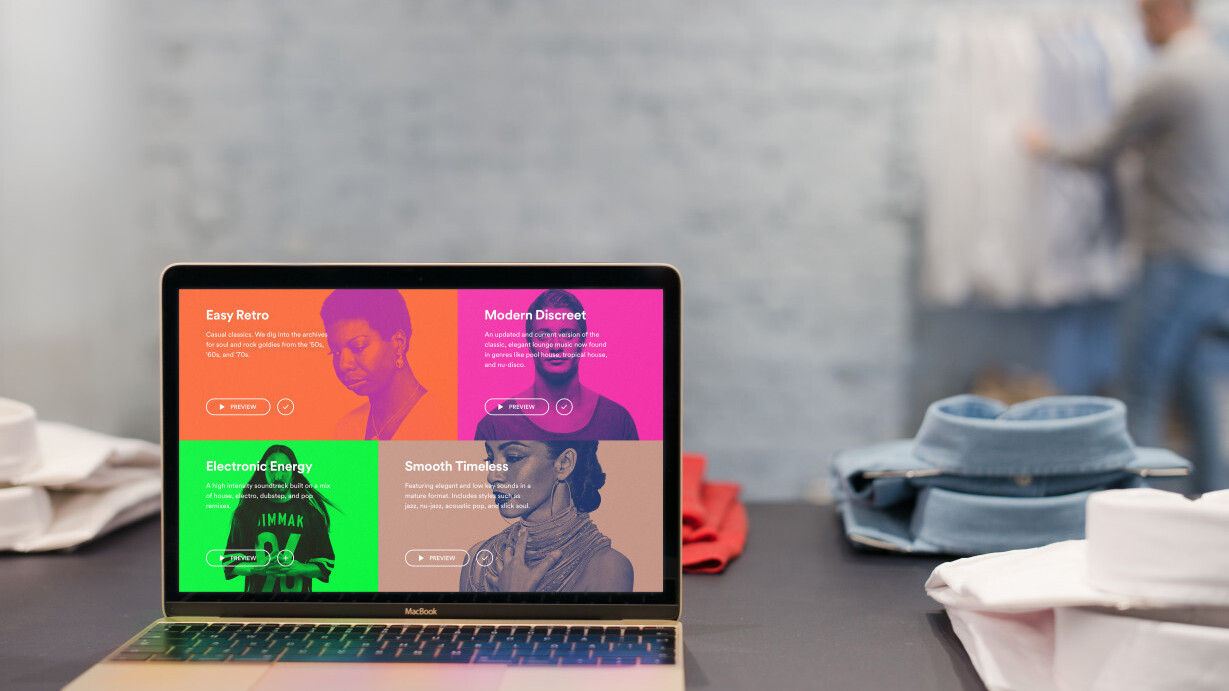 Story by
Davide Banis is a former story editor for TNW X, our b2b label that matches startups, governments and large enterprises. Davide Banis is a former story editor for TNW X, our b2b label that matches startups, governments and large enterprises.
This interview is part of our new series of Growth Stories, in which we interview the founders and CEOs of 20 of the fastest growing startups in Europe. We asked them about their companies, their companies' culture, and their lives, trying to understand how these factors play a role in achieving growth. The series is one of the initiatives that will build up to Tech 5 – the annual competition we organize in collaboration with Adyen.
Ola Sars (CEO of Soundtrack your Brand): "Working long hours is unprofessional and inefficient"
The first time I talk with Ola Sars – CEO and co-founder of Swedish startup Soundtrack your brand – is over the phone. It's 4.30 pm and Ola is in Stockholm, walking to pick up his kids after school. "I try to finish at four PM at least three times per week," he tells me. "We have only one life and family is more important than job."
This doesn't come as a surprise to me: preparing for the interview, I scrolled through Ola Sars' LinkedIn profile, where he proudly defines "parental leave" as "managing the most important team ever." Of course, that job is listed among a series of more traditional positions: a few years in consultancy, some experience in advertising, and then the big leap to the music industry. He launched Tonium Pacemaker and co-founded Beats Music, that he left 8 months before Apple's acquisition. But for Ola Sars it was not enough. He saw that the streaming revolution was happening not just for consumers but also on the B2B side. That's why in 2013, he teamed up with Andreas Liffgarden and Joel Brosjo to found 'Soundtrack your Brand,' basically a B2B version of Spotify. "The opportunity was easy to understand," Ola tells me on the phone, "but the really difficult part is execution."
After 4 years, SYB has taken off. It's available in 102 countries worldwide and aims at becoming global leader in the segment. Last year, the company grew users and revenue between 300-400 percent. Its services run the gamut from plain licensing for small businesses (35$ a month) to curated soundtracks for high-profile customers that need a tailor-made solutions. "What we want to become, is the platform of choice for all brands, we want to give them the power of data in terms of understanding what music play when and where," adds Ola. There's not much time for more conversation: the SYB's CEO arrives at his kids' school and I leave him to his well-deserved family time.
After few days, I meet Ola face to face in Amsterdam. He's in The Netherlands for a big music event where he'll evangelize the public on the importance of background music for businesses. Sitting down in front of a coffee in a crowded bar, we chat about the reasons behind SYB's impressive growth.
What do you do better than your competitors?
Background music has always been sold with a subscription model and our competitors are still serving thousands of CDs and satellite receivers. What we are building is software that doesn't give you a playlist, but a service that brings you the right music at the right time. We're the clear disruptors in this market. Additionally, we're giving small businesses the opportunity to have alternatives to the illicit use of Spotify.
What are the main ingredients of SYB's recipe for growth?
We're a product company. We try to combine software, design, and science. The fundamental component of software is "scalability," and it is intriguing to think about scalability as the main driver of trying to apply software to business. Then, there's design, because without it you just don't have great products. Finally, there are also very interesting scientific challenges in what we're doing. For example,  how can music help us be happier? We've been funding research in this sense. In all of this, our love for music is our red thread, our blood vein.
How do you fit into the bigger picture of the music market?
Music was a 35 billion dollar industry, then it plummeted to 11. Spotify and the streaming revolution have been driving the comeback since then, but background music is still largely untapped potential. An average retailer reaches around 700 to 1500 consumers per day and if you do the math, retail quickly becomes the world's biggest music outlet. We just started to scrape the surface of this market.
What's the role of Spotify in SYB?
They're a passive shareholder [holding approximately 20%, ed.] and they're planning to move more and more to the back scene. They're a great partner!
Suddenly, music starts to play in the background of the bar we're sitting. It's an indistinct pop mixture. I can't help but noticing it out loud.
It tells me that they don't really care about their brand, that they are just another standard tourist cafe. We believe that soundtracks are fundamental for brands, because they communicate their stories.
How does it work in practice? Let's say that I want to purchase your service for my newly opened spa.
Well, first we'll ask you to give us 10 tracks that represent your brand. On that basis, we'll give you the soundtrack of your brand and you'll never have to touch the service again until you close. Your staff will never be bored by listening to the same songs over and over. Your customers will feel great and they'll be able to bring home and share your soundtrack. And this of course is interesting for your business because it stretches the relationship with them beyond the actual point of transaction.
Products aside, we would also like to know how your company culture works as fertile ground for the achievement of growth. Can you name three core values that distinguish SYB?
Sure: transparency, responsibility, and common sense. I've been in front of the whole team and told the team that I had money in the bank to pay just one more salary. We stepped up our game and we solved the problem. That's transparency. Responsibility means that you have to be a professional. It's not OK to be 5 minutes late at a meeting. When we go to work, we go to work, there's no fucking around. Finally, in a very complex world, the hard thing is to simplify, to be driven by common sense and a practical attitude. For example, in our meetings we don't care about opinions, what we want are data-driven insights. So, when you come to a meeting, you come prepared. That's another thing that distinguishes us from our competitors: we're very, very disciplined.
To be so determined, you certainly need a strong motivation.
I'm super pragmatic as a person, so I'm not saying that we're trying to save the world or anything. But yes, there's a small cause that drives us, and that is that the background music industry is dysfunctional. For us, what we do is also about paying the artists, it's also a form of fair trade music. The cause helps to wake up in the morning and be fired up.
How do you reconcile this "fired-up" approach with your desire to "leave work at 4 at least 3 days a week"?
Well, I want the job to be the enabler for my life, even if I run a company, and I want everyone else in my team to have the same opportunity. As a professional, it means that I have to be better, I have to be smarter, I have to get more out of every hour. We want to avoid extra hours and still dominate the global market. When we are at work, we play 'series A,' when we go home we enjoy our lives. We're not stuck in the stereotypical idea of startups working long hours. I'm not interested in people that say to me that they work a lot. For me it means that you're not being efficient, you're not being professional. I know that's subjective, but that's how we play.
I guess that this attitude has consequences for the way you execute your role as CEO of the company?
Yes, because to be efficient I need to delegate. My job is putting the right people working on the right stuff. And I'm very proud of the elite team I created.  In this regard, we don't have any HR and I think we're never gonna have it. Because it's my job to hire and fire. It's my responsibility at the end of the day. And since this is not a 12-months-Silicon-Valley-gig, I'm here for the long term.
Speaking of ecosystems, what do you think of the Nordics and in particular Swedish one?
The Nordics are a really good testing ground for businesses because they're small and low risk but with the complexities of bigger markets. As for Sweden, well…I really like it! You have the infrastructure in place, great education and cutting-edge technology. The DNA of the ecosystem has always been to build to scale, to win on a global scale.
OK, during these interviews, everything seems always wonderful and perfect. Can you name some more negative or just challenging aspects of your time at SYB?
Well, it has always been challenging! 99 out of 100 of these ideas fail. At the moment, it's looking good but I know that it can still go any way. There's a lot of luck involved and it's all about trying again, again, again, and again. So maybe at the end it's statistics, not luck. But yes, I've also been very unsuccessful in my life. You gotta own it.
What's a question you'd like to ask to the other CEOs and founders we're going to interview for these Growth Stories?
One interesting question, in my opinion, is if they are thinking at all about an exit, or where they will be in 5-10 years from now?  It's just interesting to hear if they are thinking beyond what they are doing right now.
—
In the lead-up to Tech5 2018 – the annual competition organized by TNW and Adyen which celebrates Europe's fastest-growing tech companies in The Netherlands, UK, Germany, Spain, France and Sweden– we're launching a series of remarkable stories of businesses that experienced extreme growth. But if you are a startup with an inspiring/remarkable/interesting story about finding your special metric that led to growth, please share it with [email protected]