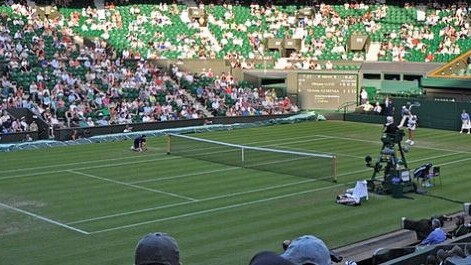 Story by
Paul Sawers was a reporter with The Next Web in various roles from May 2011 to November 2014. Follow Paul on Twitter: @psawers or check h Paul Sawers was a reporter with The Next Web in various roles from May 2011 to November 2014. Follow Paul on Twitter: @psawers or check him out on Google+.
With Euro 2012 approaching its grand finale, what we need is another sporting extravaganza to come along and pick up where it will soon leave us. Right? Right.
That's where Wimbledon comes into play. Starting today and running 'til July 8, tennis fans will be treated to two weeks of sublime sporting action from the likes of Djokovic, Nadal, Federer and Murray (yes, Murray). And this year sees the tournament's first ever official Android app too.
As with previous years, Wimbledon is also available as an iOS app, remodeled for 2012. But those on Google's mobile OS can now follow all the action on what is a very neat app from our initial tinkerings.
As a huge tennis fan, I normally rely on the BBC and Wikipedia as I watch tennis matches – to get a schedule of play, stats, results, and profiles of players I've never heard of before. Wimbledon reels in all of this, and also includes live radio commentary of matches and behind-the-scenes video footage, as well as highlights of games.
When you first launch the Android app, you'll be greeted with a pleasing tiled screen which takes you straight to the section that interests you most: News, Live Scores, Results, Schedule, Draws, Players, Live @ Wimbledon, Multimedia and Find It.
The multimedia section includes interviews with some of the top players, and photo-streams of key events from both during the pre-tournament qualifying period and the main matches from Round 1 onwards.
The radio commentary and video streams worked flawlessly over 3G for me, the former having three channels with daily coverage of the championships, two dedicated to Centre Court and No.1 Court. I can see this app being my main go-to for Wimbledon over the next fortnight.
My one minor gripe is that the Android app doesn't tap the device's built-in menu button for context-specific navigation, but I can live with that.
The iOS incarnation is compatible with iPhone 3GS and up, iPod Touch 3rd
generation and over, and iPad. It requires iOS 5.0 or later.
Whilst it has the same sections as the Android app, and has been updated accordingly from last year's version, it doesn't have the homescreen as the Android one does – when you first launch the app, it defaults straight to 'News'. From then on, you navigate the different pages through a menu at the bottom.
As for Android, you'll need OS 2.2 and up to use this app.
Feature Image Credit: Albert Lee | Wikimedia Commons
Get the TNW newsletter
Get the most important tech news in your inbox each week.
Also tagged with