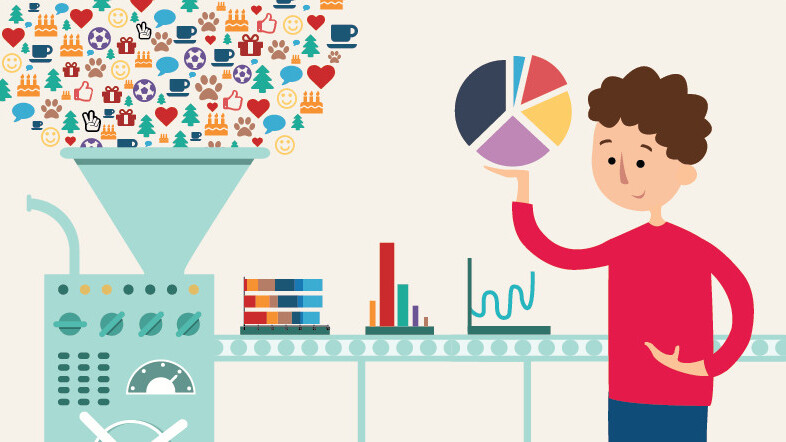 Story by
David Geer is a Tech Entrepreneur, a business development consultant, a motivational speaker, and a freelance writer. He has worked as a ful David Geer is a Tech Entrepreneur, a business development consultant, a motivational speaker, and a freelance writer. He has worked as a full time technology writer/technology journalist for 12 years. His work regularly appears in national and international publications.
For marketers and other companies that are heavily involved in data, keeping up with the latest trends is necessary to ensure maximum efficiency and profits.
Big data is undoubtedly going to be a major point of focus in the coming years. Big data and social media are a match made in heaven for companies but what does that mean for the average consumer?
What exactly is big data?
Anyone who is confused by this term should simply look at the name for an answer. Big data is exactly what it sounds like: massive volumes of data.
Businesses are concerned with big data because it requires new methods of interaction. Every part of the process including collecting, storing, and analyzing requires a new approach. There are three main things to consider whenever big data is concerned:
Volume: There are huge amounts of data to be collected.
Variety: Structured and unstructured data has to be considered.
Velocity: Data can come in archived forms but also in real-time.
Social media is important for both businesses and people
While big data is concerned with all kinds of sources, it is estimated that the majority of it comes from unstructured sources. As one might imagine, social media constitutes perhaps the biggest source of unstructured sources for big data.
Likes, tweets, views, comments, favorites, and everything else that users can do and interact with in any social media platform can be collected and analyzed by interested parties.
In the digital age, social media is important for any business. Maintaining a presence on platforms like Facebook and Twitter is essential because it allows people to interact with the company on a seemingly personal level which aids businesses across multiple fronts.
It is also important for the average consumer. Facebook alone boasts 2 billion monthly users, about 26% of the world's entire population. It is vital then to consider that big data from social media can arrive in an incredible number of forms.
Social media interactions will play a vital role
Imagine the following scenario. You wish to purchase a new life insurance policy and you start shopping around at all the usual companies, asking some questions and answer a lot more in return.
Then, they enter your name in their system and reject you, despite the fact that you thought of yourself as a very viable candidate with a steady job, a good medical history, and everything else that might make you appealing in their eyes.
The reason why you were rejected, however, was not as obvious. It was because every weekend you post on Facebook about getting drunk. You upload Instagram pictures of your favorite junk food weekly. There are no records of you ever been on a gym or a fitness platform of any kind.
That kind of information might seem like a massive invasion to privacy but many of the things you upload online are part of public record. While you can certainly change some of your settings to private, the cold hard truth is that the Internet is not only forever but also painfully transparent.
In a few years, laws may well exist that will allow companies to peer into your social media and your Internet usage in order to gauge your viability for anything from life insurance to a mortgage and everything in-between.
Companies will find new ways to make sense of big data
Right now, big data and machine learning AI are two parts of technology which are still very much evolving. Businesses have already found ways of interacting with big data but this is merely the beginning.
For instance, a marketing business which is focused on promoting new brands and people may utilize a machine learning algorithm that allows it to collect data from people who match certain characteristics.
Elisa Chan, Marketing Director of Macquarie Cloud Services – an Australian based hybrid IT and data center operations business told us big data helps her team make better advertising decisions, such as what content to post, when to post it and how to promote viral growth.
A colleague of mine once said that capturing a good photo is all about being at the right place, at the right time and I will say the same applies to social media, it's all about capturing the audience with the right content at the right time – how do we know what this content and timing is? It all comes from a lot of unstructured data about our audience we've collected and analyzed through time, Chan said.
Then, with the assistance of AI technology, they will be able to analyze data from hundreds of thousands of users in order to come up with a campaign that will have laser-precision focus, a very specific reach, and a fantastic chance of reaching the target audience and appealing to its tastes.
There has been no other time where user habits, wants, and needs could be so excessively collected and analyzed in such excruciating detail. New pathways have been opened up for businesses that require access to large amounts of data in every part of the process.
Users must learn to use social media safely
The average consumer has little to no idea about big data or how advertising and marketing companies gather and use their information. Lawmakers and businesses should make user education a top priority in order to avoid challenging situations in the future.
For example, users may not understand that whatever they post on Facebook may be used by advertisers in order to learn about their habits for targeted ads.
Such processes should be clearly explained so that users are conscious of what is happening when they use social media. Otherwise, future processes that will be far more automated and will collect even more data may be seen as deceitful.
Get the TNW newsletter
Get the most important tech news in your inbox each week.
Also tagged with