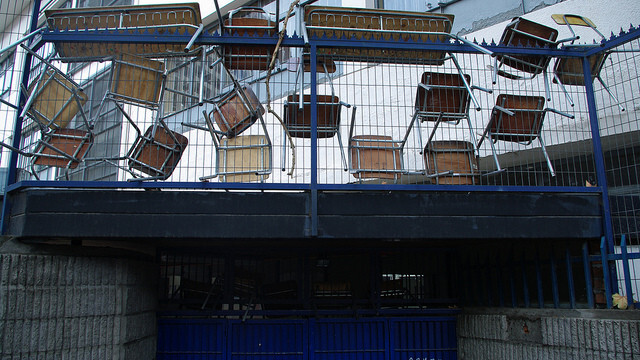 Story by
Anna Heim is the founder of MonoLibre and a freelance writer for various tech and startup publications. She is a polyglot French news junkie Anna Heim is the founder of MonoLibre and a freelance writer for various tech and startup publications. She is a polyglot French news junkie with a love for technology.
"The next Skype, Facebook or MercadoLibre will have to come out of Chile," the Israeli investor and entrepreneur Arnon Kohavi declared shortly after moving from Silicon Valley to Santiago to create a venture capital fund. Six months later, Kohavi and his fund Yarden VC have moved to Singapore.
So what happened?
According to Kohavi, it's about timing. Chile has great potential and will be completely different in 10 years from now; but to put it mildly, it's not quite there yet.
Kohavi's departure and the declarations that followed are surely controversial, but reducing it to a story about one more investor who didn't manage to raise money for their fund would be missing the point.
Kohavi may only have spent six months in Chile, but he developed a deep understanding of the country, and the challenges facing it. We decided to ask him a few questions; while some may not share his conclusions, his point of view is well worth considering:
On departing after six months
AH: Why had you decided to move to Chile in the first place?
Arnon Kohavi: I first came to Chile to visit some good friends from business school. They introduced me to government representatives, and I saw a desire from people I met to create a local startup ecosystem. They asked me if I'd come, and I accepted to come for 6 months as a test.
My plan for these 6 months was to try to start a VC fund – a real one, which understands entrepreneurs, not just a group of people with a finance or banking background. I also wanted the fund to be big – US$40m – to invest in a proper field of startups.
AH: So why did you leave after six months?
AK: I took off because it will take longer for Chile to reach the tipping point. Good will from the government and a few people isn't enough to re-create what places like Silicon Valley, Israel and Finland have.
The heart of the problem is Chile's dramatic generation gap, between young entrepreneurs and the old generation. The Chilean society is less dynamic than Asia or the US; a handful of monopolistic families control the country, and won't move.
Worse, these families don't care about anything (the young, the poor…) besides their money. They don't have to: the country's natural resources (copper, etc.) are a disadvantage here, because it means the rich don't need to work hard. The Asian model is better, because it focuses on exporting manufactured goods.
Chilean family offices may still give money to Endeavor, but for them it's not about entrepreneurship – it's just a way to brush their ego, and they only do it because it is all conducted in Spanish.
I know people were disappointed when I left, and the Chilean government would have supported my fund, but I also wanted a commitment from the elite, and it didn't happen. Yet, I'd be happy to come back and do business when the country is ready.
AH: What about Start-Up Chile?
AK: [Startup Chile's Executive Director] Jean Boudeguer is a great guy, and he's been doing the right thing. Start-Up Chile is good to break Chile's isolation – which is not only geographic, but also mental. It's crucial for the local startup community to get used to speaking English and develop. Start-Up Chile does that by bringing foreigners to Chile, but it's not enough to build an ecosystem.
Chilean entrepreneurs still have to move to Silicon Valley to make it big – Zappedy's founder [Francisco Larrain] was living in the US when his startup was acquired by Groupon [see our previous story]. I'm convinced we'll see more Chilean entrepreneurs move elsewhere in the future. I don't think it's a bad thing, and my own country, Israel, also went through this phase.
On education and Latin America
AH: How do you think things can change?
AK: Nothing will change without emphasis on science, and this is true all across Latin America – actually, Chile is even in better shape than other Latin American countries. Do you know how many Brazilians have received a Nobel Prize? Zero. Compare that with Israel, and you'll see the difference: education.
Though Israel's model is easier to duplicate, the same is true of Silicon Valley. Both are based on education, which is the start of any tech ecosystem. Now think again of what happened in Chile this year, with massive student protests.
My concern isn't the young generation, which has true potential, but the bigoted establishment – the Opus Dei, for instance, is big in Chile. More generally, there's a fear of failure and the Chilean conservative and traditional society doesn't encourage social ascension. Since the issue is cultural, there's no quick fix, and it could take a long time for things to change.
At the moment, Latin America still feels back in time. Many of the local websites I have tried to use were not updated, and the service was bad. This is a serious issue because entrepreneurship isn't formed in a vacuum; for startups to thrive, the whole country has to be tech-driven, and use the latest gadgets and online services.
On VCs in Latin America
AH: Have you heard of the recent controversy surrounding Chilean VCs? The investment fund Austral Capital has been recently accused of malpractice by the local startup community.
AK: I don't know the details of this case, so I won't comment directly on this; but what I can tell you is that the biggest complaints I've heard from Chilean entrepreneurs are against VCs, not the government. Raising money is difficult in Chile, but it's not just that. While most VCs in Silicon Valley truly believe in win-win, VCs in Chile are often asking too much when it comes to term sheets. They are effectively destroying the entrepreneur's motivation, which is very unfortunate.
It's also a mentality problem: to me, what is called VC in Chile is actually private equity – bankers in suits with a finance background and very limited knowledge of entrepreneurship. This was very different from my own approach – I was the only VC to go to meet-ups and get to know entrepreneurs closely. Like most investors in Silicon Valley, I wear T-shirts, and more importantly, I often give free advice. This is normal in Silicon Valley, but not yet in Chile.
AH: What about foreign VCs interested in Latin America, and 500 Startups' plans in Brazil?
AK: Foreign VCs are not that interested in Chile, because it's fairly small. As for the other countries, angel money is not enough to keep investing in following rounds. I also hate the words "accelerator" and "incubator". If you're sitting on a rock, it won't work: you need an egg to begin with.
So the VCs I would bet on out of the Valley are the ones with capital and ground knowledge of the region. You need to live in a place to understand it. This is also the reason why I will spend at least a few months in Singapore, although I'm not attached to a location.
In other words, my advice to Latin American entrepreneurs for now would be to either seek investment from VCs which work locally, or move to Silicon Valley. Again, that's OK; many Israeli startups did it.
On Chile and Asia
AH: What do you think of Singapore's startup ecosystem? I heard you have plans to build bridges between Asia and Latin America?
AK: I only arrived in Singapore a couple weeks ago, so it's too early for me to comment on Singapore or its creativity potential [see our previous post 'Wozniak Questions Creativity in Singapore']. However, I see Singapore as a great base to look at South-East Asia as a whole. There are huge markets all around – not only China, but also Indonesia and India.
My plan is to use it as a place to learn about the Asian market, invest in local companies and build bridges. I want to help Chilean companies to invest in Asia. Many in Chile don't realize the opportunities they could capture outside Latin America. It's just about paying attention, and the sale of the gaming company Atakama Labs to the Japanese company DeNA is a sign of it. This is an opportunity I want to take; at the end of the day, I'm still a businessman who wants to make money!
I also think there are opportunities in the other direction, and I plan to help bring Asian stuff to Latin America. Chile is a good gateway to do so. Despite its problems, it has interesting assets – little corruption, clean streets, good infrastructure, to name just a few.
As you may know, if you've read our previous articles about Chile, several local players are working on proving Kohavi wrong. From Start-Up Chile to Webprendedor, many are fostering the Chilean startup ecosystem, with the hope that things could change faster than Kohavi expects and that the next generation won't have to move to Silicon Valley. Still, his foreigner's point of view brings some painful advice about the problems Chile has to overcome as a startup nation.