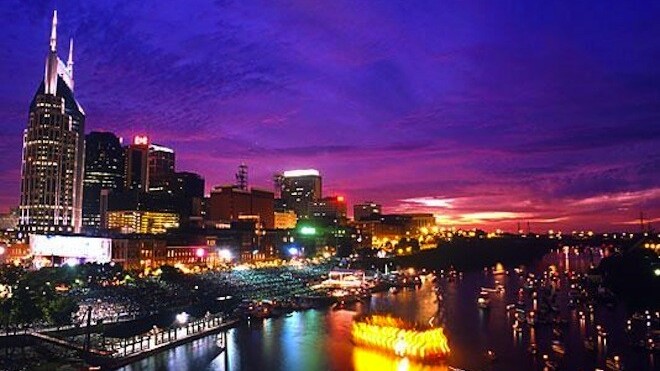 Story by
A music and tech junkie who calls Nashville home, Brad is the Director TNW Academy. You can follow him on Twitter @BradMcCarty. A music and tech junkie who calls Nashville home, Brad is the Director TNW Academy. You can follow him on Twitter @BradMcCarty.
When I joined TNW, a bit over a year ago, I was tasked with finding the best local startups and putting a post together about them. It's not uncommon. We've done the same thing with New York, Los Angeles, London and many other locations where TNW writers hang their proverbial hats. Not only would it give us some credibility that we've actually been in the trenches (at least somewhat) to find out what's going on in our cities, it would enable us to shed some light on interesting things that are being done.
The problem is, over a year later, I still haven't gotten my piece done. Not for lack of effort, mind you. I've met some great startups here in Nashville and I continue to dig up more. But if I had to write a post today, it would be titled "The four Nashville startups you need to know". In the time that I've spent here, I've heard some big dreams and ideas, but I've only met four startups (and I've written about 3 of them already) that are ready to let the world know about them.
The Problem at Hand
One could (somewhat rightly) argue that the reason that I haven't had ones who are ready for the world to know about them yet is that things move a bit slower here in the South. Much like what I experienced in Omaha, Nebraska, we here in Tennessee take careful, calculated steps rather than placing so much risk on the line.
There are a couple of reasons for this, and both of those reasons serve to add to the greater problem. First off, there's the matter of funding.
It's been said that VC's will travel anywhere, but that doesn't always seem to be the case. Local funding (of anything higher than Angel level) in Nashville typically comes either from people who have made their money in healthcare (Nashville's Wikipedia entry sheds some light as to precisely how much healthcare happens here) or it comes from people who have made money in the music industry.
Getting VC-level investment from the outside has been difficult, according to many of the people with whom I've spoken. The left coast wants consumer facing, the right coast wants huge B2B dollars and those of us here in the flyover states…well, we're just left wanting.
So that goes back to the risk aversion. When you limit your pool of potential investors by not being in "The Valley" or "The Alley", you string along your in-hand dollars as long as you possibly can. You don't necessarily shoot for the moon, simply because you know where you live and you know that finding moon-landing investors is exponentially more difficult.
The other problem, as it was quite simply stated by the CEO of Help Scout, is that there is a wealth of opportunity in the Nashville technology scene for people who want to work on other people's projects. That is to say that there isn't nearly as much for those who want to do their own.
I hadn't been able to nail down this fact myself, but after hearing it from someone else, it makes perfect sense. There is an extraordinary sense of collaboration in Nashville, but unlike Boulder, it's people helping each other without having their own projects as well.
The Solutions
"What we're doing now is reminiscent of the Valley when it first became the Valley," says Jumpstart Foundry Managing Director Christopher "Ferf" McIntyre. "There are lots of shared ideas, a lot of things coming together at the same time."
McIntyre brings up a number of good points, and he is part of the solution rather than simply being one to escalate the problem. Jumpstart Foundry has been around Nashville for a few years, helping entrepreneurs and budding businesses find their feet, but the Foundry's recent network affiliation with TechStars means that Nashville finally has its first international accelerator.
In fact, from the overall description, Jumpstart Foundry is simply TechStars with a different name. It's a 14-week, mentor-driven accelerator where the groups of accepted startups are given $15,000 to help form their business and acquire customers. Then, on Demo Day, they will have the opportunity to pitch to 4-500 people plus an audience of VC's.
Nashville does have its drawing points, however. "There is a strong university presence, sending in a stream of engineers, graphic designers and the like. There are also some fundamental changes that are happening in Nashville. The cost of services are going down."
But McIntyre also points to the universal changes that we're seeing — "Amazon, Twilio and other API's are allowing people to build more and to do so without spending so much of their capital."
"People in Nashville are just now starting to see these opportunities. You don't need to raise hundreds of thousands or millions of dollars that you might need to raise in the Valley. We have young, college kids who are willing to do things that they're more passionate about. They're starting to understand that you don't have to work for someone else your whole life."
This younger population also lends itself to Nashville's benefit. The city as a whole is young. With a median age of only 34 years, its population is even younger than San Francisco. While the population might be somewhat risk-averse, these younger people (especially in tight financial times) are willing to take risky moves in order to find long-term success.
McIntyre says that he sees Nashville as "moving from a community of resource to a community of entrepreneurs." In his approximation, Nashville's technology sector has 10 to 20 MBA's who are "hanging out to help people". At any given time there are 5 to 15 companies who are offering the same, and the Angel community is developing quickly.
What's Nashville doing right? Read on for the resources and the future.
The Resources
Beyond Jumpstart Foundry, Nashville has really started to come into its own as a collaborative society for those wanting to start a new business. With co-working spaces such as CoLab and the Nashville Entrepreneur's Center, there is a heavier focus on what could be, rather than simply what is.
CoLab offers workspaces that range from shared desks on a part-time basis all the way up to full office suites for prices that won't drain the bank. Along with those workspaces comes Internet access, fax machines a business address and much more. While I've not yet spoken to anyone who has taken CoLab's offer, it's an invaluable resource.
The Entrepreneur's Center (or NEC as I've come to see it called) is a bit of a different story. You could almost think of it as a micro-level accelerator, but the offerings are much less about money and more about resources. There are co-working areas, training classes, mentorship programs and there's an overall sense that networking at the NEC is deeply integrated into its mission.
On the whole, living in Nashville (or the surrounding areas) is relatively inexpensive. If you don't mind a 30-minute commute into the downtown area, families can even find suburban houses for rent on the cheap. For those who do want to live downtown, there is a wealth of resources for finding the right place, such as the Nashville Downtown Partnership.
Nashville's International Airport is one of the cleanest, easiest-to-navigate and friendliest places from which you'll ever fly. It's readily accessible within 30 minutes from almost any suburb of downtown and it has proven to be indispensable for those of us who find ourselves traveling often.
What's Next?
If you know the problems, you have some of the solutions and you have the resources at hand, what's keeping Nashville from exploding? The short version of the story is that "we need a hit," according to former Bandbox CEO Brian Peterson.
Peterson is the ideal person to speak to the remaining issues. I first met him a few months back and we talked about a project that, at the time, seemed very promising. As Peterson's next project, called RedRovor, started to form, his team found themselves in a very difficult position — strapped for cash and short on time.
Nashville is a music-driven city. While most people equate it to Country, there's surprisingly little of it here, outside of the few-block stretch downtown known as Music Row. What remains after the guitars and boots are put away is a culture where you can, on any given night, find anything from Jazz to Drum and Bass playing in any of the clubs.
Peterson's RedRovor project could have helped to save the music industry (and yes, I absolutely mean that) but deadlines simply didn't allow for it to happen. Again, Nashville isn't big on long-term risk.
"While it is possible to develop a tech platform and grow user adoption fairly quickly in today's social environment (as we proved with RedRovor), working through the business models and growing a business takes time. It always has. It always will. Entrepreneurs need more than a small seed round of capital and a few months to achieve long-term success."
Peterson asserts that, in order for Nashville to pop up on the maps of the young and hungry entrepreneurs of the world, it needs to produce a big hit. I am inclined to agree, and the two of us aren't alone. While Nashville has much to offer the budding entrepreneur, it lacks the sex appeal that the Valley and the Alley have and that can tend to keep people from paying it due attention.
The other thing that seems to stand in the way of Nashville's drive forward is a somewhat closed society in the technology scene. The magic of what makes Boulder, Colorado so incredibly successful is that you have a collaborative society of people who are all within a mile of each other. In Nashville, that's harder to do. We are spread out, sometimes 20 or 30 miles, and it's been exceedingly difficult for me (even as media) to get a foot inside of the important doors.
SevenLunches CEO Jeff Lee has found this same difficulty. As a fairly recent immigrant to Nashville himself, he states that he's had a difficult time finding people to help him move SevenLunches forward, and breaking into the community seems to have built up a bit of frustration.
To give credit where it is due, Nashville has an amazing, receptive community surrounding social media. We have WordCamp and BarCamp, as well as Geek Breakfast and NashCocktail where people who befriend each other on Twitter can all come to meet up and learn from one another. Unfortunately, this same camaraderie doesn't seem to carry over into the startup community as a whole.
While the Nashville Technology Council seems to be putting its best foot forward (the group founded the NEC initiative, as well as T3 a professional development series and more), there's something to be said for organic growth that no council or other organization can drive.
Peterson posits that Nashville will continue to grow, with an explosion that happens in around 10 years. I'm not certain that the timeline will carry out that far, based on what I'm seeing at present, but there's certainly room for quick growth and attention.
In the mean time, life in Nashville moves on and new technology is happening. I don't plan on ever leaving this area, so you can rest assured that you'll hear the best about what Nashville has to offer. I'm hopeful that, by this time next year, the title of this gets to change. I firmly believe that, in the years to come, I'll be writing "The First 20 Nashville Startups You Need to Know."
Get the TNW newsletter
Get the most important tech news in your inbox each week.