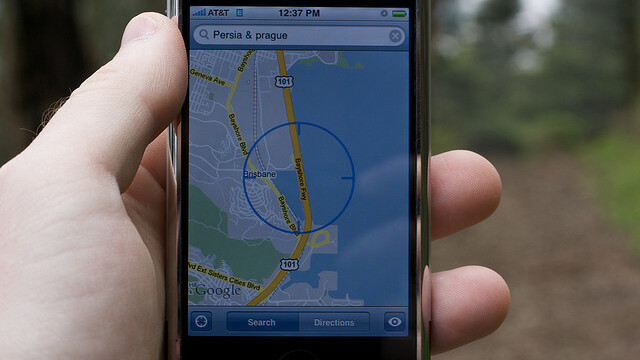 Story by
Matt is the former News Editor for The Next Web. You can follow him on Twitter, subscribe to his updates on Facebook and catch up with him Matt is the former News Editor for The Next Web. You can follow him on Twitter, subscribe to his updates on Facebook and catch up with him on Google+.
If recent reports are to be believed, Apple is on the verge of releasing its own 3D mapping service, effectively replacing Google Maps on the iPhone.
There appear to be many reasons why Apple is launching its new service – disassociating itself with its smartphone rival, possible launch of new location-based features, the sale of advertising and location partnerships with businesses – but it is also clear that when it comes to smartphone maps access, it's iPhone users that are leading usage figures.
That's according to a new report from comScore, which surveyed the usage of computer and smartphone maps across Europe.
comScore's findings show that 39.8 million (35 percent) of smartphone users in France, Germany, Italy, Spain and the United Kingdom accessed maps on their device in March 2012, compared to 49.6 percent visiting mapping sites on their computers.
This demonstrates a 55 percent rise in smartphone map use over the last year, with the UK leading the way for mobile maps use with 40.2 percent.
Interestingly, while there were more users of Google's Android maps (17.67 million), only 39.8 percent of device owners took to the Maps app. With 12.36 million users, 53.4 percent of iPhone users accessed Maps on their smartphone in March 2012.
Appl may have its own usage figures – perhaps even more accurate than comScore's – and will have already identified that iPhone users are increasingly utilising a service that is provided by its rival. Google is even able to display sponsored listings in the iOS Maps app, without Apple's prior approval.
TNW's Matt Panzarino wrote in January:
When looking into that relationship, I was informed by another source in a position to know that Google does not license map data 'directly' to any mobile platforms. This means that if there was a deal cut between Google and Apple, it would have had to have been extremely favorable to Google…say the ability to serve up its own ads right in a pre-installed native iPhone app.

Since the ads didn't appear until 2009, it may have actually been a condition of an extension to the original agreement.
Earlier this week, we showed you a mock-up of what Apple's new Maps app is expected to look like. The image, a composite image of various elements believed to be included in the new application, showed Apple's new 3D map tiles and floating toggles, ditching the familiar blue iOS color scheme and adopting a new silver look.
If comScore's European smartphone map usage is anything to go by, Apple could boost interaction with its Maps app with the roll-out of its new 3D features (something that Google doesn't currently offer, but Nokia does) and the launch of a satellite-navigation service – an option that is not available in stock iOS apps.
Apple's WWDC event is just weeks away and it's there that the company will debut its new operating system and new software apps and services. A new maps service is being heavily tipped, though information surrounding it is pretty limited.
Also tagged with