Story by
Reporter
Amanda Connolly is a reporter for The Next Web, currently based in London. Originally from Ireland, Amanda previously worked in press and ed Amanda Connolly is a reporter for The Next Web, currently based in London. Originally from Ireland, Amanda previously worked in press and editorial at the Web Summit. She's interested in all things tech, with a particular fondness for lifestyle and creative tech and the spaces where these intersect. Twitter
Are you a foodie? Do you have more photos of food than your family and friends on Instagram? And go to the farmers market every weekend? I get you.
While I love cookbooks and notebooks filled with recipes recorded in nice penmanship, I have become increasingly reliant on my phone or tablet in the kitchen.
So, whether you're a Michelin star chef or a home baker, these essential apps are sure to please:
Epicurious
If you normally Google recipes, odds are you've already ended up on the Epicurious website. The work of Condé Nast Digital, it has more than 30,000 recipes collected from popular cookbooks and sources like Bon Appetit and Gourmet, and over 100,000 user-submitted recipes as well.
When you find a recipe you like, you can add the necessary items to an in-app shopping list for when you're at the supermarket.
Condé Nast claims that every recipe on the site and app is tested and so far, I can't say I have come across any that failed to impress.
As well as recipes, Epicurious publishes articles on food, entertaining, wine, health and shopping daily.
➤ Epicurious (Free) [iOS | Android]
Week Menu
Week Menu is good for people who spend far too long deciding what to make for dinner every night… Like me.
It does exactly what the name implies by letting you make a plan of your dinners for every night of the week.
You can create your own recipe book, which you can add pieces to from anywhere on the Web or manually. So that means if you've come up with the perfect sauce or have been hiding your Gran's chocolate cake secrets in a biscuit tin, you have somewhere safe to put them.
One thing I noticed after using this app for a while was how much it helped me cut back on buying unnecessary items in my weekly shop, which is never a bad thing.
This one is iOS only but there is a similar app for Android users called Food Planner as well.
Allthecooks
Not that anyone really needs any more social media profiles but that's exactly what Allthecooks is – an online community for people who love food and cooking from all corners of the world.
You can use it as a way of learning and expanding your culinary skills, or you can show off your recipes by uploading a photo and directions.
Similar to every other social media platform, Allthecooks lets you add friends and comment and like on other people's recipes.
Available on the Web and as an app for iOS and Android, it's a great one to join if you're an aspiring food blogger who just can't commit the time. If you're already a food blogger, it's a decent alternative with a perfectly sourced audience for your recipes just waiting to go.
➤ Allthecooks (Free) [iOS | Android]
Substitutions
Cooking for people with food allergies, intolerance or just picky eaters can be stressful. There are a lot of apps on the market that offer to suggest alternative options when it comes to cooking ingredients but I have used Substitutions extensively and find it to be the best.
It gives multiple options when it comes to the suggestions and as well as alternatives for allergies and whatnot. I've used it when I forgot to buy a particular ingredient or ran out, too.
At $2.99 to purchase, it's probably not an app for someone who doesn't regularly run into the issue of having to find alternatives.
Substitutions is an iOS-only app but there is a great one for Android called Food Substitutes.
➤ Substitutions ($2.99) [iOS]
Vibrantly
If you're serious about your food photos, then Vibrantly is for you. The photo editing app was created specifically with food in mind.
Each of the filters and features are designed for different food types to make them look their best and it has a low light function that brightens up any photos taken in dull or dark areas, which is particularly handy for candlelit restaurant snaps.
My personal favorite filter is 'Farm Table' – it gives the images a hazy, romantic feel.
As well as the iOS app, the website is a great resource for all things food-related, from startups to albums of the nicest food photography and how you can contribute to the good food economy by sourcing locally, non GMO, in-season produce and shopping from farmers markets.
Tastemade
This is the perfect app for any food lover that travels. It's a video guide to the best places to eat in cities all over the world.
With an active community, you can get involved and become a 'Tastemaker' to make your own videos using Tastemade's filters and professionally produced music.
As well as recommending restaurants, it serves as a great place to get an insight about the different food cultures across the globe with short, digestible documentary-style videos.
It is my favourite food-related app, without a doubt.
Alongside the videos, you can also take note of places you'd like to visit and mark them off as you go like a restaurant bucket list.
➤ Tastemade (Free) [iOS | Android]
 Seafood Watch
This app was recommended to me by TNW's very own chef extraordinaire Nate Swanner. The brainchild of the Monterey Bay Aquarium, it aims to advise users on restaurants serving ocean-friendly seafood and sushi at over 20,000 establishments across the US.
As well as recommending the best options, you can also learn more about the seafood you eat through the app with information like where the fish was caught, whether it's farmed or wild and the best places to eat it.
➤ Seafood Watch (Free) [iOS | Android]
Foodgawker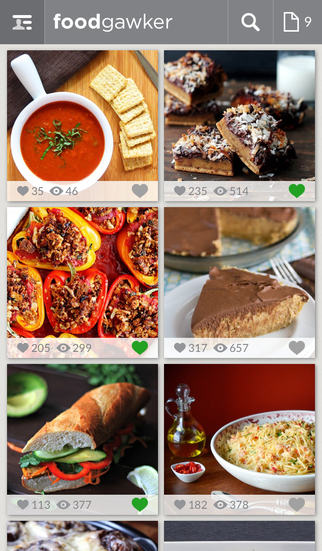 Foodgawker is like Bloglovin for foodies. You can spend an endless amount of time browsing through images of deliciously shot meals from food bloggers and when you see one you like, just click on it and you'll be directed to the blog it originated on.
It's a good all-rounder for finding informative restaurant reviews, recipes and techniques, while making yourself hungry in the process.
➤ Foodgawker ($1.99) [iOS]
Thyme
Accurate timing is key when it comes to cooking and baking. Even the slightest mistake with time can have drastic consequences. While every cooker comes with a timer and egg timers are a staple in most kitchens, it's often a pain when each component requires a different cooking time.
Thyme is a simple, yet cleverly designed app with an interface that looks like a kitchen stove and has a separate timer for each part.
All you need to do to set each timer is long-press it and select your desired time; a panel in your notification menu lets you keep track of each individual timer. When time is up, an alarm and vibration alert go off, but you can alter these if needs be.
➤ Thyme ($0.99 on iOS, free on Android) [iOS | Android]
Have we missed your favorite food app off the list? Let us know in the comments below!
Get the TNW newsletter
Get the most important tech news in your inbox each week.
Also tagged with